City Commission Approval Sought for Mooring Destroyer USS Edson Downtown
Ship Display Expected to Draw 100,000 Visitors Per Year
February 22, 2004 Leave a Comment
By: Dave Rogers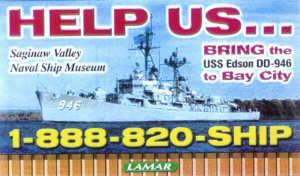 Billboard promoting fundraising for ship campaign will go up soon on I-75.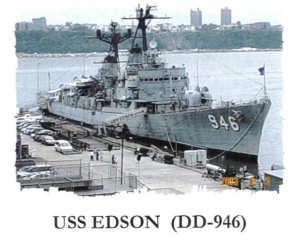 USS Edson is shown as she was moored in New York City for 14 years.
      A floating museum is expected to draw 100,000 visitors a year to Bay City and be self-supporting through ticket sales, concessions and merchandise sales.
      Application to the U.S. Navy for assignment of the destroyer USS Edson, DD-946, to Bay City is expected to be made this month.
      Officials of the Saginaw Valley Naval Ship Museum (SVNSM) are raising up to $450,000 to pay for towing the ship here from Philadelphia.      
If all goes well, the ship is expected to arrive in Bay City sometime in the summer or fall this year or at the latest the spring of 2005.
      The USS Edson is a national historic landmark that was moored and used as a tourist attraction in New York City at the Intrepid Sea-Air-Space Museum for 14 years. She was moved from New York to make room for the Concorde supersonic airliner and other displays at the Gotham seaport.
      The 418 foot long ship, which has a 45 foot beam and draws 14 feet 9 inches, may be moored on theeast side of the Saginaw River near the old Sears Automotive building if the City Commission approves.
      Mike Kegley, president, and Richard Janke, treasurer, of the SVNSM have asked City Manager Robert Belleman to seek commission approval of the mooring site until the old Davidson Shipyard drydock site on the west side is ready.
      The ship will have to be towed from Philadelphia, where she is undergoing renovations at Navy expense, to Quebec City, Canada, and from there to Bay City. McAllister Towing has offered to tow the ship from Philadelphia to Quebec for $180,000. Towing using a large tug will cost about $12,000 a day and the 1,700 mile trip will take about 15 days. The Great Lakes Towing Company, of Cleveland, Ohio, has bid $135,000 to tow the ship from Quebec to Bay City. That trip also will take about 15 days. Cost estimates total about $315,000 including two tugs,inspector's fees in Montreal prior to entering the St. Lawrence Seaway, seaway tolls and fees, Canadian andAmerican pilot's fees, linehandlers and insurance.
      The Edson is a vessel of the Forrest Sherman class, first post World War II destroyer design. Built in 1958 at Bath Iron Works, Bath, Maine, she initially was assigned to the Pacific Fleet and participated in many combat missions off Vietnam. Later transferred to the Atlantic, the Edson was flagship of Surface Group Four based in Newport, Rhode Island.
      The ship was decommissioned in December, 1988 and immediately was assigned to the Intrepid Museum where she arrived on July 4, 1989 and was opened for public display shortly thereafter.
      Much of the ship, including the engine room, is open for public viewing. Mannequins are used in museum style to recreate a realistic view of shipboard life.
      Kegley and Janke have based their revenue estimates for the Edson on comparable displays in Muskegon, where the submarine USS Silversides is moored, and at Whitefish Point in the Upper Peninsula.
      For example, the Great Lakes Shipwreck Museum at Whitefish Point has drawn an average of 84,000 visitors a year for the past six years, the SVNSM officials state.
      They expect 70,000 day use visitors, 10,000 students on class tours and 5,000 overnight visitors at the proposed Edson display. Projected revenue would be $797,000, including $75,000 in concession sales,a like amount in merchandise sales and $40,000 from meetings and conventions.
      William M. Defoe, former official of the Defoe Shipbuilding Co., a Bay City firm that build hundreds of warships 1905-1977, is honorary chairman of the ship museum committee. For more information or to donate to the SVNSM project please contact SVNSM at 686-3125.
---
---

Dave Rogers




Dave Rogers is a former editorial writer for the Bay City Times and a widely read,
respected journalist/writer in and around Bay City.
(Contact Dave Via Email at carraroe@aol.com)

More from Dave Rogers
---
Send This Story to a Friend!
Letter to the editor
Link to this Story
Printer-Friendly Story View
---
--- Advertisments ---