Bay County Eyes Added Stake in Tri-County Solar World Ambitions
Hickner, Elder Propose $25K Contribution to Board of Commissioners
February 26, 2009 Leave a Comment
By: Dave Rogers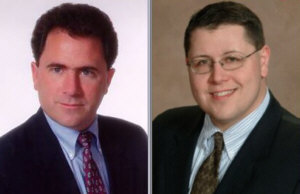 Hickner (Left) & Elder (Right) Propose $25K Contribution to Board of Commissioners
Like a laser beam, county officials are focusing on an economic initiative that they think might replace auto jobs.
Popping up like an early morning sun in the past few weeks has been the realization that auto manufacturing is on the wane locally and a new path to jobs must be found.
The vision coming into view is for an almost miraculous regeneration of the area economy -- a vast transformation from a center of automotive innovation to one of a world headquarters for the solar (Photo Voltaic--PV) industry.
Catalyst for the effort is the fact that Dow Corning Corporation's Hemlock Semiconductor Plant (HSC) in Saginaw County is the world leader in production of polycrystalline silicon vital to the semiconductor and solar industries.
The economic development agencies of the three so-called "Great Lakes Bay" counties, Bay, Midland and Saginaw -- have fused into a Solar Development Partnership.
The agencies joining are Bay Future, Saginaw Future and Midland Tomorrow -- all now looking toward the rising sun for rebirth of the area economy.
Now Bay County Executive Tom Hickner and Commissioner Brian Elder, who chairs the powerful Ways and Means Committee, are proposing an additional $25,000 contribution to the effort.
"Commissioner Elder and I are optimistic that the Board of Commissioners will support our request," said Mr. Hickner.
This money is an additional supplement to current financial support of Bay Future, Inc., the public-private economic development partnership that Mr. Hickner helped initiate a few years ago and which Mr. Elder serves as the county's representative.
The joint proposal is seen by political observers as a sign of unity of purpose in the economic development arena, something that has been noticeably lacking for several years.
Mr. Hickner several times in the past had proposed a marketing outreach to downstate counties, a move that did not fly because economic developers apparently shun any effort that might appear to be an attempt to "steal" companies from other regions.
Besides the three economic development agencies of the tri-counties, the solar partnership involves the Hemlock Semiconductor plant (HSC) of Dow Corning and that firm's Solar Applications Center in Freeland and a nearby a monosilane materials plant to produce specialty gas used to manufacture thin film solar cells and LCDs.
Dow Chemical is investing $50 million in Midland to bring together solar energy generation materials and design of commercial and residential building materials. Evergreen Solar is investing $55.2 million in a Midland facility that will employ 101 in manufacturing solar power panels with low cost water technology.
All of these newly expanded industries, and dozens of more anticipated to locate around the source of the most vital materials, are to be fueled by an expanded Karn-Weadock plant of Consumers Energy plus solar and wind energy sources now under development.
Billions of dollars in private investment already are flowing to the region, an outcome that likely will increase exponentially in coming months and years.
Backing that effort is a program to market the region to solar applications firms from around the world who may want to locate "near the source" of their basic raw materials.
The market is driven by consistent demand from Germany, Spain, Italy, Greece and California, according to a Dow Corning presentation recently unveiled at a meeting at Saginaw Valley State University that also will be involved in the partnership.
Marketing will be focused on the MiSolarAdvantage.com website and partners will be attending solar conferences worldwide.
Plans also include a solar training academy and an industry association to be located here. Additional research and development would have the goal of reducing costs of production.
###
---
---

Dave Rogers




Dave Rogers is a former editorial writer for the Bay City Times and a widely read,
respected journalist/writer in and around Bay City.
(Contact Dave Via Email at carraroe@aol.com)

More from Dave Rogers
---
Send This Story to a Friend!
Letter to the editor
Link to this Story
Printer-Friendly Story View
---
--- Advertisments ---