Fast-Growing Bay Regional Medical Center Plans $50 Million Addition
Chamber Hears Upbeat Economic Report from Bank President Dominic Monastiere
February 15, 2004 Leave a Comment
By: Dave Rogers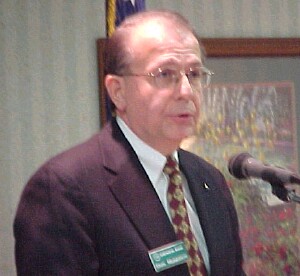 Dominic Monastiere, president of Chemical Bank-Bay City, keynotes the State of the Community luncheon attended by about 200 Chamber members.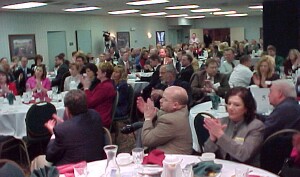 Appreciative crowd at Chamber luncheon listens intently to series of speakers on State of the Community
      A planned $50 million addition to Bay Regional Medical Center was the big news as the Bay Area Chamber of Commerce got an upbeat local economic report last Thursday.
      Dominic Monastiere, president of Chemical Bank-Bay City, keynoted the 2004 State of the Community luncheon sponsored by S.C. Johnson & Son, Inc. and 11 other businesses and organizations.
      Master of Ceremonies for the event was Joe Liefbroer, executive of S.C. Johnson and Chamber board member. Other speakers included Bay City Mayor Robert Katt, County Executive Thomas L. Hickner, Bangor Township Supervisor Jeff Mayes and Michael Seward, president of the Chamber.
      In response to questions about possible consolidation of governments, Mayor Katt downplayed the feasibility of police-fire mergers into public safety departments but said he would welcome discussions about consolidation of police agencies with other police and the fire department with other fire departments in the county.
Monastiere, president of Chemical Bank-Bay City, pointed out that Bay County's diverse range of 700 businesses enables the local area to weather economic storms. "This is part of the strength and resiliency of the local economy," said Monastiere, amplifying: "we are not subject to as high peaks or as deep valleys as other areas."
Monastiere pointed to growth in the health care sector, especially at Bay Regional Medical Center. The hospital, with a patient growth rate of 8.5 percent, has added 154 new jobs and important technology such as a linear accelerator and a 16 slice CT scanner and also plans to install the area's first positron emission CT scanner, according to Monastiere.
Bay Med plans a $50 million, 200,000 square foot addition with new emergency, cardiac catherization, expanded intensive care, cardiac care and outpatient surgery units, said Monastiere, a board member of the hospital. The new facilities are necessary to deal with the growing patient load as wellas an increasingly aging population, he said.
General Motors Powertrain has 1,000 hourly and 100 salaried employees here and has had steady business for the past 18 months; with excess production capacity, the plant is looking for work, hesaid.
S.C. Johnson reports solid increases in sales through new products; the firm is seeking quality replacements for 438 employees who will soon be retiring. "S.C. Johnson has a track record of increasing jobs since it acquired the facilities of Dow Brands," said Monastiere.
Bay City Mall has 66 stores and four anchor stores with several hundred employees. The mall is 90 percent occupied and at its highest occupancy level ever. Eleven of the stores are new and traffic counts and sales are strong. Target and Sears have had investment of $5 million in renovations, Dunham's Sports is planning a major expansion and a new restaurant is slated to open soon, according to Monastiere.
Financial institutions report sales up 5 percent at an all-time record high, new home builders report brisk sales and professionals are adding staff.
"Because we have steady growth and a good mix of different businesses and industries, this provides strength and stability to our local economy," said Monastiere. "We expect this economy to be providing more jobs for our children and grandchildren in the future."
Bay City Mayor Robert Katt pointed to the city's "financial soundness" with a $20.9 million general fund budget and $4.6 million fund balance. However, the city has lost $1 million already could end up losing up to 50 percent or all of state revenue sharing.
"We need to streamline operations, phase in projects and use technology to a higher extent," the mayor said.
Noting the planned June 3 opening of the Hilton Doubletree Hotel Conference Center, Katt said: "We want to make sure it is vibrant, along with the Holiday Inn."
      Hickner noted the county has had a balanced budget for 11 years under his administration and promised "continued reductions in spending with minimum impact on taxpayer services."
      Hickner said local governments need to work together on delivery of services and noted cooperation already exists in the 9-1-1 department, storm water management, sheriff's road patrol and other areas.
      The county executive urged cooperation for and active involvement by governments and the private sector in economic development, adding: "We need a consensus by September on a comprehensive economic development business plan."
      Supervisor Mayes pointed to cooperative programs leading to new sewer lines in Kawkawlin and Fraser townships, allowing expansions and added jobsat Bay View Foods and Williams Cheese.
      In response to questions about the role of organized labor in the community, Hickner noted that the United Auto Workers and General Motors here have been recognized nationally for cooperative labor relations programs. "Talking tough is not the way to solve problems," said Hickner, adding: "Labor unions are not going away since they have major contracts over a period of years." Seward pointed out that the AFL-CIO Labor Council and the UAW CAP Council both have representatives on the committee planning to raise funds for a "Community Branding" effort.
      "We need to improve our image with a joint branding process, work together to develop a consensus to improve the way we sell the community," said Seward, adding: "A decision has been made to move forward, to work as a team."
      Seward concluded the session: "This process is more than just coming up with a logo and a slogan, it is a way of doing business. We need to start talking more effectively on how to do things together. That way we will build the economy of the Bay area in a way that will mean something to each and every one of you."
      Besides S.C. Johnson, other sponsors of the luncheon and event were Bay Regional Medical Center, Covenant HealthCare, Gregory Construction Co., Chemical Bank & Trust, Dow Corning Corp., Independent Bank, Serenus Johnson Construction, Citizens Bank-Bay City, General Motors Powertrain, Michigan Works! and Thumb National Bank & TrustCo.
Below:(Left)(Right) Mike Seward, President of the Bay Area Chamber of Commerce and Bangor Township Supervisor Jeff Mayes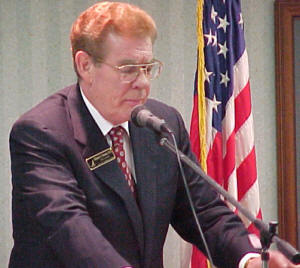 ---
Below:(Left)(Right) Bay City Mayor Robert Katt and Master of Ceremonies, S. C. Johnson's Joe Liefbroer.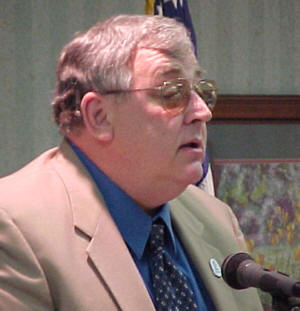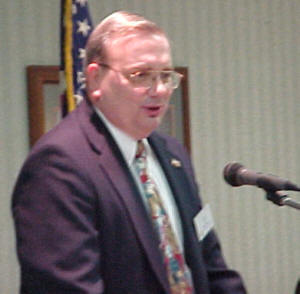 ---
---
---

Dave Rogers




Dave Rogers is a former editorial writer for the Bay City Times and a widely read,
respected journalist/writer in and around Bay City.
(Contact Dave Via Email at carraroe@aol.com)

More from Dave Rogers
---
Send This Story to a Friend!
Letter to the editor
Link to this Story
Printer-Friendly Story View
---
--- Advertisments ---