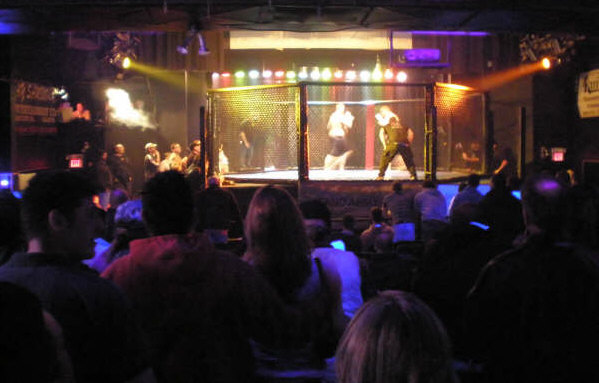 MyBayCity File Photo 2008 Bay City By Julie McCallum
---
Extreme Mixed Martial Arts Cage Fighting
Coming to Bay City This Friday
Tickets $10.00 in Advance - $20.00 at the Door - Prime Event Center
March 15, 2009 1 Comments
By: Julie McCallum, Entertainment Editor
Extreme Cage Combat Mixed Martial Arts (MMA) is coming this Friday,
March 20, 2009
. See it Live at the Prime Event Center in Downtown Bay City!
The best extreme fighters from around the tri-cities and beyond will battle out in a Steel Cage, in action packed Mixed Martial Arts following Full Contact MMA Rules.
Over 20 bouts are scheduled with fighters from across the state of Michigan. Members of the Mutt Army, Cosens MMA, Michigan Freestyle, Cage Combat MMA, Mash Fight Team, and New Body Health and Fitness are scheduled to compete.
This sport is currently practiced in more than 30 countries across four continents and is far from new. In its oldest known form, 'pankration', full contact fighting was one of the original sports included in the first Olympic games.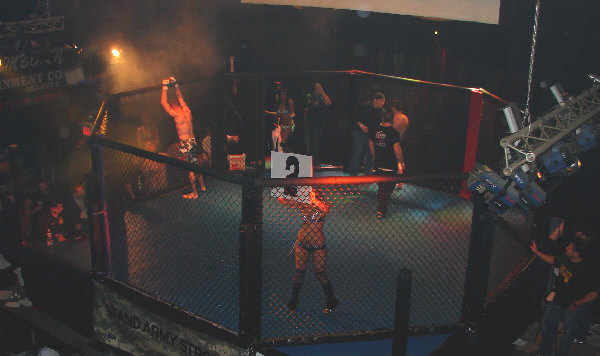 MMA consists of 3 rounds (5 rounds for championship/title bouts) and is judged based not on striking alone, but also on grappling, submission attempts, reversals, escapes and defense.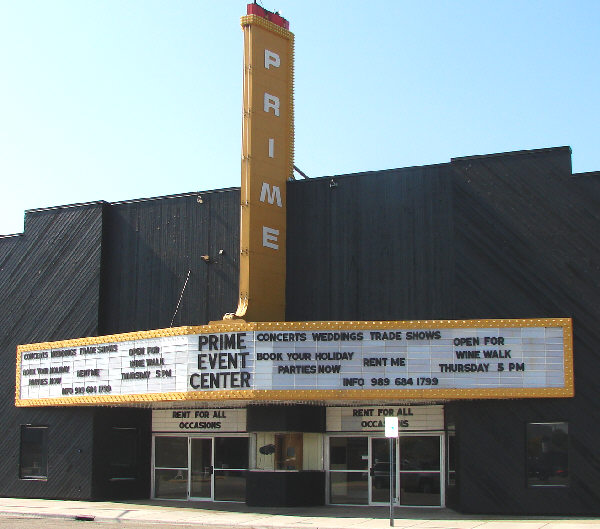 The Prime Event Center is located at 1201 Washington - Downtown Bay City. Doors open at 7 pm. Fights start at 8!


Tickets are on sale now at Hooters of Bay City and New Body Health & Fitness for only $10.00. Tickets are $20.00 at the door night of show.


Sponsored include:


Americinn
New Body Health and Fitness
Michigan Association of Amateur Mixed Martial Arts
Stables Martini and Cigar Bar
Big House Poker Room
Cosens MMA
Miller Lite Beer
Ring Girls provided by Hooters!
(Got Questions? Call 684-8410)
---
MORE ABOUT MMA:
Caged Combat. Ultimate Fighting. Extreme Fighting. Cage Fighting. This sport, by any other name, would still be mistaken for something it is not - it is not a brutal contest between Neanderthal maniacs. Mixed martial arts (MMA) is the proper term, being both politically and more technically correct than any of the above labels. Every active, recognized mixed martial arts sanctioning body has an explicit set of rules that disallow many things such as head butts, eye gouging and groin attacks -thus, 'no holds barred' is a misnomer. The Ultimate Fighting Championship (UFC) has trademarked the 'ultimate fighting' term making it a name brand and, consequently, another misnomer. Extreme fighting and cage fighting may both be applicable in many cases- but they are also terms that elicit the ire of those against full contact fighting in any capacity.
MMA bouts allow striking techniques comparable to boxing, kick boxing and other traditional martial arts. It also allows for the contest to continue on the ground where participants utilize techniques of wrestling and jiu-jitsu to submit an opponent with joint locks or chokes. The major difference is that punches are allowed on the ground. Contestants are able to end their bouts at any time by tapping out, or verbally submitting. In addition, the referees may stop a bout when one fighter is obviously over matched whether that fighter wants to give in or not.
The uninformed public believes that MMA competitors are untrained brutes seeking to prove only how tough they are. Quite to the contrary!
The sport of MMA is often compared to professional wrestling (which we should all know is little more than highly athletic stunt men accompanied by shallow drama).
MMA differs in that the contests are neither predetermined, nor choreographed. To the contention that children might attempt the moves they could see in a full contact match - consider this: the WWE allows it's athletes to use chairs, ladders, tables and other objects to (apparently) injure their opponent; fights continue outside the ring and can often be seen taking place backstage; submission holds are often maintained long after the opponent has tapped out and the referee orders the bouts stopped. None of this happens in MMA: participants do not use foreign objects; fights begin and end inside the ring or cage; and submission moves are released immediately when fighter submits.
We work diligently to provide the safest atmosphere for competitors and top notch productions for our spectators.
Current and former MMA competitors include:
2000 Olympic Greco-roman wrestling silver medalist Matt Lindland (Eagle Creek, OR)
World Championship judo player Hidehiko Yoshida (Japan)
NCAA All-American wrestler and Heavyweight World Submission Grappling Champion Jeff Monson (Olympia, WA)
World champion kick-boxer Maurice Smith (Seattle, WA)
Former U.S. National Wrestling Team members Randy Couture (Gresham, OR) and Dan Henderson (Temecula, CA) are world-class Greco-roman wrestlers turned mixed martial artists.
---
"The BUZZ" - Read Feedback From Readers!
jennesus Says: On November 22, 2009 at 08:21 AM

Just wanted to let you know that you mis-spelled a team for the MMA combat at the prime. you put Cousins MMA. It's actually spelled COSENS MMA

EDITOR's NOTE -- Thx for the Heads Up . . . We made the correction.
---
---
Send This Story to a Friend!
Letter to the editor
Link to this Story
Printer-Friendly Story View
---
--- Advertisments ---