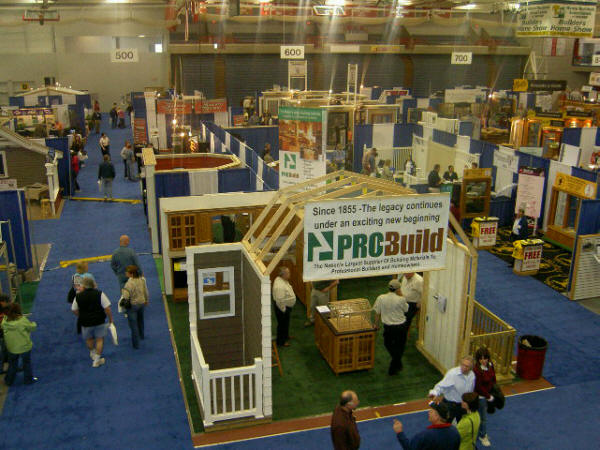 The 48th Annual Saginaw Builders Home Show at the Saginaw Valley State University Ryder Center drew enthusiastic crowds dampened somewhat by the lagging economy.
---
Saginaw Home Builders Show Crowds Down, Enthusiasm Up
Green Energy Projects Draw Most Interest at 48th Annual Show at SVSU
March 15, 2009 Leave a Comment
By: Dave Rogers
Green is the word, and it's not only for St. Patrick's Day.
Although 69 exhibitors from last year didn't show, there were 21 new exhibitors at the Saginaw Builders Home Show that more than made up for it, according to Carole Hemminger, executive director of the Home Builders Association of Saginaw.
Ms. Hemminger said the show would attract less than the nearly 6,000 that attended last year. And, the number of exhibitors, while still healthy at 138, is down more than 25 percent from the 189 exhibitors last year.
She said the exhibitors "had some good leads" and indicated a survey showed "many people are building and remodeling and doing energy efficiency projects."
MyBayCity.com found the crowds gravitating to the Affordable Green Energy(AGE) LLC exhibit with a working 4kW Vertical Windmill gaining the most attention.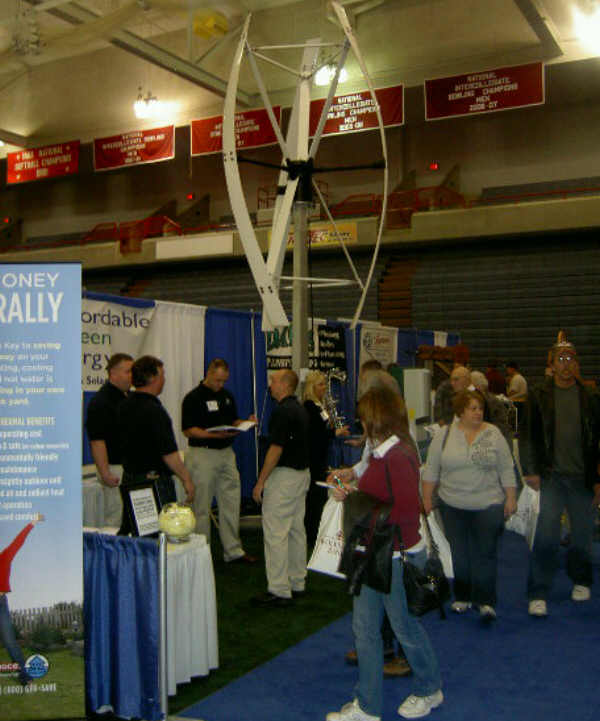 A working 4KW Vertical Windmill of carbon fiber and fiberglass produced by Affordable Green Energy LLC of Essexville is a crowd favorite at the Saginaw Builders Home Show.
(MyBayCity Photo by Dave Rogers)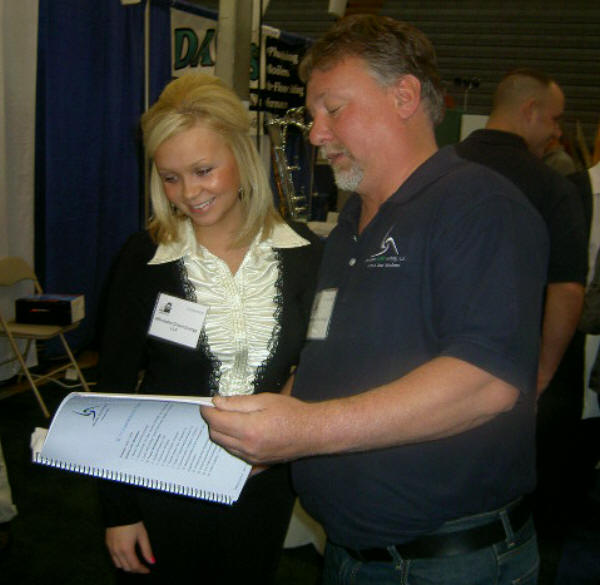 Glenn Fonzi, owner of Affordable Green Energy, Essexville, and daughter Brittany O'Laughlin review assessment documentation provided every purchaser of a windmill.
(MyBayCity Photo by Dave Rogers)
Glenn Fonzi, owner of AGE, was writing deals as fast as he could for the $24,000 priced 30-foot high vertical wind turbine.
Mr. Fonzi, smiling, estimated he would sell 50 units out of the show itself, mainly to farmers and people with homes on at least several acres.
It didn't hurt that the purchase of a wind turbine brings with it a $7,200 federal tax credit and, with 12-14 mile winds, will payback the purchase price in 5-7 years, he said.
As his new building goes up in the Essexville Industrial Park on Jarman Street, off Pine Road, Mr. Fonzi has been meeting with State Rep. Jeff Mayes and other legislators to push for a share of federal stimulus dollars.
"We have six to eight employees now but 20 would be possible with stimulus dollars," he said.
The graphite composite windmills will be mass produced at the Essexville location and Mr. Fonzi hopes to achieve total production this year of 100 units. After that, apparently, the sky is the limit.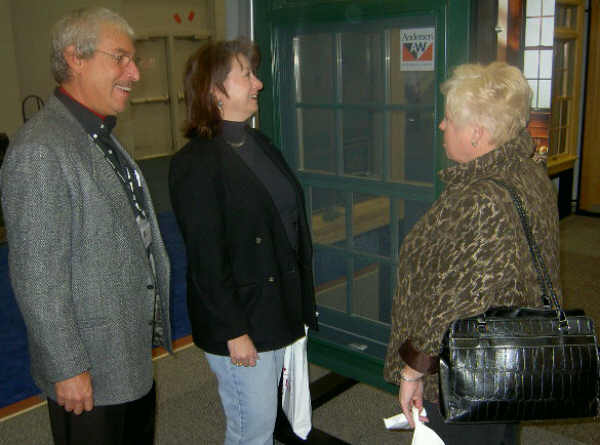 C&L Ward Window display is explained by Bennett Sevack to Yvonne Dankers, Vassar, center, of the Emil Rummell Insurance Agency, and Sandy Gaudreau, Vassar, executive director of the Big Brothers Big Sisters in the Thumb region
(MyBayCity Photo by Dave Rogers)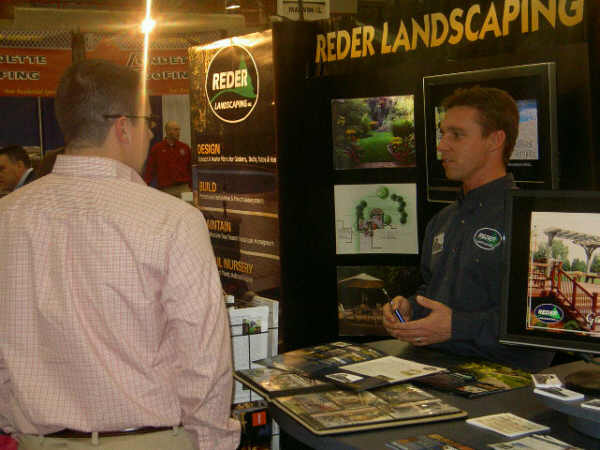 Steve Baillie, landscape designer, of Reder Landscaping, Midland, introduces a visitor to his company's services that are described as "Different By Design" according to Brian Weaver, director of landscape management.
(MyBayCity Photo by Dave Rogers)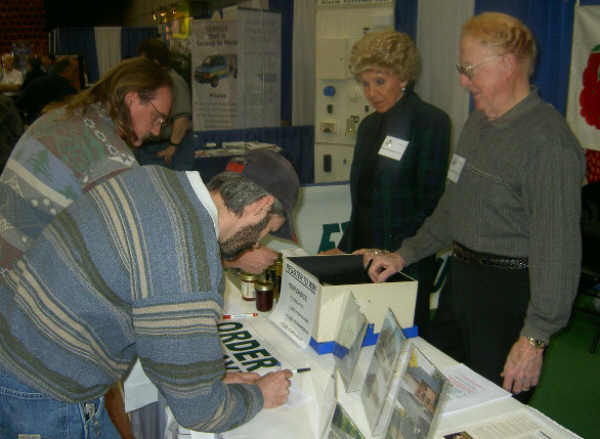 Ken Joswiak, of Bay Glass, Bay City, and Chris Archambeau, building contractor, sign up for prizes at the Saginaw Valley Sod Farm booth with Dusty and Tom Armstrong, Freeland.
(MyBayCity Photo by Dave Rogers)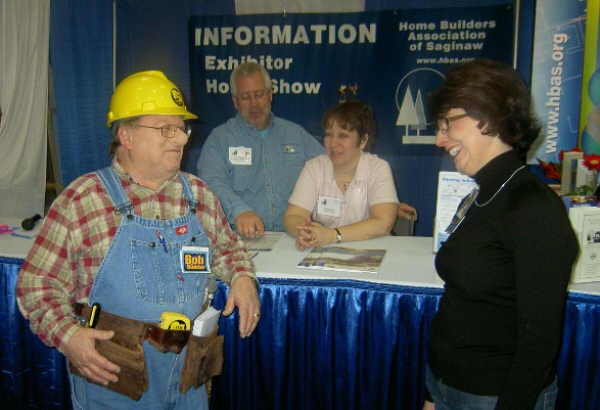 Bob the Builder, played by Tony Bosco, of Bay City, left, talks with Home Show co-chairs Tracy Reimus, of Independent Bank, and John Humphreys, attorney, with Humphreys, Campbell, Dust and Humphreys P.C., and executive director Carole Hemminger of the Home Builders Association of Saginaw, right.
(MyBayCity Photo by Dave Rogers)
At the weekend show, he signed up customers for 60 assessments that are required before a unit is sold. The assessment tells a customer how much energy will be produced from the wind in their location and how long the payback will be.
He said his smallest unit, a 30-foot 4kW model, with 27 mile per hour winds will produce 1-3 kilowatts per day, enough to service a household or a farm.
AGE also is into carbon composite solar energy devices, using the Gougeon Brothers WEST System epoxy, and insulation.
Another popular program at the show was the "Free Child ID Kit," provided by the Michigan Masons. The kit includes everything needed for the Amber Alert System, according to Fred Reinig, Bay City, past master of the Saginaw Lodge 77 Free and Accepted Masons.
The Masons employed many $4,000 computer/photo units to record an Amber Alert Profile, photo ID card, color photo, digital fingerprints and recorded interview. The program also gathers DNA and provides an exclusive trace scent for trained canine search and recovery teams.
The Masons gathered information on 32 children Friday night and 118 on Saturday and expected to top 200 by the close of the show on Sunday afternoon, he said.
Mr. Reinig indicated the Masons are in need of donations to bolster funding for the Child ID program as well as a youth reading program operated in the Scottish Rite Masonic Center in Bay City.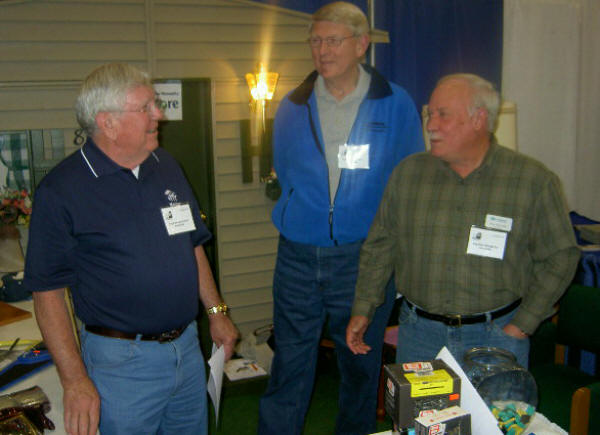 Saginaw County Habitat for Humanity volunteers, from left, Morley Erskine, Jim Frost and Steve Weitzmann, talk about the building deconstruction program underway in Saginaw. Habitat is deconstructing numerous houses and will sell the materials in its Restore at 315 West Holland, Saginaw.
(MyBayCity Photo by Dave Rogers)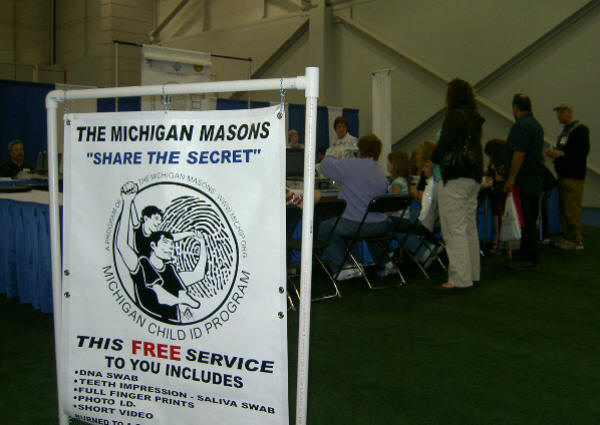 The Michigan Masonic Child Identification program was a popular one with parents. The free program aims to provide parents and guardians with a "child ID kit" that contains all vital information necessary to expedite law enforcement efforts to locate a missing child.
(MyBayCity Photo by Dave Rogers)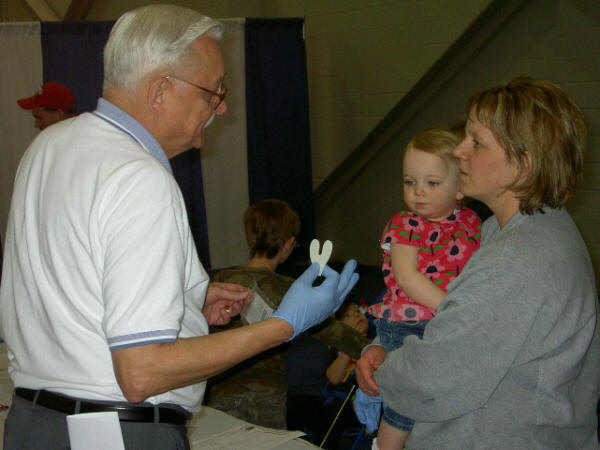 Fred Reinig, past master of Saginaw Masonic Lodge 77, presents a dental impression to Hanna Chapin, 18 months, and her mother, Misty Chapin, of Midland.
(MyBayCity Photo by Dave Rogers)
---
---

Dave Rogers




Dave Rogers is a former editorial writer for the Bay City Times and a widely read,
respected journalist/writer in and around Bay City.
(Contact Dave Via Email at carraroe@aol.com)

More from Dave Rogers
---
Send This Story to a Friend!
Letter to the editor
Link to this Story
Printer-Friendly Story View
---
--- Advertisments ---