Hello, Las Vegas: Cliff Dice in Bay City Calling to See If Everything's OK
Top Level Government Security Also Province of Booming Local Tech Business
February 22, 2004 Leave a Comment
By: Dave Rogers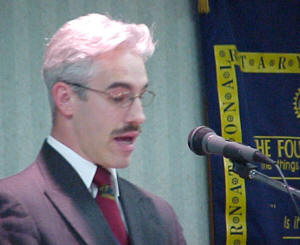 Cliff Dice Speaks at Recent Rotary Luncheon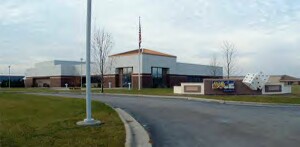 Dice Corporation Headquarters
      Did you know that all the security monitoring of the big hotels in Las Vegas is routed through the Dice Corporation in Bay City?      Or that 80 percent of the world's fire alarm systems are also connected to Dice computers?
      Or, togo even one better, that the company recently created ePad (Emergency Provider Access Directory) for the Homeland Security Agency. This is a comprehensive communications database that lists contact information for all emergency activities in case of disasters or terrorism.
      "We're not a spoke in a wheel, we're a spot in a spider web," says Dice, explaining his company's position in cyberspace.
      Those were among the blizzard of facts about the wonderful world of interconnectivity that hit Bay City Rotarians last week in a presentation by Cliff Dice, CEO of the Dice Corporation.
      As programmer Cliff Van Dyke put it: "Thank God Dice is staying home with his high tech business that could be located anywhere in the world." The firm has 100 plus employees here and others scattered around the globe.
      From world headquarters in Bay City, the Dice Corporation fans out to offices in Detroit, Dallas, Reno, Nevada, Anaheim, California, Houston, Texas, and Santiago, Chile. Resellers are in Concord, NH, Chicago, Beijing, China, and London.
      "In Las Vegas every camera, every piece of fiber, every fence monitoring system, every fire suppression system -- all are monitored through Bay City," said Dice.
      The Bay City entrepreneur, who has built a $100 million business from scratch in a decade and a half, is justifiably proud that one third of his customer base comes from Fortune 500 companies.
      The Dice Corporation is headed by a 41-year-old whiz kid who dropped out of Garber High School in the tenth grade, attended Delta College and Northwood University to study computers and accounting. Just before graduation at Northwood in 1985, an eagle-eyed counselor discovered he hadnot completed high school.
      "I had to go back to Central High and get my GED before they'd let me graduate," Dice laughed.
      High school probably was irrelevant to the multi-talented Dice who pumps out new business thrusts by the dozens and laughs all the way to the bank.
      "We help the federal government find certain people or check to see if certain people have been abducted," Dice says blithely, as if it involved checking the price of bread at the supermarket.
      "Washington is monitored and tested out of Bay City; the security of the President would flow out of Bay City," asserts Dice.
      On Star crash data, General Motors seat belt and G force meters, monitoring 9,000 semitrucks carrying toxic chemicals, checking on the activities of 1,400 wreckers -- the list of Dice security activities goes on and on, almost unbelieveably.
      Dice is a global corporation with 50,000 customers on six continents. Three Dice planes based at James Clements Airport flash around the world to make service calls. Commercial flights are substituted for the small planes whenever economics dictates, which often has been the case recently, says the affable Dice.
      Monitoring of the location of autos, cell phones, heart monitors for patients of old age homes, home arrest monitoring devices -- all those are also in the Dice purview.
      "Fifteen thousand corporate security operations use our software, the same number as the totalnumber in use at the time of 9-11," said Dice. In fact, the terrorist attacks on Sept. 11, 2001 really gave added impetus to the Dice business portfolio. Now technology is merging and connectivity is the buzzword.
      "It's all coming togetherwith wireless, antennas, TV, computers, telephones; in fact some day there may no longer be phones with IP connectivity in phone lines the power company can be the provider."
      In addition, old style companies running on power lines may be in trouble since the world is fast turning to wireless, said Dice.
      The faster the world turns, the more reason Dice has to stay in Bay City, he says, commenting: "I'm not going anywhere. Why go to Silicon Valley when we have computers? I'm enjoying myself here, where I grew up."
      Born to a teenage mother, Dice was raised by great-grandparents, Wilfred Barber and his wife, and his aunt, Viola Verellen, familiar names in Hampton Township history. He also worked in the construction industry with his father in Ann Arbor, learning welding and other hands-on skills that serve him well to this day. He did much of the renovation of the former Mutual Savings and Loan corporate headquarters in the Valley Center Technology Park himself.
      On graduation from Northwood, Dice was offered a job as a systems engineer for IBM in Texas. Because his great-grandmother couldn't stand the thought of his being so far away, he turned down the elite job and started his own consulting company. Time has proved the rightness of his decision.
      "I like everything about this area," says Dice. "Honolulu has the worst crime rates, in Phoenix you can't walk around at night; here you can walk around at night." In fact, Dice recruits technicians and software programmers from Honolulu, telling them that $27,000 a year in Bay City is the equivalent of $52,500 a year in Honolulu. "I don't care if you have a college degree; I just need talented people."
---
---

Dave Rogers




Dave Rogers is a former editorial writer for the Bay City Times and a widely read,
respected journalist/writer in and around Bay City.
(Contact Dave Via Email at carraroe@aol.com)

More from Dave Rogers
---
Send This Story to a Friend!
Letter to the editor
Link to this Story
Printer-Friendly Story View
---
--- Advertisments ---