Corrigan Moving Systems Marks 80 Years, Springing From the Great Depression
Firm's Founder Had Worked for Henry Ford; Ford Motor 1st National Contract
March 21, 2009 Leave a Comment
By: Dave Rogers
The Great Depression was an economic catastrophe for many companies, but not for one that sprang from those roots -- Corrigan Moving Systems.
Corrigan Moving Systems, 1411 Straits Drive, Monitor Township, is marking its 80th anniversary.
A well-attended open house was held at the Bay City branch last Thursday in cooperation with the Bay Area Chamber of Commerce.
The firm was founded just as the Depression took hold of the nation, in 1929. It has thrived ever since and boasts affiliation with United Van Lines, "the nation's number one family mover."
Corrigan has evolved into Corrigan Moving Systems with 12 locations in Michigan and Ohio, 550 employees, 102 full-time owner-operator drivers, and 500,000 square feet of warehouses. Today they generate $50 million in sales revenue.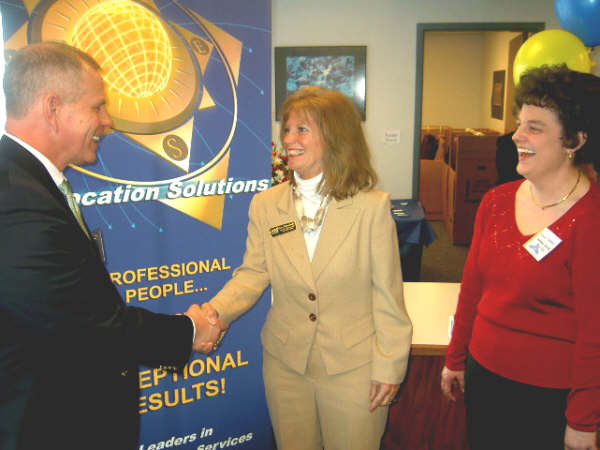 Joan Fehrenbach, center, Realtor of ReMax Results, is greeted at the Corrigan Moving Systems 80th anniversary celebration in the Valley Center Technology Park by Michelle Nicholas, customer service representative, and Dan Burke, vice-president of sales & marketing, both of the Farmington Hills office.
(MyBayCity Photo by Dave Rogers)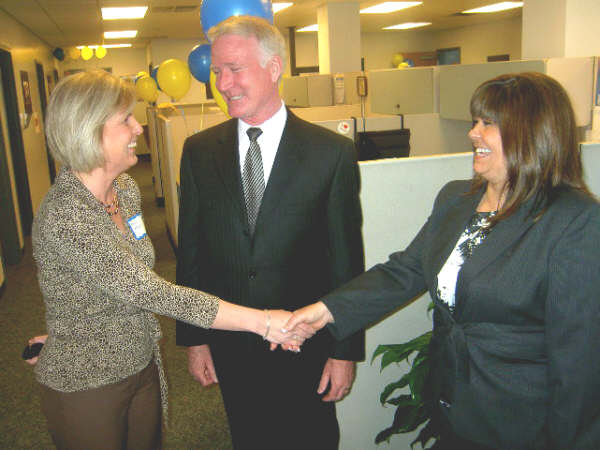 David Corrigan, of Saline, president of the moving firm, and Bonnie Robison, general manager of the tri-city branch at 1411 Straits Drive, greet Chris McCann, left, of Essexville, at the open house.
(MyBayCity Photo by Dave Rogers)
The firm's founder, Frank "The Chief" Corrigan, left the lumber camps of Quebec in 1923 with a dream of earning $5 a day. He moved to Dearborn, Michigan and joined the Ford Motor Company where he worked the Ford farms, sometimes chauffeuring Henry Ford himself. The Chief was ambitious and when he wasn't working at Ford, he worked after-hours delivering ice.
When the Depression hit, many folks were economically strapped and forced to move from their homes. The Chief made the most of the opportunity and in 1929, he switched from hauling ice with his three trucks to helping people move.
In 1956, Frank's son Paul Corrigan negotiated the first national account for Corrigan Moving & Storage with Ford Motor Company.
Corrigan now handles a wide range of household goods transportation and relocation services for, not only Ford, but major corporations worldwide. Services have expanded to international freight forwarding, office records storage, office systems furniture assembly and disassembly, and logistics management.
When Frank's eldest son, Paul Corrigan, returned from the U.S. Air Force in 1946, his father was ill due to the pressures of running the business and struggling without good help during the war years. Instead of going to college, Paul took over the business and learned through the "school of hard knocks."
In 1949 Corrigan began hauling for United Van Lines because the idea appealed to him. To this day, agents like Corrigan hold ownership and are involved in providing quality services through the van lines. The success of the agency system has led to United Van Lines being known as "America's #1 Family Mover."
Paul married Kathleen O'Hehir in 1954 and the couple had six children: David, twins Jeannette and Joanne, Michael, Maureen, and Karen. All the children have worked some part of the business; one job or another. Michael reports, "Around the dinner table, we were talking a lot about moving and storage."
The Corrigan children have worked all areas of the moving business as drivers, helpers and packers; in departments of accounting, sales, operations, and customer service. Corrigan Moving and Storage grew strong with financial controls and the Corrigans have earned respect in their community as sound business owners and developers.
In 1986 Corrigan purchased an 87,000 square-foot warehouse/office facility in Farmington Hills, Michigan, and moved their corporate offices from Dearborn.
Corrigan continued to grow through acquisitions and new construction. Corrigan purchased Hurd Moving & Storage, Ann Arbor, Michigan; Midland Moving & Storage, Midland, Michigan; constructed new warehouses/offices in Auburn Hills, Michigan; Grand Rapids Michigan, and Toledo, Ohio. The newest 106,000-square-foot branch is located in Novi, Michigan, and is shared by Corrigan Record Storage Co. and Corrigan Installation Services & Commercial Moving.
Paul Corrigan has always been involved in the promotion of quality transportation programs which deliver customer satisfaction. In 1994 the Michigan Movers and Warehousemen's Association presented their Mover of the Year award to Paul Corrigan and David P. Corrigan; this was the first time in the 72-year MMWA history a father-son team had been so recognized.
In 1995 United Van Lines presented Corrigan Moving Systems the initial President's Quality Award for outstanding customer service, recognizing them as "best of the best" among all domestic United agents.
The sons are currently active in the family business. David was named president and COO in 1995, Michael was promoted to executive vice president, and Paul Corrigan became chairman of the Corrigan Board and CEO.
The Kathleen Corrigan Training Center is located in the main warehouse in Farmington Hills. Conceived and designed by Paul's wife, Kathleen, the mini-home apartment was constructed in 1996 and is completely outfitted with the furnishings that make a home -- TV, personal computer, furniture, china, family pictures, etc. Here Corrigan trains their drivers and packers in the fine art of packing household goods, so the crew receives hand-on training before they arrive at the customer's door.
Now the great-grandchildren are learning the trade also. Nathan Corrigan, great grandson of the founder, has designed the firm's website at wwwcorriganmoving.com.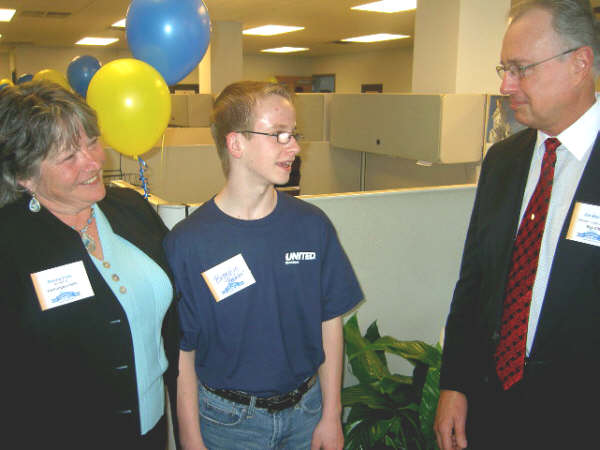 Brandon Becker, 8th grader at Cramer Junior High, Essexville, is welcomed to the Corrigan open house by Donna Felix, marketing representative, Farmington Hills, and Jim Boersma, Bay City, director of corporate sales.
(MyBayCity Photo by Dave Rogers)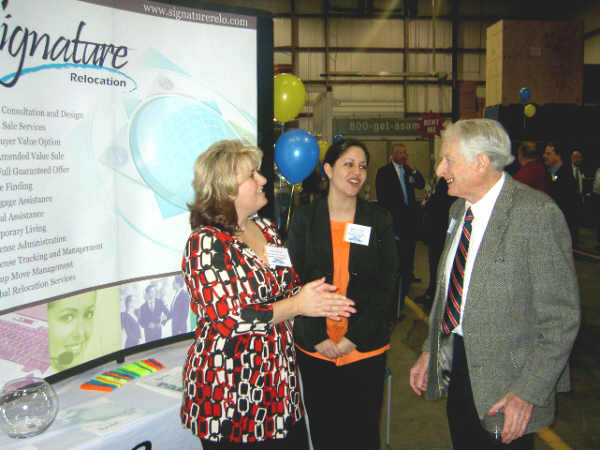 Corrigan affiliate Signature Relocations Services counselors Shari Bowen, left, and Maria Lodato, talk shop with Cliff Van Dyke, president of the Bay County Growth Alliance, who developed the tech park and brought the moving firm here nearly a decade ago.
(MyBayCity Photo by Dave Rogers)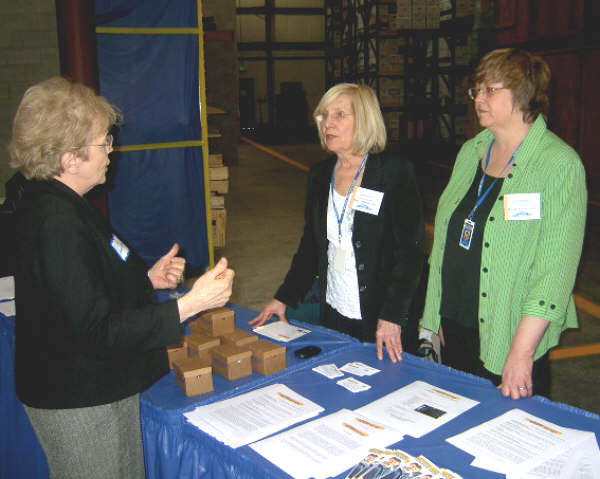 Dolores Rogers, left, of Hollister Commercial Real Estate, Bay City, chats with Ilene Harris, center, and Barb Shipley, both of the Novi office of Corrigan Record Storage.
(MyBayCity Photo by Dave Rogers)
---
---

Dave Rogers




Dave Rogers is a former editorial writer for the Bay City Times and a widely read,
respected journalist/writer in and around Bay City.
(Contact Dave Via Email at carraroe@aol.com)

More from Dave Rogers
---
Send This Story to a Friend!
Letter to the editor
Link to this Story
Printer-Friendly Story View
---
--- Advertisments ---