Ryan Decker of Western Among Dozens of Students at Rotary Vocational Day
Eric Gilbertson, SVSU President, Tells of Campus Expansion Projects
March 24, 2009 Leave a Comment
By: Dave Rogers
Last Weeks Meeting - March 24, 2009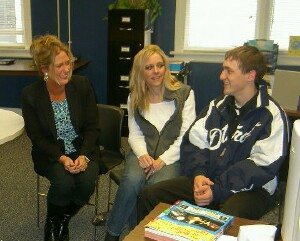 Ryan Decker
, 17, of Monitor Township, a junior at Western High, is interested in Advertising as a career.
That's why he attended a Rotary Vocational Day at O.J. Advertising/MyBayCity.com on Tuesday.
Ryan had this to say about his career goals: "I'm interested in Advertising because it just seemed to be really interesting and something that would be fun to do. I'm also somewhat interested in Engineering and I'm good in Math which would be very helpful in that field."
Ryan was one of dozens of students from local high schools who attended a Rotary luncheon meeting with their Rotary members serving as mentors for the day.
Among Ryan's mentors were O.J. Cunningham, Julie McCallum, Donna Cunningham and Dave Rogers.
Besides hearing about the advertising business and the excitement of making a television program like Tri-City Buzz, Ryan toured the Bay County Building and spoke with several officials including Drain Commissioner Joe Rivet, MSU Extension Agent Howard Wetters and Board of Commissioners Legislative/Financial Analyst Bob Redmond. That experience was to demonstrate the way a news reporter gathers governmental information from a county seat.
Ryan's grandfather was Bob Decker, longtime county commissioner and onetime chairman, so his interest in government comes naturally.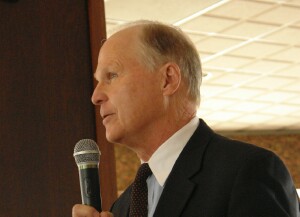 "Find something you care about and don't shoot too low," advised
Dr. Eric Gilbertson
, president of Saginaw Valley State University, main speaker at the luncheon. He told of improvements on the SVSU campus highlighted by $272 million in capital building now underway.
Throughout his career Dr. Gilbertson has been a member of 15 different Rotary clubs. Among previous posts he was president of Johnson State College in Vermont, executive assistant to the president of Ohio State University, and Economic instructor at Kent State University.
SVSU enrolls 9,837 and expects to hit 10,000 students next year, he said. That figure likely will level off in the foreseeable future. The university enrolls about 400 students from 175 countries, including 122 from China where the school sends a Mandarin speaking recruiter five weeks each year.
Engineering and Nursing are the two main curriculum growth areas, he said, noting that advisers "try to help students make good choices regarding the job market."
One regrettable trend is shifting of costs from taxpayers to individuals, he said. Ten years ago the state paid about half the costs of running the school; today the state's share is about 30 percent. "That trend is not likely to abate," he cautioned.
---
CLUB NEWS and ANNOUNCEMENTS
The club welcomed new members Jim Begick, Bill Leser and Brenda Scramlin. A new idea was introduced with the sponsors pinning the new member's Rotary Pins on lapels and the new members returning the favor with Sponsor pins.


The Community Grants committee is accepting applications from local groups seeking funding of projects. Check the club web site at rotarybaycity.org for full information.


Applications are being accepted for an outbound Ambassadorial Scholar.


GSE Team from Thailand is scheduled to be here April 5 through 10. A reception will be held at the Delta College Farmhouse. See Mike Stoner or Hratch for more information.


A Polio Vaccination Trip is being organized for Nigeria from May 2 to May 12. Anyone interested should contact Chuck Cusick.


Golf Outing: Tim Holsworth is looking for sponsors for the annual golf outing, which is scheduled for June 1, 2009 at the Bay City Country Club.


---
Upcoming Programs
(See the official schedule at RotaryBayCity.org )
March 31, 2009: A Journal of the Iditarod Run in Alaska From Linwood, Mi. to Anchorage Alaska --- The Iditarod Run. Jim Warren will tell you what it takes to make the journey with 10 dogs and below zero weather day after day and night after night.


April 7:
GSE team from Thailand
April 14: Delta Students Kenya Project Students will describe the effort in this 20th anniversary year of Delta College's partnerships with several colleges in Kenya.


April 21:
Blood Drive Program
April 28:
Michigan Lottery Commission
---
Visit RotaryBayCity.org
---
---

Dave Rogers




Dave Rogers is a former editorial writer for the Bay City Times and a widely read,
respected journalist/writer in and around Bay City.
(Contact Dave Via Email at carraroe@aol.com)

More from Dave Rogers
---
Send This Story to a Friend!
Letter to the editor
Link to this Story
Printer-Friendly Story View
---
--- Advertisments ---