County Compromise on DDA Tax Sharing May Be in the Works, Says VanDyke
Long Process in Store at Monitor Township for Proposed Tech Park Expansion
February 27, 2004 Leave a Comment
By: Dave Rogers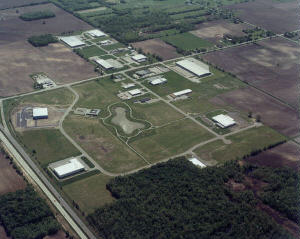 Aerial View - Valley Center Technology Park
      Tax sharing agreements with Bay County that would allow expansion of the Valley Center Technology Park may soon be reached, according to Cliff VanDyke, president of the Bay County Growth Alliance.
      However, a long process of approvalsstill is required at Monitor Township before the 200 acre expansion of the park would be approved, he said.
      VanDyke was optimistic about prospects for the agreement after a series of crucial meetings last week, including a public hearing at Monitor Township and several meetings with county commissioners.
      The county planning committee on a 7-1 vote tabled a resolution proposed by Commissioner Michael Lutz that would have thrown a monkey wrench into expansion of the park. Lutzwas the only "no" vote on the motion to table. Voting to table were commissioners Brian Elder, Kim Coonan, Pat Beson, Scott Holman, Eugene Gwizdala, Dennis Poirier and Richard Byrne.
      "The county indicated a willingness to negotiate a compromise, to work out an agreement, and I see that as very positive," he said.
      Meanwhile, Kenneth A. Lange, chairman of the Bangor Township DDA has reported that the vast majority of "captured" property taxes in the Bangor DDA district go to support local schools. The same situation is true in Monitor, says VanDyke.
      A report on the Bangor Township DDA Development Area shows that schools currently collect 66.3 percent of all property taxes resulting from new development within the current DDA Development Area. Local tax authorities currently collect 8.4 percent. The balance is captured by the Bangor DDA to pay for previously approved economic development projects to fund new opportunities.
      VanDyke responded to statements that most of the businesses in the 220 acre park were from the local area by stating: "That's exactly what the function of the park is supposed to be, retaining jobs that otherwise might be lost to the area."
      He said research by theMichigan Economic Development Commission (MEDC) shows that 90 percent of new jobs are created by the expansion of local businesses.
      "Rarely is a new business from outside the area attracted to a community," said VanDyke. "We have Metal Sales that moved here from Indiana and that puts us right at the five percent mark where MEDC says we ought to be." He was referring to the fact that one of 20 businesses in the park moved from outside the area.
      VanDyke said the definition of which businesses are local and which are not is a matter of opinion, also. For example, Quantum Composites and Corrigan Moving both came to the park from Midland and Interlink and Metro Fab both moved from Freeland while Straits Corp. moved here from EastTawas.
      "I don't see how those businesses could be considered local; and, they would not have been here if it hadn't been for the park," the Valley Center executive said.
      Meanwhile, in Monitor Township, a 60-day waiting period is running for potential taxing jurisdiction exemption requests involved with the proposed expansion of Valley Center,said VanDyke.
      First reading by the township board on the proposed expansion would be after April 23. The township board then would have to adopt an ordinance with modified boundaries and then the whole process would begin again with a draft of the tax increment financing and development plan. Another public hearing and more board approvals would be required before expansion of the park could proceed, VanDyke said, commenting: "It is not an easy process."
      The Growth Alliance has issued a draft policy statement and planning document as follows:
      "Our overall goal is the management of the Revolving Loan Fund/Business Park Development Fund to achieve the maximum number of new and retained jobs in Bay County. We will strive to increase the principal fund balance while providing an adequate operating budget.
      "Our funds can be leveragedmost effectively by partnering with a DDA type entity which can capture taxes on new investments. Captured taxes provide public facilities (roads, sewere and water lines) that encourage and facilitate private investment. In addition, public entities haveaccess to state and federal funding for business park development that is not available to private business.
      "The US-10 - Mackinaw Road corridor has proven to be one of the best business park locations in east central Michigan. The proven successful development pattern of the Monitor DDA District can be repeated in order to anticipate and accommodate future growth. This will depend on a strengthened partnership of the Growth Alliance, the DDA, the Township and the County. Our plans could receive important assistance from the proposed Bay Area Economic Development Coalition."
---
---

Dave Rogers




Dave Rogers is a former editorial writer for the Bay City Times and a widely read,
respected journalist/writer in and around Bay City.
(Contact Dave Via Email at carraroe@aol.com)

More from Dave Rogers
---
Send This Story to a Friend!
Letter to the editor
Link to this Story
Printer-Friendly Story View
---
--- Advertisments ---