Future of Sugar Industry Looks Sweeter Overseas Than in Saginaw Valley
Michigan Sugar Chief Hopes Feds Cut Better Deals With Foreign Producers
February 29, 2004 Leave a Comment
By: Dave Rogers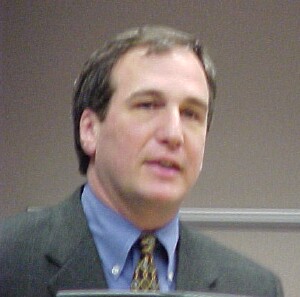 Mark Flegenheimer, president and CEO of Michigan Sugar Co., speaks to Tri-County Economics Club recently
      What does sugar mean to you?
      Ok, it makes candy, cereal, pop and cake taste better. But what does it mean to the economy of the Saginaw Valley?
      A livelihood for 350 year-round employees and 1,000 harvest-time employees of Michigan Sugar Co.;
      A way of life for 1,000 grower-owners of Michigan Sugar Co.
      A huge chunk of the pie for area businesses, since $180 million in local sugar dollars churn through the economy about two and a half times, according to Mark Flegenheimer, president and CEO of Michigan Sugar since 1998.
      Sugar has been an important part of the area economy for more than 100 years. But it is now threatened by unfair and unwise international agreements, the sugar company executive said.
      Flegenheimer spoke to about 200 members and guests of the Tri County Economics Club recently and made one point very clear: the sugar industry is not subsidized by the federal government. The main government intervention in the sugar industry is to limit imports through the World Trade Organization (WTO).
      Sugar is produced in 130 countries around the world, many of which subsidize their sugar industries, Flegenheimer said, emphasizing that the U.S. industry, second most efficient in the world, can compete in free trade if the playing field is level.
      "Unfortunately the government hasn't listened to us and has signed on to bilateral free trade agreements that hurt the U.S. sugar industry," he said. "To give more away while restricting production here doesn't make sense. It is unacceptable to have the sugar industry used as a pawn in international deals."
      The U.S. sugar industry has urged Congress to make more satisfactory agreements through the WTO, said Flegenheimer, "or else the market will be flooded and it will kill us. If that happens, it will be a pretty short story after that for the Michigan sugar industry."
      The sugar companyexecutive said 1,000 local people signed a petition to Congress protesting a liberalized import agreement with Australia. In Sebewaing petitions were passed around at basketball games. The industry was pleased that Australia agreed to control its exportsto the U.S. The main threat looming is CAFTA (Central American Free Trade Agreement) that would double the access to U.S. markets from five countries.
      Flegenheimer said U.S. Rep. Dave Camp, R-Midland, a key member of the House Ways and Means Committee, is in a bind in that he is a strong supporter of the sugar industry yet is a key ally of President George W. Bush. Obviously, the many voters in mid-Michigan who count on the sugar industry for their livelihood hope that both Camp and Bush consider the economy of this area first in making international deals.
---
---

Dave Rogers




Dave Rogers is a former editorial writer for the Bay City Times and a widely read,
respected journalist/writer in and around Bay City.
(Contact Dave Via Email at carraroe@aol.com)

More from Dave Rogers
---
Send This Story to a Friend!
Letter to the editor
Link to this Story
Printer-Friendly Story View
---
--- Advertisments ---