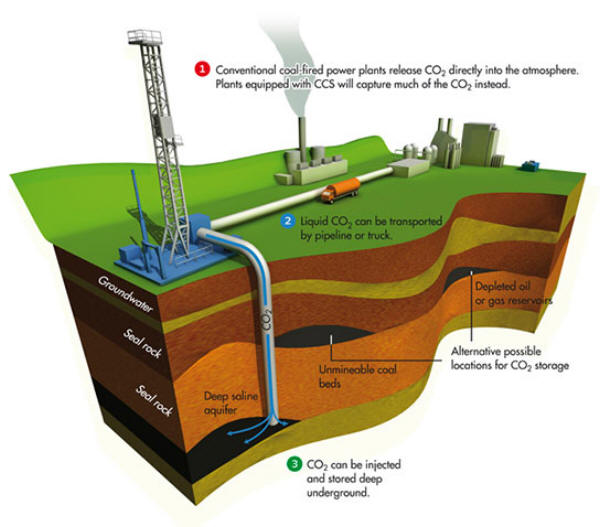 Diagram of CO2 Underground Storage Concept.
---
Michigan Underground May Be Key to Future of Coal-Fired Energy
Test Well Near Gaylord Eyed as Answer to CO2 Storage Question
Tests of underground formations near Gaylord, Michigan may offer an important part of the solution to the nation's energy problems.
Environmentalist campaigns have been mounted against coal-fired electrical generating plants like the proposed Consumers Energy expansion project at the Karn-Weadock complex here.
A coal-powered future that does not contribute to global warming is the goal of the Gaylord-based research.
Last year scientists injected 10,000 metric tons of carbon dioxide (CO2) underground into a geological feature called a saline formation.
If they can prove the CO2 will stay there forever that will provide a "Eureka!" moment in the history of science.
Then CO2 emissions from coal plants can be safely stored underground and not released into the atmosphere and contribute to global warming.
Coal plants are one of the major emitters of CO2. With seven new coal plants in the application process, Michigan stands to benefit a great deal from success in carbon capture technology.
The International Energy Agency and the Union of Concerned Scientists both recently issued statements saying that speed is essential if carbon capture is to have any future in America.
President Barack Obama strongly supported carbon capture and keeping coal in America's energy future during the campaign. In Lansing on August 4, he said, "We'll invest in technology that will allow us to use more coal, America's most abundant energy source, with the goal of creating five first-of-a-kind coal-fired demonstration plants with carbon capture and sequestration."
The Gaylord test is the largest research project of this type in the Midwest and will serve as a model for similar projects, according to Lynn Brickett, project manager for the National Energy Technology Laboratory, of the Department of Energy (DOE) in Pittsburgh.
The CO2 injection well is owned by Core Energy in Gaylord. Initial results are good, Brickett said. The CO2 has traveled less than 150 feet and is where they expected it to be. Thus, the Department of Energy wants to inject another 50,000 tons.
"So far there is no CO2 at the surface," said Ms. Brickett. "It is moving throughout the reservoir consistent with what our models predicted."
If CO2 escapes underground and migrates to the surface, it can be extremely harmful to humans, scientists said. So they are carefully tracking its movement in this test.
The DOE estimates a storage capacity of between 22 billion and 87 billion metric tons of CO2 is available beneath Michigan's surface.
"Cautiously, we're looking at about 40 billion tons worth of capacity. If we can get 100 million tons per year underground, that's 400 years worth of storage," said Dave Barnes, a geologist at Western Michigan University and contributor to the DOE's studies in Gaylord.
Because of the high potential, government funding for CO2 storage research in the region has exceeded $100 million over the past 5 years.
Michigan is part of the Midwest Regional Carbon Sequestration Partnership, a consortium of businesses, government agencies and universities. One in four Americans lives in this eight-state region which produces one-fifth of the nation's electricity. Three quarters of that electricity is produced by coal plants, which release about 830 million metric tons of CO2 into the atmosphere per year, according to the consortium.
The Midwest consortium received a $61 million DOE grant in last fall for exploring carbon capture sites. The grant funded Phase III that will span 10 years. One million metric tons of CO2 will be injected over four years at an ethanol plant in Greenville, Ohio.
West Michigan in particular has special geological formations crucial for capturing carbon underground, according to Barnes.
There are plans for a coal plant in Holland that would use carbon capture to store emissions underground. Barnes said that project awaits public and federal support and needs initial DEQ approval.
Barnes said the Mount Simon Sandstone formation, the underground reservoir that stretches from northern Michigan to parts of Indiana and Illinois, appears to have areas best for storing CO2.
"Michigan has plenty of bands that are at the optimal depth of between 2,600 and 6,500 ft.," he said.
MORE POWER Three of Michigan's major coal plant proposals call for creating 2,150 megawatts of power. While some of that will be generated from renewable fuels, the majority will come from coal. Those three will also account for most of the 15 million tons of annual CO2 expected by the proposed plants.
Consumers Energy's application to expand its Karn/Weadock plant near Bay City is the largest proposed coal plant in Michigan at 800 MW. Clean Energy Now, a collection of environmental groups throughout Michigan, estimates the plant's CO2 output at about 4.2 million metric tons per year.
At the same time, Consumers is preparing for regulations that may some day include capturing their carbon emissions, said Jeff Holyfield, director of news and information for Consumers Energy in Jackson.
Holyfield predicts that could take as long as 20 years. CO2 that would have normally been emitted into the atmosphere from a company is instead liquefied and piped thousands of feet below the surface.
Underground depositories include oil and gas reservoirs, coal seams and empty saline reservoirs that once stored crude oil, natural gas, brine and CO2 over millions of years.
These three locations offer three different ways for capturing and storing carbon dioxide. The Gaylord pilot injection is filling an empty saline reservoir.
The enhanced oil recovery method injects CO2 into the ground to force out natural gas and oil from brines. The recovered gas and oil can be used or sold, while the CO2 stays in the ground. Traverse-city based Core Energy is the only company east of the Mississippi River using enhanced oil recovery with CO2.
This existing infrastructure made the northern Michigan region a particular place of interest, Barnes said.
The pipeline that takes CO2 from the gas processing plant about nine miles to Core's injection site. "CCS has been going on for years up north for oil and gas extraction. It produces a product that can be sold while at the same time storing CO2," he said.
A third method of capturing CO2 is in coal seams that are un-mineable. In most instances, CO2 is used similar to the oil recovery method for extracting the methane gas. However, this method is far more prevalent in Appalachia than it is in Michigan, where coal seams are more common.
There are also plans in Alma and Filer Township near Manistee to construct a coal plant that gasifies the coal before burning. Pollutants are removed from that "syngas" and steam generated from the process and burning of the syngas can be used for energy.
Carbon capture, tied to use of coal, faces many hurdles. Environmentalists claim using coal for energy is outdated and say the nation must turn to alternative fuels.
Clean Energy Now, a collection of environmental groups in the region, has been organizing to stop new coal plants.
"Unless we change direction now and end the coal rush, Michigan will stand alone while the rest of the nation moves away from coal, creates renewable energy jobs and joins the fight against global warming," said Cyndi Roper, executive director of the state chapter of Clean Water Action.
"Even if you capture CO2, you still have the mining process for extracting coal and energy demand for piping it underground," said Tiffany Hartung of the Oakland County (MI) Sierra Club.
"We need to move toward clean energy technology. Coal is the fuel source of the past and coal power plants are the technology of the past," she said.
Consumers Energy says its plan includes coal plants in its energy portfolio in order to meet consumer demands.
Mr. Holyfield said Michigan will need 5,000 more megawatts of power by 2025. Consumers has 1.7 million residential customers and a typical household uses 8 percent more electricity than 10 years ago, he said.
On the one hand, demand is lessening. Consumers natural gas customers use 17 percent less gas than 20 years ago because of more efficient stoves, water heaters and furnaces, he said.
However, on the other hand, growth in demand is illustrated by the fact that a plasma television uses four times more electricity than a standard television.###
---
---

Dave Rogers




Dave Rogers is a former editorial writer for the Bay City Times and a widely read,
respected journalist/writer in and around Bay City.
(Contact Dave Via Email at carraroe@aol.com)

More from Dave Rogers
---
Send This Story to a Friend!
Letter to the editor
Link to this Story
Printer-Friendly Story View
---
--- Advertisments ---