The Windmills Are Coming, The Windmills Are Coming! Green Energy Alert!
Essexville Firm Expects Fast Expansion as Demand High for New Energy Source
April 25, 2009 Leave a Comment
By: Dave Rogers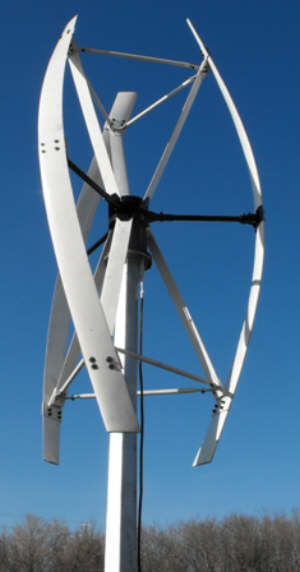 Fonzi's 4KW vertical wind generator is a popular item with farmers and homeowners.
Expect to see windmills soon at several unlikely spots in Bay County:
The Bay County Golf Course;
Essexville City Hall;
Pinconning Park;
Maybe even the grounds of the Bay County Building.
Of course, the first windmill is slated to go up soon near the new state office building in Bay City's Johnson Street Industrial Park.
Individuals already are erecting their own windmills like a small one that went up recently near the west approach to Veterans Memorial Bridge.
County officials are getting the "windmill fever," and their interest may even extend to sponsorship of offshore windmills in Saginaw Bay.
Driving this development, in addition to the nationwide need to diversify energy sources, are two developments:
1-County Executive Thomas L. Hickner now sits on the Great Lakes Wind Council under appointment by Gov. Jennifer Granholm; and
2-Glenn Fonzi is in high gear fabricating wind energy equipment at his Affordable Green Energy company in the new Essexville Industrial Park.
Mr. Hickner, along with a group of officials and business people, toured Mr. Fonzi's facility in Essexville recently and received a primer on the processes and materials that will no doubt transform our world as far as energy is concerned.
Among those who toured the AGE plant were County Commission Chairman Pat Beson, Gougeon Brothers executive Rob Monroe, County Executive Thomas L. Hickner, Cliff Van Dyke, president, Bay County Growth Alliance, and exchange students from Denmark and Germany.
Mr. Fonzi explains his ideas and his company: "Affordable Green Energy is a renewable-energy company specializing in the field of personal wind power."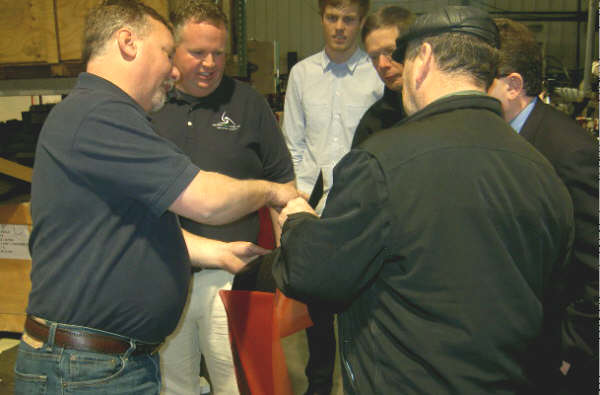 Glenn Fonzi, owner of Affordable Green Energy, Essexville, shows a group from Bay County including officials, business leaders and exchange students some of the high tech materials the firm produces.
(MyBayCity Photo by Dave Rogers)
He has been meeting with Essexville City Manager Dale Majerczyk to plan for expansion of the plant and addition other factory facilities near the present site.
Mr. Fonzi expects a rapid expansion of the company based on initial sales and interest from the public. He received a warm reception for his products at a recent Saginaw Home Builders Show at Saginaw Valley State University.
"In the face of rising utility costs, decreasing supplies of fossil fuels, and the desire to be more independent, Affordable Green Energy lets you declare your energy independence.
"Affordable Green Energy was founded to support the growing demand for alternative energy and the desire for energy independence by providing complete consultation, design, and implementation of affordable wind energy systems.
"Our mission is to offer highly efficient renewable energy systems at an affordable price."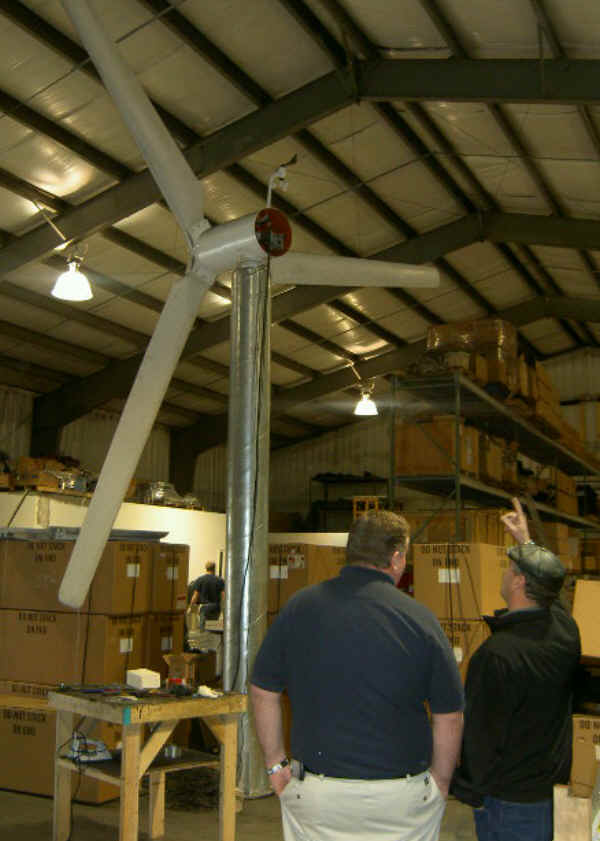 County Commission Chairman Pat Beson, right, and AGE sales consultant Matt Hewitt observe a demonstration windmill at the Affordable Green Energy plant on Pine Road.
(MyBayCity Photo by Dave Rogers)
Gov. Granholm signed an executive order on February 6 creating the Great Lakes Wind Council. The council will identify the best sites for offshore wind systems and the best ways to regulate offshore wind development in the Great Lakes. The council is an advisory body within the Michigan Department of Energy, Labor, and Economic Growth, which acts as the state energy office.
In addition to engaging the public in assessing statewide interests concerning the siting of wind installations, the council will define criteria for reviewing applications for offshore wind development. The State of Michigan holds title to about 40 percent of the bottomlands of the Great Lakes but does not yet have criteria to govern the siting of offshore wind systems.
The council will also identify criteria for areas that should be excluded from wind development and those that are most favorable. The executive order states that, if developed properly, offshore wind in a very small portion the state's share of the Great Lakes "could provide a significant portion of Michigan's and the Midwest's electricity needs, improve Michigan's economy, and create jobs in this state." The order aims to ensure that wind systems are not sited in areas that would harm tourism, recreation, shipping, fishing, wildlife populations, property values, or citizens' quality of life.
Gov. Granholm appointed Mr. Hickner and 12 other civic leaders representing interests including land policy, the environment, Native Americans, and the tourism, shipping, and energy industries. The council also includes the directors of the state energy office, and the Departments of Environmental Quality, Natural Resources, and Transportation, in addition to heads of other state agencies.
The council must report its findings to the governor by September 1, 2009.###
---
---

Dave Rogers




Dave Rogers is a former editorial writer for the Bay City Times and a widely read,
respected journalist/writer in and around Bay City.
(Contact Dave Via Email at carraroe@aol.com)

More from Dave Rogers
---
Send This Story to a Friend!
Letter to the editor
Link to this Story
Printer-Friendly Story View
---
--- Advertisments ---