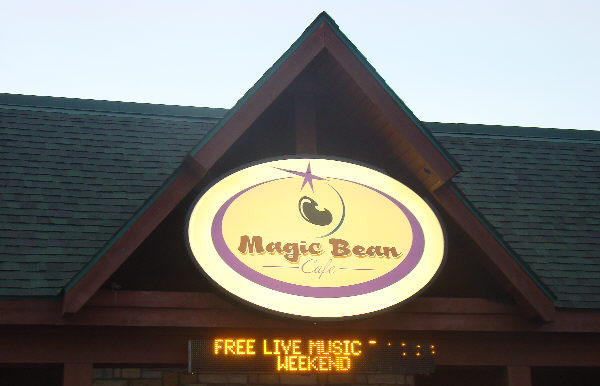 The Magic Bean is located at 5789 State St # 3 in Saginaw!
---
Meet New Recording Artist - Remont Anthony
Founder Of Strive Productions And SoulBaby Records Keeps It Real!
May 20, 2009 Leave a Comment
By: MyBayCity Staff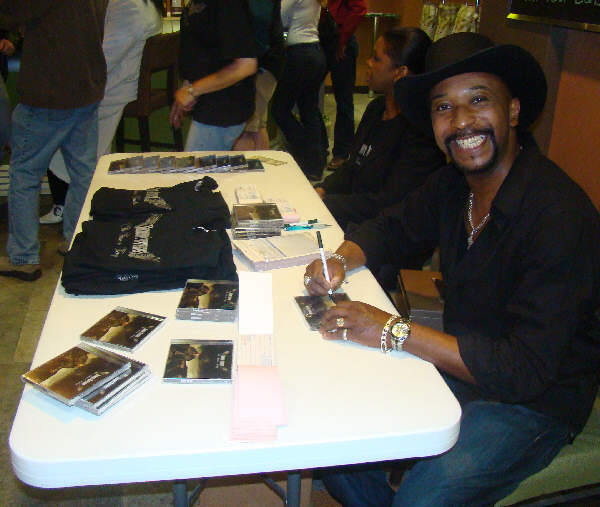 Recording artist Remont Anthony recently had a CD release signing performance hosted by the Magic Bean Cafe' in Saginaw!
(MyBayCity Photo)
Predicted to be one of the best new artists of 2009, Remont Anthony knows how to keep it real in hard economic times. Remont, born and raised in Saginaw, began his singing career at the age of 7. Remont performed in many local talent shows and competitions in an effort to polish his talent.
In puursuit of a career in entertainment, he moved to California at the age of 21, earning success not as a musician, but as an associate film producer in the movie industry until a life threatening illness quickly re-focused his energies and talents towards cultivating the musical talent burning within his soul.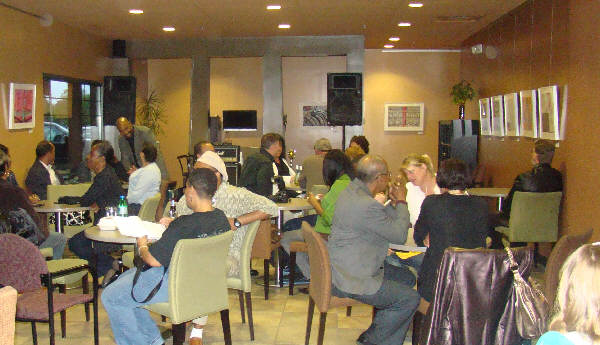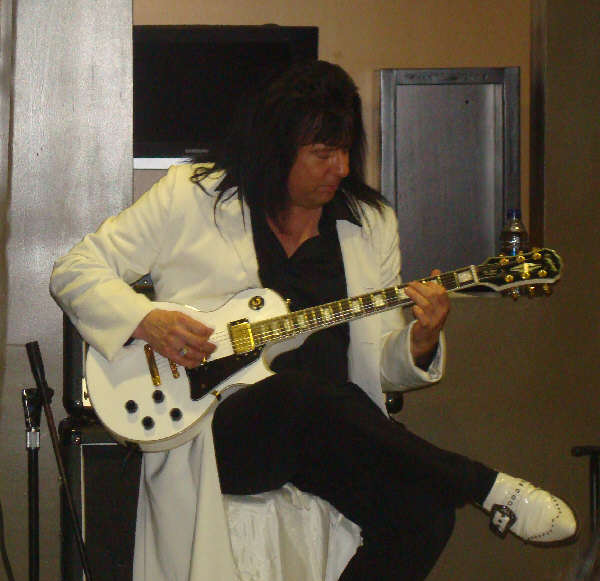 Peak Performance "Wall of Fame"
(MyBayCity Photo)
Remont's uncle, who is also in the music industry witnessed the spark of talent within a very young Remont Anthony and gave him the interest and confidence to someday, follow his dream.
"My Uncle, L.J. Reynolds acted as a sponsor for me in many ways," explains Remont. "He bought me my first bass guitar and taught me how to play. He taught me the fundamentals of how to connect with a crowd and overcome any fears of public performance at an early age."
"Some of the key things I learned from him are key principles for an artist and performer," he continued. "You often wonder if somebody will appreciate your work. And he taught me that every artist has an audience. All the artist needs is an opportunity to be heard and then the audiences will appear," said Anthony.
Anthony continued, "He also told me once that everybody out there won't like you, but those that do will know all about you through your music. For 25 years I worked as an associate producer, but let it go when I had a life altering experience. Frankly, I was not into it with both feet and it was drawing me away from my true calling."
"I experienced an epiphany when one of my internal organs got infected and it was a life threatening illness. One day it felt like an elephant was sitting on my chest and I was rushed to the Emergency Room and stayed in the hospital for three months. My first surgery happened at UCLA with the best surgeons, but I went into the hospital at 230 pounds and came out at 140. The head doctor snuck into the room one night and said that in all his years of practice he had witnessed only two people survive the same condition that I had, and said that I was that second person. From that point forward I reconsidered what my purpose in life truly is. For a long time my true calling was laying dormant and not working, despite all of my success," explained Anthony.
"The main thing I learned is that I can't do it all by myself. Before my mindset was that I didn't need anybody's help in life. But ultimately, it's all about love, honesty and ethics, the Golden Rule stuff. No matter how successful I was with film production, and trust me, I'd bought all this stuff, acquired homes, cars, and material possessions, as I lay in my hospital bed I realized it had all been about me and nobody else, so in the end my life experiences were empty," said Anthony.
Each of Remont's surgeries took one full year to recuperate from and he had one in California and two in Saginaw. During that period the music, the lyrics, the words and emotions that he felt needed to be expressed.
"I realized that I had a lot to say and do and that if my music, as with my life, was going to have depth and weight to it, I had to address the issue of what I was going to do with my success," stated Anthony.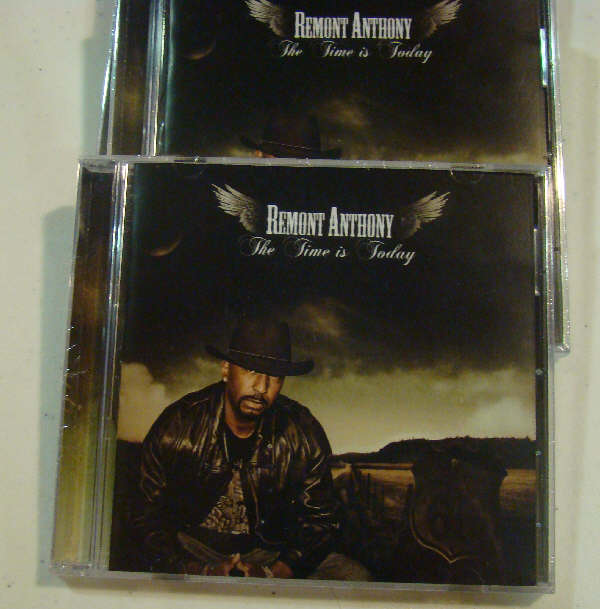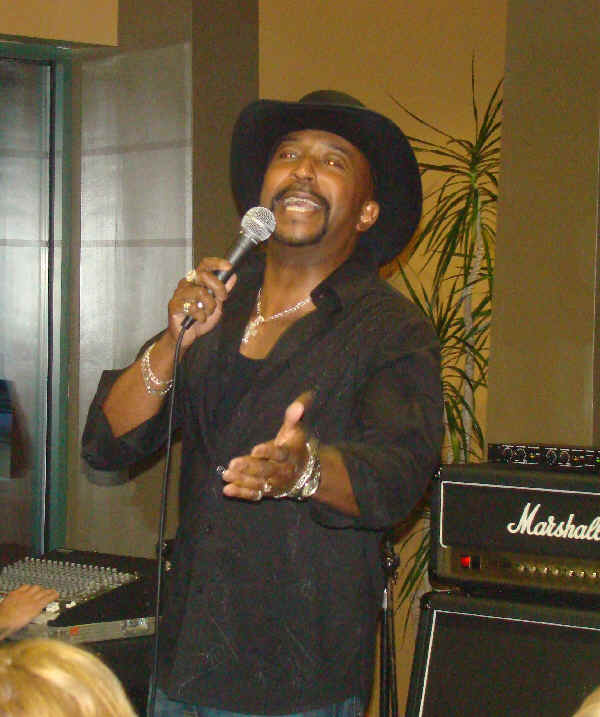 Remont Anthony's Singles can be heard on radio stations throughout the Tri-Cities and purchased or downloaded at CDBABY.COM as well as locations such as Magic Bean! They are also available for purchase or download now at on Apple iTunes, Rhapsody, eMusic, Amazon and more
(MyBayCity Photo)
Given additional time here on earth caused Remont to rearrange his priorities. He uses his talents to help humanity as much as he is able by expressing love, courage and empowerment through the messages in the songs he writes. But it does not stop there, he and his sister, Tonja LaRoyce founded the record label, SoulBaby Records as well as the production company, Strive Productions.
Remont Anthony recently released his first single, "The Time Is Today" and performed live at the Magic Bean Cafe' in Saginaw. Anthony's second single, "Shorty Got My Heart" is quickly becoming a staple in the minds of those who hear the tune and is sure to explode onto the charts!
"It blew me away, how the CD Party turned out with so many great people that came out to support me, and all of the new fans and friends I made that evening. My Michigan Rocks, I love Michigan! I'm looking to performing a lot through out all of Michigan and other States and returning to the studio to continue productions on my full CD to release in about 3 - 4 months from now. A Special Thanks to Lisa and Gary Rechestiener at The Magic Bean Café," said Anthony.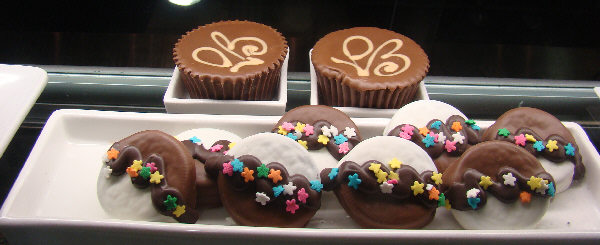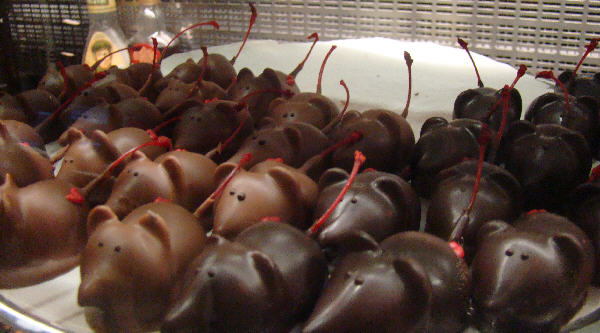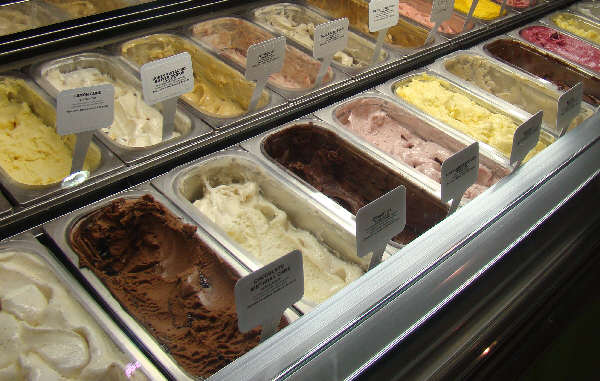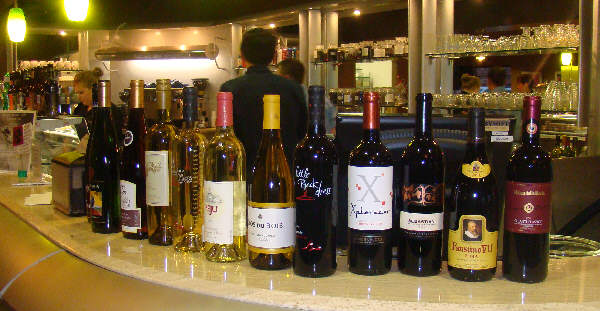 Visit the Magic Bean Café for coffee, delicious food, entertainment or their "NEW" class act lounge! Visit them on the web at Magic Bean Cafe Website
(MyBayCity Photo)
The singles can be heard on radio stations throughout the Tri-Cities and purchased or downloaded at CDBABY.COM as well as locations such as Magic Bean. They are available for purchase or download now at on Apple iTunes, Rhapsody, eMusic, Amazon andCafé more! VisitCaféCafé
Remont Anthony Website
TODAY!
"The purpose of this success will be bigger than me. It's not only about me, it's about everyone. Being the son of an auto worker myself, Strive Productions, SoulBaby Records and I want to participate and contribute to the rebuilding of a stronger community, state and nation," says Anthony.
"There was $2.9 billion dollars in download sales in 2008 and I don't think Michigan saw very much of that money," states Remont. "I'm taking my cue from Barry Gordy because I love all that old Motown stuff and am here to challenge our stasis. We have to move forward and become diversified and with the situation in the auto industry I see panic and fear on the faces of three out of five people."
Strive Productions is a music production company, composed of dedicated, talented songwriters and producers that provide top song writing material and commercial jingles to advertisers.
Strive Productions provides top songwriting material to record labels and artists. Strive Productions offers original songs that are written and produced of master quality.
Their recordings include such genres as pop, rock, rhythm & blues, country, dance and more. They also focus on composing music for corporate production and film. Custom jingles can be used for radio, television, station ID and much more!
"We want to shape a better world. To my fans, your belief and support will help create jobs in our struggling economy through Strive Productions and SoulBaby Records. We believe help starts at home, so we support various local service programs and non-profit organizations," said Anthony. As Remont storms through the music industry with his fresh sounds of pop, rock and soul, his brilliant music of empowerment, loving personality and human nature will move your spirit! Remont Anthony knows how to keep it in perspective and keep it real and is definitely leading by example!
Strive Productions is located in Saginaw at 3315 Carter Street and can be contacted at strivepro08@sbcglobal.net or (323) 691-1752.
---
---
---
Send This Story to a Friend!
Letter to the editor
Link to this Story
Printer-Friendly Story View
---
--- Advertisments ---