Germans Testing Carbon Sequestration for Coal-Fired Generating Plants
Implications Could Be Great for Karn-Weadock Proposed Expansion Here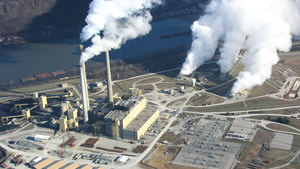 Coal-fired generating plant in Germany where carbon capture processes are being tested.
A technology development that may ease energy generation problems in the United States is now underway in Germany as well in Michigan and other locations worldwide.
U.S. energy technologists are closely watching a power plant just outside of Berlin is expected to test carbon sequestration for the first time this week.
(For a related story, please see MyBayCity.com April 8, 2009, "Michigan Underground May Be Key to Future of Coal-Fired Energy.")
Similar projects are underway in Canada, Australia and off the coast of Norway, as well as in Gaylord, Michigan, and several other sites in the U.S. Scientists are hoping that the efforts to store climate-killer CO2 gases underground will help to reduce emissions of the gases responsible for global warming in the future.
The German technology could remove up to 90 percent of the carbon dioxide by pumping C02 underground and could help reverse climate change. But the process could also be dangerous.
Michigan, among other states with a need for additional energy generation, is at the center of a storm of controversy about proposals to increase the use of coal.
However, most of the environmental concerns fail to consider the new technology that is quickly coming on line that may alleviate most of the dangers of burning more coal.
The reason industrialists cite for their persistence in seeking more coal-fired generating capacity is that renewable energy sources have not yet reached grid parity. That is the point at which the cost of generating electricity is equivalent to the generating cost with fossil fuels.
"Still, it's likely that fossil fuels will be a part of our energy infrastructure for a long time, which places a premium on cleaning up their emissions," writes John Timmer of the science news site Arstechnia.
The carbon dioxide sequestration project is being tested in Ketzin, near Potsdam, Germany.
Tests will answer the question: Can CO2s be stored underground safely? For the first time ever in continental Europe, carbon dioxide is set to be pumped underground. Scientists working in the town of Ketzin, just outside of Berlin, want to begin pumping quantities of the greenhouse gas underground this week in order to determine whether it can be stored safely in sandstone deposits during a test phase that will continue through 2009.
Still, scientists are warning against excess optimism.
"Even if it turns out that it works, we will still need to continue looking for alternative energy sources," said the director of the project, Frank Schilling of the German Research Center for Geosciences (GFZ) in Potsdam.
One reason is that the technology won't be ready for the market until 2020 at the very earliest. Nor is it certain if the gas can be kept from seeping out of its underground storage area.
Capturing carbon dioxide emission from coal-fired power plants and pumping it into underground storage also takes energy. Fully 20 percent more coal would be required to produce the same amount of energy.
Still, energy utilities around the world have been promoting the development of so-called carbon capture and storage, arguing that they should be allowed to construct new coal-fired power plants because in the future they will be able to sequester the CO2 deep beneath the earth. Companies are spending billions to develop the technology.
The German carbon sequestration facility is being built by European energy giant Vattenfall in Ketzin. If it is deemed safe and effective, it could be hooked up to a nearby Vattenfall coal power plant. But the connected sites will only generate a relatively modest amount of electricity -- about that created by a large wind farm.
The CO2 will be pumped about 800 meters (2,600 feet) below the earth's surface into a saline aquifer with porous sandstone. There have been concerns about the safety of the facility. The list of open questions is long -- with worries about leakage a priority. Should CO2 work its way back to the surface, concentration at leak points could be deadly. Should CO2 make up just 8 percent of air volume, it is deadly.
Despite the safety concerns, the number of tests underway around the world indicate clearly that billions of dollars are being spent and the best scientific minds in the field are determined to make coal a safe fuel for the future.###
---
---

Dave Rogers




Dave Rogers is a former editorial writer for the Bay City Times and a widely read,
respected journalist/writer in and around Bay City.
(Contact Dave Via Email at carraroe@aol.com)

More from Dave Rogers
---
Send This Story to a Friend!
Letter to the editor
Link to this Story
Printer-Friendly Story View
---
--- Advertisments ---