I Just Wrote a Column That Used the Word Sewage Twenty Times
My Mother Would Be So Proud -- Happy Mother's Day
May 10, 2009 1 Comments
By: O. J. Cunningham
I don't completely understand my fascination with sewage. But I know I have some issues when it comes to sewage.
I particularly don't like the phrase . . . "Partially Treated Raw Sewage."
A recent article in the Bay City Times, (The Times and I seem to be on the same page when it comes to sewage) said that in the first four months of 2009, over one billion gallons of partially treated raw sewage has been dumped into the Saginaw River.
That is truly . . a lot of crap (sewage).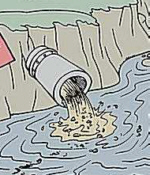 But the true question is . . . Just how much sewage is a billion gallons of sewage. (I have already used the word sewage (counting this one) nine times already in this column about sewage (10).
A football field is 300 x 160 or 48,000 square feet. A billion gallons of raw sewage (11) would reach a staggering 2,785 feet into the sky.
The tallest man-made structure is Burj Dubai, a skyscraper under construction in Dubai that reached 818 m (2,684 ft) in height on 17 January 2009.
In comparison . . . Empire State Building was built in 1931 . . . Is 381 meters / 1,250 feet tall with 102 stories. Not even close to our football field sized Tower of Sewage (12)
Vatican City (Where the Pope lives) is approximately 110 acres, and has a population of around 900. It is the smallest country in the world by both area and population. My Math Major son, Chris, says that one billion gallons of sewage (13) would cover Vatican City with 25 feet of liquid sewage. (14)
But now we need to start stinking . . . oops, thinking outside the box.
I know you're thinking what I'm thinking now . . . What about Bay City?
Bay City is 11.3 square miles of which .9 square miles is water (well . . . maybe it's water). Chris says that one billion gallons of sewage (15) would cover all of Bay City with five inches of smelly liquid. (sewage) (16)
If all that sewage (17) was just in the river right here inside the Bay City limits, the river would be six miles high.
I know. I know.
What about beer?
A billion gallons is 128,000,000,000 US fluid ounces. (This is going really well.) That will make 16 billion cans of beer that are each 4.8 inches high.
If you stack those cans end-to-end, the beer will stretch about 1.2 million miles. (It's only 238,857 miles to the moon.) The cans would also circle the Earth 48 times.
That's a lot of cans . . . 10 cent deposit . . . 16 billion cans 1.6 billion dollars when you're done. We're gonna need a bottling company. Sounds like a business opportunity.
The one billion gallons of sewage (18) would also cover the Interstage (I-75) between Bay City and Saginaw with 26 feet of sewage (19). Kinda like a SUPER CAR WASH . . But be sure to keep your windows closed, your wipers moving and your bright light beams on.
A billion gallons of raw partially treated sewage (20) is REALLY a lot of CRAP. And we really should stop flushing it all into the Saginaw Bay.
(Editor's Note: O.J did not use the word "shit" or the phrase "boneless brown trout" in this column. We commend him for his restraint.)
---
"The BUZZ" - Read Feedback From Readers!
jchowell Says: On May 11, 2009 at 08:08 PM

Hmmnnn...come to think of it, I never have heard anyone use the phrase "holy waters of the Saginaw".
I suppose all the partially treated processed food flowing between her mighty banks could be the reason.
Anyhow, them there's my thoughts.
---

O. J. Cunningham




O. J. Cunningham is the Publisher of MyBayCity.com. Cunningham previously published Sports Page & Bay City Enterprise. He is the President/CEO of OJ Advertising, Inc.

More from O. J. Cunningham
---
Send This Story to a Friend!
Letter to the editor
Link to this Story
Printer-Friendly Story View
---
--- Advertisments ---