The Friends of Celtic Culture Present 'THE ELDERS'
Hosted by The State Theatre Bay City - May 30, 2009
May 13, 2009 Leave a Comment
By: Mike Bacigalupo - State Theatre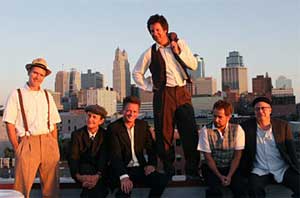 "The Elders" Performing at the State Theater
May 30, 2009
"THE ELDERS" performing at the Bay City, State Theater on Saturday, May 30, 2009 at 7:30 PM. Show is sponsored by The Friends of Celtic Culture.
Take a group of Kansas City musicians with a passion for Celtic music, an Irishman with a love of all things American, and you get a cross-pollination of elements that is high octane and progressive, yet rooted in tradition. What they have come to discover is something unaffected by fads, trends and the giant maw of mind-numbing commercialism. Some call it arse-kickin' music from the heartland. Robert Oermann of MUSIC ROW Magazine calls The Elders 'a band to shout from the rooftops about.'
THE ELDERS:


Ian Byrne - Vocals and Percussion
Norm Dahlor - Bass, Banjo, Guitar and Vocals
Brent Hoad - Violin, Mandolin, Keyboards and Vocals
Joe Miquelon - Keyboards and Saxophone
Steve Phillips - Guitar, Mandolin, Vocals
Tommy Sutherland - Drums and Percussion
Since forming in 1998, The Elders have brought their musical mix of amped-up roots rock, powerful vocals, blazing instrumentals and top-notch songwriting to festivals, pubs and theaters across the United States and Ireland. Through it all their four studio albums, two live albums and DVD have become sales staples at festivals and gift shops across the US.
The band is now poised to break wide open with their latest release, Racing the Tide, featuring the first Triple-A Radio single 'Send a Prayer.' The band is already familiar to many television viewers, thanks to the more than 100 PBS stations that have aired their 'Live at the Gem' Concert Special.
The Elders are fronted by charismatic Irishman, Ian Byrne from County Wicklow, and backed by a group of wicked-fine Kansas City musicians. Band members include guitarist Steve Phillips (The Rainmakers), bassist Norm Dahlor (Tommy Shaw Band), violinist Brent Hoad, drummer Tommy Sutherland, and keyboardist Joe Miquelon (Asleep at the Wheel). All are well-known veteran musicians having played in numerous recording and touring bands before forming The Elders.
These six gentlemen create original music that transcends the stereotypical notion of Celtic music and they deliver it with passion and fire. The songs are mystical, comical, political and cultural, while covering a wide variety of topics such as poverty, civil war, family bonds, spirituality, love and friendship. They tell us stories of people, places and events - some distant, some recent, some real and some imagined.
The band tours as headline performers at festivals in major cities such as Philadelphia, New York, Cleveland, Chicago, Milwaukee, and Denver as well as secondary markets in the north-east, south-east and mid-west regions. They will wind up their fourth tour of Ireland in March, 2007 just in time for the 5th annual 'Elders Saint Patrick's Day Hoolie' at the Uptown Theatre in Kansas City.
The Elders have had airplay at over 120 radio stations across the country and have been featured live on Woodsongs Old-Time Radio Hour. The single 'Send A Prayer' is currently being serviced to Triple-A Radio by Upstart Entertainment out of Los Angeles, CA, with an emphasis on major market public radio, NPR and syndicated shows like World Cafe, Acoustic Cafe and Thistle and Shamrock.
http://www.eldersmusic.com
Tickets are $20.00
Buy Tickets On-Line
---
---
---
Send This Story to a Friend!
Letter to the editor
Link to this Story
Printer-Friendly Story View
---
--- Advertisments ---