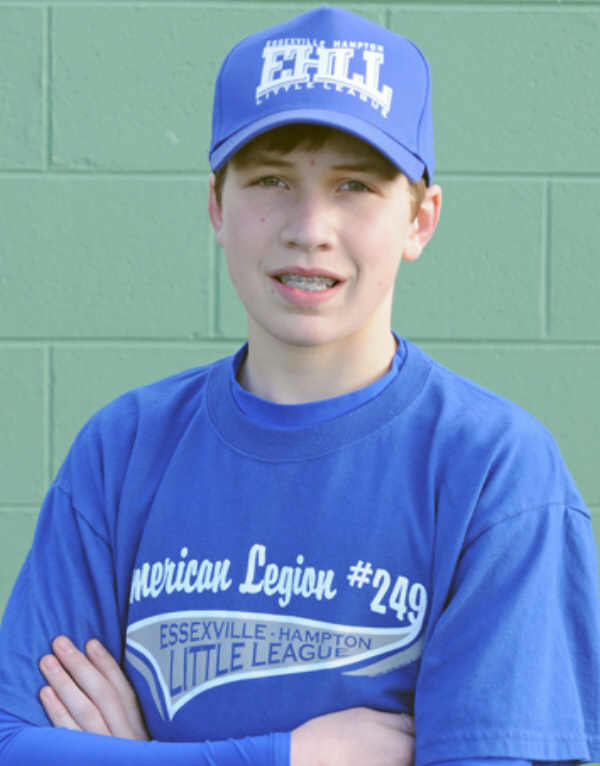 American Legion's Nick Ratajczak pitched a Perfect Game in EHLL. Majors
(MyBayCity Photo by John Keuvelaar)
---
American Legion's Nick Ratajczak Pitches Perfect Game in EHLL Majors
May 17, 2009 Leave a Comment
By: John Keuvelaar

As children grow up, part of their play is envisioning themselves doing great things. With sports, it may be hitting the walk-off home run, playing in the championship game or pitching a no hitter. For Nick Ratajczak, he accomplished such a dream by pitching a perfect game.
A perfect game in baseball is defined as getting every batter out in a full inning game. That means nobody reaches base on a walk, hit or error. That is what makes this accomplishment even more impressive than a no-hitter. The pitcher and his teammates must be flawless. Together, they must be perfect.
Nick Ratajczak pitches for the American Legion boys major baseball team out of the Essexville-Hampton Little League. These boys are ages twelve and under. Recently he pitched a perfect game against Bay Landscaping.
So when did the realization that he might be throwing not only a no-hitter, but a perfect game start to come to his mind?
"I started to realize it about the third or fourth inning," Nick said in this exclusive MyBayCity interview. "I just kept thinking to just throw strikes and hope they keep up the good defense behind me."
And what about his teammates?
"Towards the fifth inning, they knew what was on and started rallying behind him," said Manager Tom Wood. "I think that gave the team that extra incentive to play tough defense behind him," Wood added.
That tough defense really came through in the last inning.
"In the last inning, Aaron Bookmeyer (of Bay Landscaping) hit a fly ball to right field," Ratajczak said. "Ryan Wood really saved (me) on that one," Ratajczak smiled.
"After Ryan (Wood) made that catch for the last put out, everyone busted out in celebration in the dugout," said a very jubilant Manager Tom Wood.
But a mandatory pitch count rule in Little League almost prevented the perfect game from happening. Tom Wood, Manager of the American Legion team explains: "As a twelve year old, you can only throw 85 pitches in any one game (which is 6 innings long)," Wood went on. "Most kids will throw 85 pitches by the fifth inning so they won't be able to go anymore," Coach Wood added.
Nick accomplished the perfect game while throwing only 65 total pitches.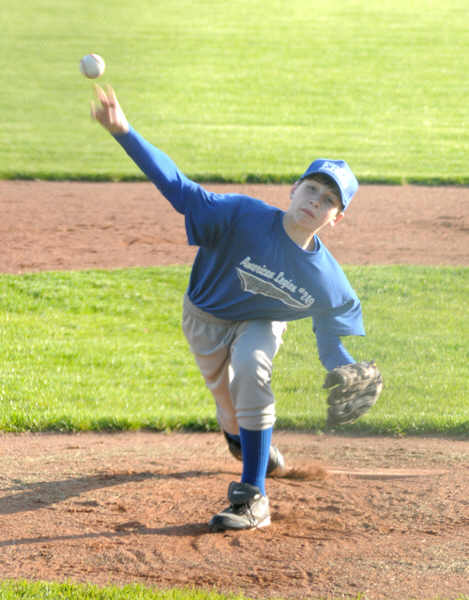 Nick launches a fast pitch towards home plate.
(MyBayCity Photo by John Keuvelaar)
"After the third inning, we noticed he hadn't allowed a base runner yet. We knew he wasn't throwing many pitches so we had a feeling he would be under the pitch count. Its early in the season so I don't want to hit the pitch count anyways. We kept asking him if his arm felt alright and he kept saying it was. So we let him keep on going," explained Tom Wood.
Great accomplishments like this don't come without hard work. "I've been pitching quite a bit," noted Nick Ratajczak. "I have a mound built at home. I practice with my dad on it."
Monday Nick went right back to work pitching against Rost Cleaning. And there is no doubt he will continue to pitch strong games. But this one will always remain a Perfect memory for him.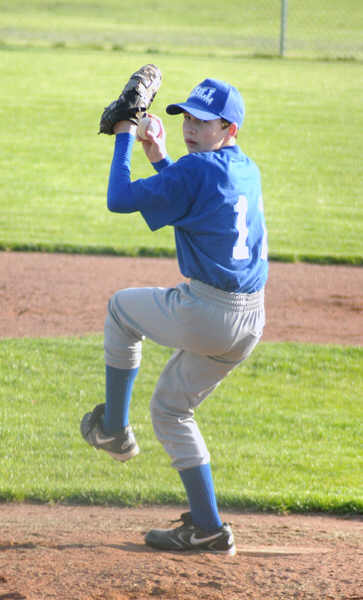 Nick Ratajczak starts to wind up for the pitch.
(MyBayCity Photo by John Keuvelaar)

---
---

John Keuvelaar




John Keuvelaar is a college student at Midwest Photography Workshops and Delta College.

More from John Keuvelaar
---
Send This Story to a Friend!
Letter to the editor
Link to this Story
Printer-Friendly Story View
---
--- Advertisments ---