Trahan Speaks on Guatemala Trip
Last Weeks Meeting - May 26, 2009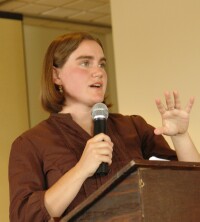 Arial Trahan
Arial Trahan spoke about her recent trip to Guatemala, where the Bay City Rotary is participating in an Adopt-A-Village international project. Arial spent several weeks as a part of WWOOF (Willing Workers on Organic Farms).
The WWOOF program took Arial to very remote, mountainous regions of Guatemala where she worked with Mayan villagers building schools. The region has many needs but the greatest desire is for education.
The Mayans represent 40% of the people of Guatemala. The 1960's saw the beginning of 36 years of civil war that targeted many of the indigenous people forcing 45,000 Mayans to flee to Mexico. As the war ended in the 90's the people began to return to the mountains and restore their villages.
Arial worked with an orphan assistance program. She reported that there is a large population of orphan children due to a number of factors. A high incidence of mothers die in child birth and a number of fathers die in vehicle accidents. Transportation is often by small truck over treacherous mountain roads. Ariel herself traveled those roads by truck only to learn later of the frequency of accidents.
Arial and her co-workers spent their nights in a local building. They slept on two boards set on blocks. In the morning they would walk up the mountain to the school accompanied by the local herd of goats.
Among the volunteer's projects was sanding varnish in an area to be refinished. They were given wire brushes for this work. After some time they asked if there was any sand paper available and were told that there was only some for the power sander. The work became easier after this revelation.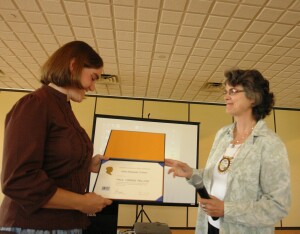 Proud Mother Anne Trahan presents
Paul Harris Fellowship to daughter Arial
The Rotary Adopt-a-Village project is funding satellite Internet receptors to connect the villages to the full resources of the world wide web. Power is scarce but available via solar panels and generators.
One interesting fact is that despite very limited power, utilities, education and other modern conveniences, almost everyone has a cell phone and can find a location to charge their batteries.
Partly in honor of her recent trip, incoming Rotary President Anne Trahan presented her daughter with a Paul Harris Fellowship. Rotarians were also reminded that matching PH points are available for a short time longer if you would like to honor some deserving person.
---
CLUB NEWS and ANNOUNCEMENTS
The Bijou Orchestra will be providing music for the big Fourth of July Fireworks show. They will be accompanied by a ROTARY CHOIR singing patriotic songs. Anyone who can carry a tune (even if you need a bucket) is encouraged to join in. Contact Leo Najar.


Members who attended the District Conference are reminded that the club will reimburse part of your fees if you wish. Please request this reimbursement as soon as you can.


Delta College Public TV will air a program on Polio on Wednesday June 3 at 8:00 pm. This may include mention of Rotary's part in the world wide fight against this disease.
---
DATES TO REMEMBER
International Night 2009 has been scheduled for October 15. The theme will be a Mediterranean Cruise.


---
Upcoming Programs
(See the official schedule at RotaryBayCity.org )
June 2: Ajay Badhwar of Dow Chemical will present a program on pure water for the world.


June 9: CLUB ASSEMBLY Chuck Brooks will update the club on the strategic plan.


June 16: Historic Pine Ridge Cemetery Dave Rogers from The Friends of Pine Ridge will speak on what research has uncovered about this historic treasure.
---
Visit RotaryBayCity.org
---
---

Stephen Kent




Steve Kent and his family have lived in Bay City for 40 years. He is VP of Technical Services at MMCC which produces MyBayCity.Com. Kent is active in many Bay City civic organizations.

More from Stephen Kent
---
Send This Story to a Friend!
Letter to the editor
Link to this Story
Printer-Friendly Story View
---
--- Advertisments ---