River City Ramblings: I Wouldn't Have Seen It If I Hadn't Believed It
Economists Pose "On The One Hand, On the Other Hand" Confusing Scenarios
April 2, 2004 1 Comments
By: Dave Rogers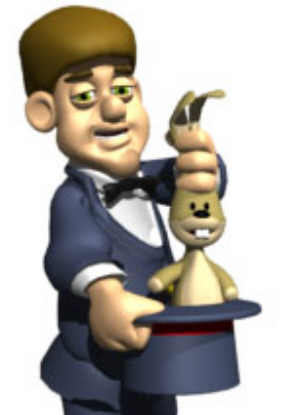 Nothing Up My Sleeve But The Facts . . .
"On The One Hand, On the Other Hand" or . . . "Maybe yes . . . Maybe no . . ."
I am a firm believer in the people. If given the truth they can be depended upon to meet any national crisis. The great point is to bring them the real facts.-- Abraham Lincoln
      Marshall McLuhan, the media sage, taught uslessons we shouldn't, but always do, forget. One lesson is that in the human realm perception is reality. Another is that people believe what they want to believe regardless of the facts.
      Since the fate of our American republic, still an infant among nations at 227 years old, is currently direly at risk in world affairs, we need to use all the critical thinking we can muster to sort out the truth.      
Two headlines on news items recently popped out among the blizzard of information we are exposed to:
1-"Bush Aide Defends and Praises Outsourcing of U.S. Manufacturing Jobs," and
2-"U.S. Economy Will Add Nearly 3 Million Jobs in Next Two Years."
      If it seems to you that these items arecontradictions in terms, then welcome aboard. How can we outsource jobs and add them at the same time?
      The first headline was created by Stephen Friedman, assistant to the President for Economic Policy and Director of the National EconomicCouncil, speaking at the Detroit Economic Club.
      You can write the script as well as I can. Democrats and labor types were outraged. No shouts of support were heard from Republicans or big business.
      Let's just say I'm the kind of guy who doesn't care which political party is in power or what the prevailing philosophy is as long as the overall welfare of the nation and its people is paramount. That would be the truth, by the way.
      How would I judge the comments of Mr. Friedman? Obviously he believes that he is right. And Mr. Friedman has an impressive resume of academic, business, political, even physical, credentials to back up his opinions. Chairman of Goldman Sachs financial firm, investment leader at Marsh & McLennan Capital, on the boards of Fannie Mae and Wal-Mart Stores, member of the Council on Foreign Relations, Columbia Law graduate, 1959 NCAA wrestling champion at 157 pounds, etc., etc.
      Is Friedman, however, "insensitive to the plight ofthe hundreds of thousands of Michigan workers whose jobs have been lost over the past three years," as Michigan Democratic chief Mark Brewer barked immediately.
      Or is he merely a sharp-minded a realist in pointing out that the last time protectionism rose its ugly head was under Herbert Hoover in 1929 when attempts to preserve American jobs by tariffs sparked the Great Depression?
      On to headline Number 2: "U.S. Economy Will Add Nearly 3 Million Jobs in Next Two Years," that optimistic prediction from the University of Michigan's prestigious Department of Economics. "Over the next two years, strong output growth and more moderate productivity increases create an improving labor market, with the payroll job count finally reaching its previous peak in spring 2005," pronounced Prof. Saul Hymans, backed up by colleagues Joan Crary and Janet Wolfe.
      This forecast is based on the U-M's Quarterly Econometric Model of the U.S. economy, compiled by the U-M Reseach Seminar in Quantitative Economics, a process that is rarely wrong. It also predicts that energy prices will back off from recent highs, sales of homes and vehicles will increase and income will rise 3.7 percent this year and 3.1 percent next year.
      Other recent reports have the price of gasoline at the pump rising above $2 and staying there indefinitely. Again we find ourselves in the same position we were in 1976, having failed to economize or plan our energy usage. Our fate regarding the price of oil and gasoline is in the hands of foreign producers like the Arab countries and Russia, according to some observers.
      So it goes, with the cliches of the economists "on the one hand, and on the other hand," continuing to confuse us, the poor unwashed in the hinterlands. For my part, I'm eternally hopeful that the optimists are right about the economy. But I remember the immortal sagacity of McLuhan which I fear may have application here:
"I wouldn't have seen it if I hadn't believed it."
Are the economists and political types basing their statements on previously formed and hardened philosophical opinions? Is wishful thinking at work here? I recall studying how the media reported the looming Depression. Right up to the last day before the crash business and stock exchange leaders, even President Hoover, were insisting that the economy was sound.
      Lincoln's judgment that the people will do the right thing if given the facts may be a hollow hope in a world in which thefacts are eternally debatable and truth as scarce as the proverbial hens' teeth. But we will continue to hope that both Honest Abe and our economists are right.      
---
---

Dave Rogers




Dave Rogers is a former editorial writer for the Bay City Times and a widely read,
respected journalist/writer in and around Bay City.
(Contact Dave Via Email at carraroe@aol.com)

More from Dave Rogers
---
Send This Story to a Friend!
Letter to the editor
Link to this Story
Printer-Friendly Story View
---
--- Advertisments ---