Counterfeit Currency Subject of Talk
June 23, 2009 Leave a Comment
By: Stephen Kent
Last Weeks Meeting - June 9, 2009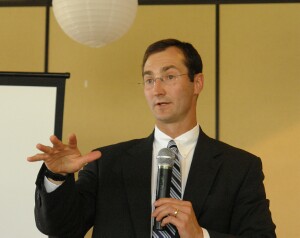 Doug Zloto Speaks on Counterfeit Currency
Know Your Money
was the title of a brochure and the subject of a talk by Secret Service Resident Agent in Charge Douglas Zloto of the Saginaw Resident Office.
Zloto is a 17 year veteran of the Secret Service. He spent time on Vice Presidential protection detail for Gore and for Cheney. He even made some of those famous quail hunting trips. He became the Saginaw office Resident in Charge in 2007.
The Secret Service is known for protecting presidents but it also protects their families, the vice presidents, and visiting heads of state. President Lincoln signed the service into law for the purpose of protecting the currency after the Civil War, a period when a third to a half of all currency was counterfeit. After McKinley was assassinated in 1901 the service was given the protection task.
Originally a part of the treasury department, the service was moved to Homeland Security after 9/11. In that role it has expanded it's responsibilities to all matters of financial crime, which includes identity theft.
Zloto provided several tips on protecting your identity. In particular he warned to destroy all of those instant credit applications that flood your mailbox. The "bad guys" have learned to grab those and apply for quick loans in your name then move on. The amounts might be small so you don't notice until the damage is done.
It is also a good idea to check your credit rating with the three credit bureaus. Each is required to provide a free report once a year. By spacing your requests four months apart you can get a continuing picture of your rating.
The main part of Zloto's talk was about counterfeit currency. The average person is unlikely to see a fake bill. Businesses see the most and bars are a popular target.
Zloto pointed out that the world of counterfeiting has changed from the days when it took a professional engraver and a small printing plant to turn out fakes. Today it takes one finger to press a button on an ink jet printer. (Zloto cited a humorous but real case of a person who bought an ink jet with a forged check, printed his money, then took the printer back for a refund.)
Zloto offered a number of tips on spotting bad bills. First, the $20 is the more commonly copied bill in the States. Overseas larger denominations are popular.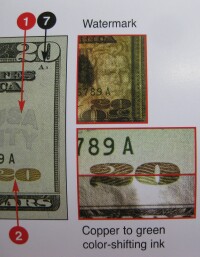 The first test is to compare the bill to a known good bill. Also feel the texture of the paper. Counterfeiters work fast and only the big time players take the time to get really good, currency quality paper. You can feel the difference.
Almost all modern bills have a number of special features. Hold the bill up to the light and check the watermark to the right of the face. It should be visible and match the face. Look for the security thread that runs vertically on the bill. (Hard to see but it's there). Check the color shifting ink on the denomination, which should shift colors based on the angle of view.
Although you can use the special ink pens to test a bill, the Secret Service does not endorse them. There are a number of ways to treat a bill that will block the test fluid from reacting. A bill might test just fine at first but hours later, when the liquid has soaked in, the mark will show up.
Even though it's unlikely an individual will get a bad bill (ATM machines are very safe), if you do get one, and you know it, you must not use that bill. Knowingly passing a counterfeit bill is a federal crime. You should turn it in to law enforcement. You won't get your money back, but you can get a receipt and claim the loss on your federal tax return.
---
CLUB NEWS and ANNOUNCEMENTS

Last Call Rotary Choir: The Bijou Orchestra and a Rotary Choir will provide music for the big Fourth of July Fireworks show. Anyone who can carry a tune (even if you need a bucket) is encouraged to join in. Contact Leo Najar. Great seats, bus transportation, food, fellowship. Great time for the entire Family of Rotary.


Sergeant at Arms Cindy Chadwick is looking for assistants. If you'd like to join the team and be the Sergeant for a few weeks, see Cindy.


Breezes Reporters Wanted: If you'd like to help write the weekly Breezes please see Steve Kent. It's an easy job. No experience necessary. High Pay (well at least a lot of thanks).
---
DATES TO REMEMBER
International Night 2009 has been scheduled for October 15. The theme will be a Mediterranean Cruise.


---
Upcoming Programs
(See the official schedule at RotaryBayCity.org )
June 30: Stephen Kent will present an update on the Club's web site, demonstrate some of the features, answer questions and take suggestions.


July 7: Installation of 2009-10 President Anne Trahan, board and officers.


July 14: Ajay Badhwar from Dow returns to talk about the capture of power plant flue gas and how it can be done.
---
Visit RotaryBayCity.org
---
---

Stephen Kent




Steve Kent and his family have lived in Bay City for 40 years. He is VP of Technical Services at MMCC which produces MyBayCity.Com. Kent is active in many Bay City civic organizations.

More from Stephen Kent
---
Send This Story to a Friend!
Letter to the editor
Link to this Story
Printer-Friendly Story View
---
--- Advertisments ---