Easter Humour
Laugh And The World
Laughs With You
April 10, 2004 Leave a Comment
By: O. J. Cunningham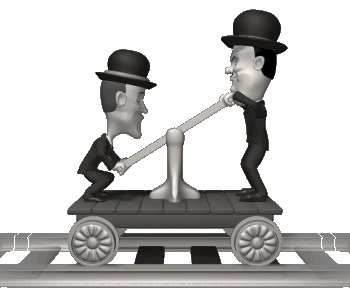 These guys are going nowhere . . . fast!
Looking for some Easter Fun?
Check out these
Easter E-Cards.
It's never too late to tell someone how much you care.
If you're interested in a few quick
Easter One-Liners
then click this link.
Click here for a general
Easter Collage.
If
Easter Riddles
are your cup of tea, Click this link.
Andfinally, A Great Easter Story
Three stupid guys died and went to the pearly gates of heaven. St. Peter told them that they could enter the gates if they could answer one simple question.
St. Peter asked the first man, "What is Easter?"
The man replied, "Oh, that's easy, it's the holiday in November when everyone gets together, eats turkey, and is thankful..."
"WRONG," replied St. Peter, and proceeded to ask the second man the same question, "What is Easter?"
The second man replied, "No, No, No! Easter is the holiday in December when we put up a nice tree, exchange presents, and celebrate the birth of Jesus."
St. Peter looked at the second man, shook his head in disqust, looked at the third man and asked, "What is Easter?"
"I know what Easter is. Easter is the Christian holiday that coincides with the Jewish celebration of Passover. Jesus and his disciples were eating at the last supper and he was later deceived and turned over to the Romans by one of his disciples. The Romans took him to be crucified, he was stabbed in the side, made to wear a crown of thorns, and was hung on a cross. He was buried in a nearby cave which was sealed off by a large bolder."
St. Peter smiles broadly with delight. Finally he had found a man worthy of access to heaven.
The third man nodded to St. Peter and went on cheerfully: "And every year the boulder is moved aside so that Jesus can come out, and if Jesus sees his shadow, there will be 6 more weeks of winter."
Happy Easter to all . . .
---
---

O. J. Cunningham




O. J. Cunningham is the Publisher of MyBayCity.com. Cunningham previously published Sports Page & Bay City Enterprise. He is the President/CEO of OJ Advertising, Inc.

More from O. J. Cunningham
---
Send This Story to a Friend!
Letter to the editor
Link to this Story
Printer-Friendly Story View
---
--- Advertisments ---