Food of Faith Serves 155 Needy People Weekly at Trinity Episcopal Parish
Meals, Talk, Counseling, Sometimes a Little Prayer, Are on the Menu
April 11, 2004 Leave a Comment
By: Dave Rogers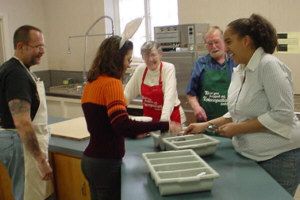 Frank and Gloria Davenport, center, get help from Denny Mayhew, Marci Socia and Cassandra Murphy, right, in preparing Food of Faith meals for the needy.
      Every Sunday, from 3 p.m. to 5 p.m., a steady stream of somewhat raggedly dressed somber-faced people enters the side door of the Trinity Episcopal Church parish hall.      
An hour or after pushing the button on the automatic door they leave the building, smiling, laughing and talking.
      The church hall visitors have gone to visit Frank and Gloria Davenport and the other volunteers from the churches of the community who run the Food of Faith program.
      They've had a good meal, a cup of coffee, some conversation and fellowship, maybe even some counseling and prayer.
      The program serves an average of 155 people each week; today, Easter Sunday, the numbers are down a little because some of the participants have gone to dinner with family members.
      The meals and program are put on by volunteers from 12 churches and a sorority. Thursday afternoons the Food of Faith program shifts to Messiah Lutheran Church and a different group of volunteers from west side churches.
      "This is a very important part of their week, said Davenport. "Many of the same folks come here every time and they know us and we know them," said Davenport. Today could have been a problem because of lack ofvolunteers. "But all of a sudden in walks four people from Fremont Methodist Church," enthuses Davenport, noting that the unexpected Easter volunteers boosted his contingent of helpers to the usual dozen.
      Food is provided mainly by Hidden Harvest, a charity that collects unused edibles from tri-county area restaurants, cafeterias, grocery stores and other providers. Gordon Food Service gives items that have gone out of date, he said.
      Food of Faith has been running continually for four and a half years and is supported by a grant from Blessed Sacrament Catholic parish in Midland.
      "That provides equipment, food and materials and really helps, along with the food brought in by Hidden Harvest," said Davenport, a retired construction executive and longtime member of the Essexville-Hampton and Bay Arenac Intermediate boards of education.
      The clientele of Food of Faith are not all homeless, since many have found living space indoors after spending agonizing months living in places like "under the bridges." Others have had their stint in the homeless shelter nearby.
      A common characteristic is that most have serious health problems that often lead to joblessness and homelessness, said Davenport, commenting: "But they are good people. The first thing they will tell you is that they want a job."
      Volunteers from the Food of Faith program were active recently in a town meeting to discuss the homeless situation in Bay County, strongly supporting a second homeless shelter in Bay County, Good Samaritan, that is being opened in the former Samaritan Hospital building with the cooperation of Bay Regional Medical Center.
      Churches that rotate in providing volunteers for the east side program at Trinity are St. Hyacinth, St. Boniface, St. John, St. Mary and St. James Catholic churches, First Presbyterian, St. Lukes Lutheran, Trinity and St. Albans Episcopal, Fremont Avenue and Christ United Methodist, First Congregational and First Baptist, along with the sorority group headed by Barb Madajski.
      The Davenports have been mainstays of the program since the beginning. Two Central High seniors, Marci Socia and Cassandra Murphy, both 17, have volunteered for two years, taking their community service commitment extremely seriously.
      The services we provide cut across ethnic and racial lines," says Davenport. "We are advocates, counselors and friends; there is a lot of sharing and they know they have someone they can trust."
      That kind of community support is vital to the down and out, not just on Easter, but all year around. We all owe thanks to the Food of Faith volunteers and donors.
Below:(Left) Father Peter Cominos, pastorof Trinity Episcopal, in front of the church (Right) Sitting down for an early meal.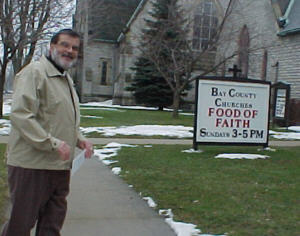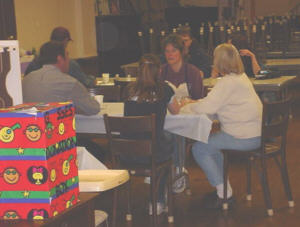 ---
---
---

Dave Rogers




Dave Rogers is a former editorial writer for the Bay City Times and a widely read,
respected journalist/writer in and around Bay City.
(Contact Dave Via Email at carraroe@aol.com)

More from Dave Rogers
---
Send This Story to a Friend!
Letter to the editor
Link to this Story
Printer-Friendly Story View
---
--- Advertisments ---