Dillon-Cherry at Odds Over Plan to Merge Public Employee Health Care Plans
House Speaker Backs Reforms, Hesitant on Plans to Run for Governor
August 9, 2009 Leave a Comment
By: Dave Rogers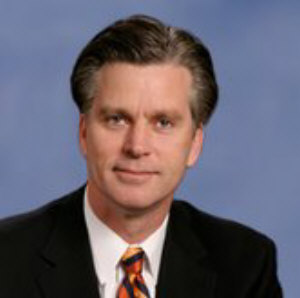 Michigan House Speaker Andy Dillon, D-Redford Township.
After the problematic state budget is decided, there may be a new horse in the 2010 gubernatorial race: Michigan House Speaker Andy Dillon.
Dillon is making friends and influencing people with his fearless pursuit of reform proposals, taking on powerful unions and entrenched Democratic politicians.
Support among some school groups is growing for Dillon's idea of consolidating public employee health care into one statewide money-saving plan.
He also wants tax code reform, although details have not been revealed, and wants to speed up the Department of Environmental Quality (DEQ) on decisions like the Consumers Energy expansion proposed for Hampton Township, Bay County.
The idea of health insurance consolidation puts the lanky Redford Township politician at loggerheads not only with Lt. Gov. John Cherry, the presumptive Democratic nominee, but also with the powerful Michigan Education Association (MEA).
Lansing news media report that associations of school boards, school administrators and school business officials are backing Dillon's insurance consolidation proposal.
Speaker Dillon's proposed draft legislation would convert local-level health insurances into one state-level plan, with potential savings scaling up to $900 million annually, according to the report.
"On balance, the school insurance consolidation proposal is an improvement," commented the Mackinac Center for Public Policy, Midland.
The MEA is highly critical of the Dillon proposal, falling in line with Lt. Gov. Cherry, a seasoned Democratic warhorse from Flint, according to the Michigan Information & Research Service (MIRS).
The Michigan Association of School Boards, Michigan Association of School Administrators and Michigan School Business Officials are among a dozen school-related associations that support the proposal, according to news reports. The groups held a news conference recently to show their support for Dillon's proposal to overhaul the state's health care system for public employees.
"These professionals work day in and day out to educate our young people and help prepare them for 21st century jobs -- they understand why it is so urgent that Michigan changes the way it operates if we want to turn our state around," Dillon said. "By ensuring that every public employee, from the janitor to the Governor, can choose from the same health care plans, we can save the state nearly $1 billion a year -- money that can be used to educate our kids, keep police and firefighters on the street and create jobs."
Dillon's proposal centers on consolidating the hundreds of different plans that serve Michigan's more than 400,000 public sector employees, including those who work at schools. The consolidation will allow for huge administrative savings, competitive pricing to drive down costs and standardized benefits that are more closely aligned with those in the private sector and comparable states' public sectors. The plan also will preserve collective bargaining.
"It's time to take politics out of the equation and do what's best for Michigan's children," said William Mayes, executive director of the Michigan Association of School Administrators (MASA).
School districts have saved an estimated $700 million in recent years in revised employee agreements on health insurance, said MEA officials, suggesting the state close tax loopholes and wait for national health care reform rather than consolidate.
Dillon is promoting his reform ideas with a website www.newideasformichigan.org.
However, Dillon has declined to jump feet first into the gubernatorial fray, telling the Midland Chamber of Commerce recently he will wait until the state budget is set, about Sept. 30, to announce a decision on his candidacy.
---
---

Dave Rogers




Dave Rogers is a former editorial writer for the Bay City Times and a widely read,
respected journalist/writer in and around Bay City.
(Contact Dave Via Email at carraroe@aol.com)

More from Dave Rogers
---
Send This Story to a Friend!
Letter to the editor
Link to this Story
Printer-Friendly Story View
---
--- Advertisments ---