***New for 2009***
T.T.P.A Truck & Tractor Pull: Friday August 14 at 7 pm
FREE CONCERT
:
WHEN:
FRIDAY AUGUST 14 at 8 PM
Featuring:
"Artificial Heroes"
,
"Loss for Words"
, and
"Take The City"
Pick-up Truck Heats, held during Bump & Grind Races
Midway Featuring Schmidt Amusements, Arm Bands $10 Daily.
Discount Day is Tuesday, August 11-Ride all day for ONLY $5!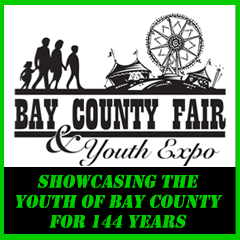 ALL EVENTS ARE FREE UNLESS OTHERWISE STATED
(*Spectator Admission)
Children's Entertainment
Petting Zoo - Open daily 2 pm to 10 pm
Rosco the Clown - 3 shows daily
The Butterfly House - Open daily 2 pm to 10 pm
Grandpa Cratchet - 3 shows daily
Kids Pedal Tractor Pull - Friday August 14 at 3:30 pm
The Flying Wallendas - 3 Performances daily
Safety Displays
Vendors & Merchants
Craft Displays
Horse Shows
Livestock Show
The Bay County Fair is sponsoring a food drive. All items will be donated to the local food pantry to be used for the citizens of Bay County. Persons who donate a non-perishable food item will receive $1 off the daily parking fee of $3. ($4 week of fair) This is for all events sponsored by The Bay County Fair including races.
2009 Grandstand Events

Wednesday August 12 - M.T. Pocket Pullers - 7:00 pm http://mtpocketpullers.com

Friday August 14 - T.T.P.A Truck & Tractor Pull - 7:00 pm http://ttpa.org/

TICKET INFORMATION

Grandstands:Adults $10, Children 10 & under $5. Gates open 1 hour prior to show. 12-pack coolers are allowed in the grandstand area Alcohol may be brought in to the grandstand area - NO GLASS.

Pit Passes:

Pit Passes may be purchased for $12 at the check-in area. Must be with a register car and follow the rules of the Bay County Fair & Youth Exposition (IE-long pants, closed toed shoes). All persons entering the pit area will be required to sign a waiver No admission to pit area after race check-in is completed (1 hour prior to show)

NO ALCOHOL OR MINORS ALLOWED IN PIT AREA Strictly Enforced !!