Sesquicentennial Celebrated by Trinity Episcopal Church
Third Church Established in Bay City Was Assisted in By the Birney Family
April 25, 2004 Leave a Comment
By: Dave Rogers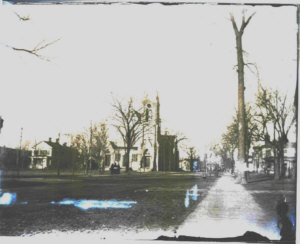 Old photo of Trinity Church was taken before houses were built south of Center along Grant.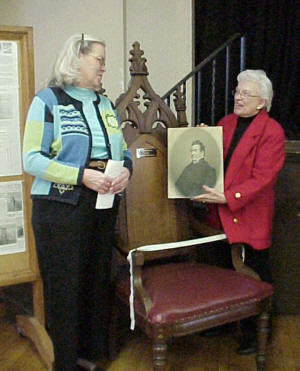 Kerry Brown, left, and Gay McGee, members of a committee directing celebration of the 150th anniversary of the founding of Trinity Episcopal Church, show off a photo of the first rector and a chair from the church's early days.
      The year was 1854.
      Franklin Pierce was President of the United States.
      The Civil War was still six years away.
      The Republican Party was just forming in Michigan and Wisconsin.
      In the frontier village of Lower Saginaw, Michigan, population 400, part of Saginaw County, a church was being organized.
      That church, Trinity Episcopal, this year is celebrating its 150th year with a series of events, presentations and convocations. Rev. Peter Cominos is pastor.
      Since James G. Birney and partners James Frazer and Dr. Daniel H. Fitzhugh in the Saginaw Bay Company had provided two lots every other block on Washington Avenue for churches, several members of Trinity Parish hurried to the corner of Center and Washington and premptorily piled lumber to secure the property for their church.
      The "Trinitarians," as they were known, were part of St. Paul's Episcopal Parish in Saginaw and had been meeting in a tiny schoolhouse here.
      The parish's first baptism was Fitzhugh Birney, infant son of James G. and Elizabeth Birney, by missionary the Rev. Mr. Daniel E. Browne in the Birney home in 1842. Mrs. Birney, a devoted "Trinitarian" from Livingston County, New York, had established the first Sunday school.
Her husband, a Presbyterian, a noted abolitionist and twice candidate for the Presidency, had conducted the first church services held here.
      The first wedding was that of Florence Birney, daughter of James G. Birney and his first wife, Agatha McDowell, and Charles Jennison. The first Mrs. Birney had died in 1839 after bearing 13 children, only six of whom survived.
      The incorporators of Trinity Church were headed by Henry Raymond, later to become a colonel in the Union Army during the Civil War, and included prominent citizens Israel Catlin, Curtis Munger and Jonathon S. Barclay.
      The articles of association adopted Mar. 4, 1854 attested that the signers were "deeply impressed with the importance of the Christian religion" and were "wishing to promote its holy influences in the hearts and lives of ourselves, our families and our neighbors."
      Though called simply "Trinity Church," the signers adopted the constitution and canons of the Protestant Episcopal Church in the United States.
      William Dana Fitzhugh, nephew of Mrs. Birney, was one of the first active lay leaders of the church, and his wife, Anne Carroll Fitzhugh was the first communicant. Descendants of the Fitzhughs included active church members Stanley R. See, Robert D. See and Charles R. Wells, as well as Walter D. Fitzhugh.
      The first church was built just south of a bank at Center and Washingtonand was dedicated May 10, 1860 by the Rt. Rev. S. A. McCoskry, Episcopal Bishop of Michigan. It was the third church in the village, the first two being St. Joseph Catholic Church and the second First Presbyterian Church.
      During its first decade the church was enlarged three times and in 1882 the "church room," later called the stone chapel, was completed on three lots donated in 1871 by Mrs. Birney and her daughter at the corner of Center Avenue and Grant Street.
      The present church was opened in 1887 and the stone chapel in 1924 was incorporated into a parish hall to the north along Grant Street. The parish hall features an auditorium seating 400 and guild room.
      The altar's reredos, or panel dorsal board, wascarved in 1923 by Alois Lang of Oberammergau, Germany, and features full carved statues in high relief of the Apostle Peter and St. Paul.
      Highlights in church history included the donation of a copper sculpture, salvaged from the church roof in 1970 after it was struck by lightning, by Mr. and Mrs. John Holland Krafft. The sculpture by Pamela Stump Walsh is entitled "Creche, Cross and Crown."
A new Moeller organ with 2,176 pipes was installed in 1963 and later enlarged, a carved oak lectern by local artisan Ferdinand Dreo was placed in use in 1969. Tower chimes were restored in the memory of Mr. and Mrs. Florian Hiss in 1976.
      Trinity has 8 a.m. and 10:30 a.m. services on Sundays and a 5:30 p.m. service on Wednesdays. Trinity and 16 other churches conduct Food of Faith, a community service program that serves meals to about 150 needy persons every Sunday afternoon at Trinity parish hall under direction of Frank Davenport.###
---
---

Dave Rogers




Dave Rogers is a former editorial writer for the Bay City Times and a widely read,
respected journalist/writer in and around Bay City.
(Contact Dave Via Email at carraroe@aol.com)

More from Dave Rogers
---
Send This Story to a Friend!
Letter to the editor
Link to this Story
Printer-Friendly Story View
---
--- Advertisments ---