Work Toward Consensus and Move Ahead, Lt. Gov. Cherry Tells Chamber Leaders
Michigan Not Giving Up On Manufacturing, Aims to Raise Educational Levels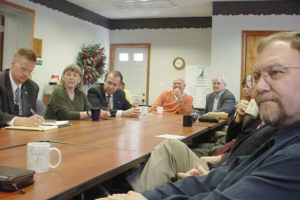 Bay Area Chamber of Commerce leaders gathered for economic development strategy session with Lt. Gov. John Cherry.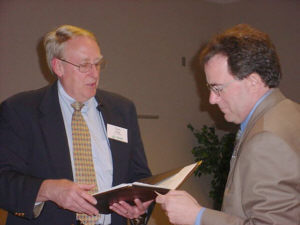 Tom Clay, director of the Citizens Research Council, jawbones with County Executive Tom Hickner about the state and county financial picture at the Tri-County Economics Club at Saginaw Valley State University.
      Not only is Michigan not giving up on manufacturing, the state will focus on increasing the percentage of university graduates to meet the needs of high technology-based businesses.
      That was the message that came out of a Bay Area Chamber of Commerce leadership meeting last Monday with Lt. Gov. John Cherry.
           Tom Clay of the Citizens Research Council had been at the Tri-County Economics Club at noon to report a nagging state budget deficit. Cherry acknowledged the state's financial problems but indicated that state leadership is counting on a base in high tech industries and improving educational levels to overcome the red ink.
      There is good news in Bay County, noted Bay Area Chamber President Mike Seward. Dow Corning will soon open a new high tech manufacturing plant in Williams Township, adding about 200 employees. The Chamber will christen the new Doubletree Hotel and Conference Center on Wednesday, June 9, with an all-day Development Expo.
Bay City Powertrain's manager Don Widener says business is good and he is looking for more. He said: "We'll be around for a long time; we've got a good plant and a good workforce."
      It was a day of interesting contrasts and mind-boggling statistics. A local attorney and civic leader said of Clay's talk to the Tri-County Economics Club: "It was pretty negative." Clay is a former state budget director with 30 years in state government, mainly as deputy state treasurer.
      Clay noted that Michigan is 46th among states in personal income growth, 48th worst in unemployment and 49th in employment growth and index of economic momentum. The state has lost 300,000 manufacturing jobs, including 174,000 in manufacturing, in the lastthree years. The stock market decline has resulted in a 40 percent decline in income tax revenues, he said. More cuts in state government will be required to balance the budget.
            Corrections is the largest state program, with 50,000 incarcerated more than many European countries. Corrections has about 30 percent of state employees.
      "We're more like the Bible Belt in terms of the incarceration rate," said Clay. A recent study noted that Texas and some Southern states have up to 30 percent of their populations behind bars, perhaps the result of policies that considered construction and operation of prisons as "economic development."
      The stolidly confident lieutenant governor delivered the cheer he has given here several times in the past few weeks, obviously the same he's giving elsewhere around the state. He said: "Gov. Granholm and I want to make Michigan the best place in the nation to raise a family, make it a magnet state to pull people in, for business and recreation, a destination state."
      The blue ribbon panel of business and civic leaders sat around the big conference table at the chamber of commerce with hopeful looks. Cherry outlined Gov. Granholm's plan to double the number of college graduates and focus on high tech industries. He heads a special commission to mastermind that effort.
      "I think the Saginaw Valley is a cool place to live," said Cherry, who is from Montrose, near Flint. "Bay City is showing a lot of vitality now; I'm pleased to see good-looking construction."
      Michigan needs to increase its percentage of college graduates from the current 22 percent, said Cherry. He noted that some states that are growing in high tech employment have 32 percent or more of the population who are university grads.
      The lieutenant governor gave Bay County some advice about the structure of an economic development organization. He pointed to Oakland County where County Executive L. Brooks Patterson has developed "Automation Alley," a broad public/private partnership effort. "There is not one true formula," said Cherry, commenting: "What is needed is a real desire by community leaders to showcase what's good about the present, retrieve what's good about the past and craft a positive future."
      Communities need to have "general agreement to move ahead," said the lieutenant governor. "They take the political structure as it is and make it work for them; there are elements of this in Bay County. Those communities which work toward consensus are more successful in economic development."
      Both GM's Widener and Dow Corning's Dan Latal echoed Cherry's statements about the need for greater levels of education. They noted that manufacturing plants today are more sophisticated and jobs in those settings are not commonly available to high school graduates. Latal said Dow Corning urges prospective employees to take four years of Math and Science.
      Dow Corning expects to open its new plant soon. The new facility will produce semi-conductor components in a "clean room" environment, he said.###
---
---

Dave Rogers




Dave Rogers is a former editorial writer for the Bay City Times and a widely read,
respected journalist/writer in and around Bay City.
(Contact Dave Via Email at carraroe@aol.com)

More from Dave Rogers
---
Send This Story to a Friend!
Letter to the editor
Link to this Story
Printer-Friendly Story View
---
--- Advertisments ---