Wild Fourth Quarter Propels Garber Past Millington, 14-7
September 27, 2009 Leave a Comment
By: John Keuvelaar

There were a lot of motivating factors for Garber and Millington when they clashed Friday night. The most compelling factor may have been the outright lead in the TVC championship race. In the end, it was the competitive desire to win against a respected rival that helped drive Garber to comeback and defeat Millington, 14-7.
"When we took over (the Garber football program), we looked at the top teams and Millington was on top of the chart," noted Coach Dave Schwartz reflecting on the retiring Millington coach, Tim Furno and his program. "They were our measuring stick." Judging by the packed stands on both sides of the fields and the hard-fought games over the years, Garber has long joined Millington on top of that chart.
The first half was filled with "what could have been."
Millington took the opening kickoff and methodically grounded their way down the field with a punishing ground attack. Using more than 7 minutes on the clock, the Cardinals tried to surprise Garber by switching to the air. But Cardinal quarterback, Noah Moore, was hit while throwing causing the ball to sail into the arms of Garber defensive back Steve Yax. Cardinal receiver Matthew Harrington momentarily swatted the ball away from Yax but alert Todd Walraven completed the Garber interception ending Millington's drive.
Both teams battle with each gaining a couple first downs before being forced to punt. Garber got their first real break in the second quarter when freshman linebacker Wesley Asel jumped on a Millington fumble and Garber was in business on Millington's 41. The Dukes drove to the Cardinal 17 when on fourth down, they tried to ole' Statue of Liberty play. But this was not a night for trick plays by either team as the Cardinal defense sniffed the play out and stopped Garber.
Just before half time, Millington looked to have taken the lead when senior fullback Justin Stutler broke it up the middle and ran 44 yards for what appeared to be a touchdown. But illegal motion was the call and the halftime score was 0-0.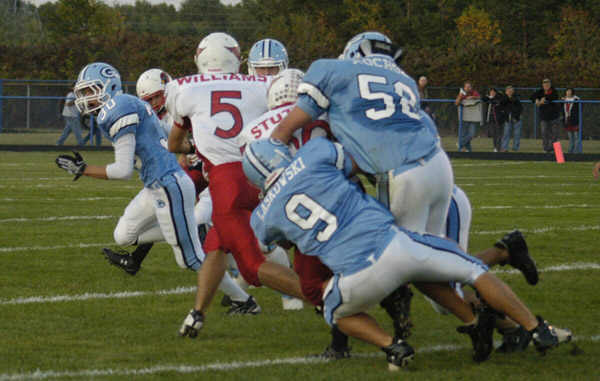 Justin Stutler of Millington is mauled by Garber's David Laskowski and Chris Rochow.
(MyBayCity Photo by John Keuvelaar)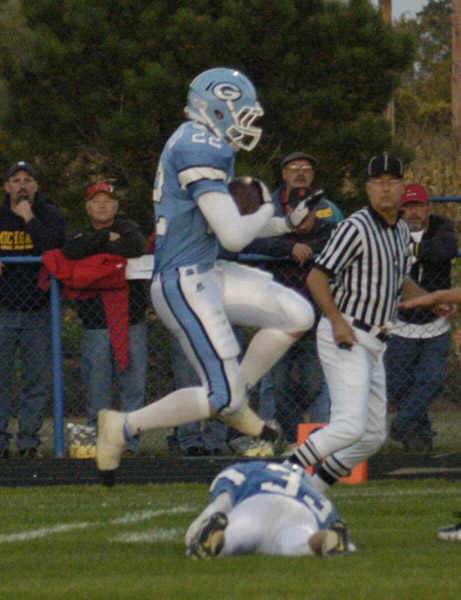 Todd Walraven returns the first quarter interception.
(MyBayCity Photo by John Keuvelaar)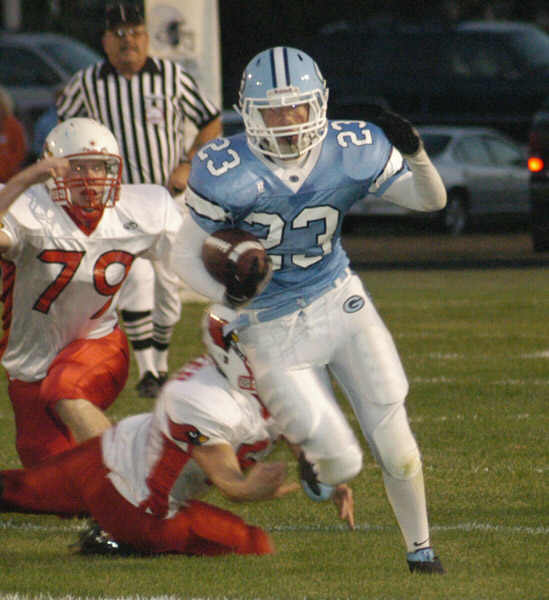 Travis Britko leaves a few Cardinals behind as he returns a punt.
G
(MyBayCity Photo by John Keuvelaar)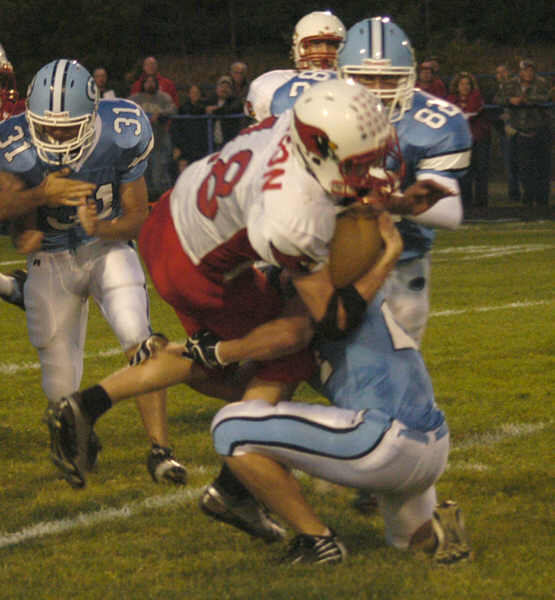 Dominic Trogan puts the big hit on Millington's Cameron Wilson.
(MyBayCity Photo by John Keuvelaar)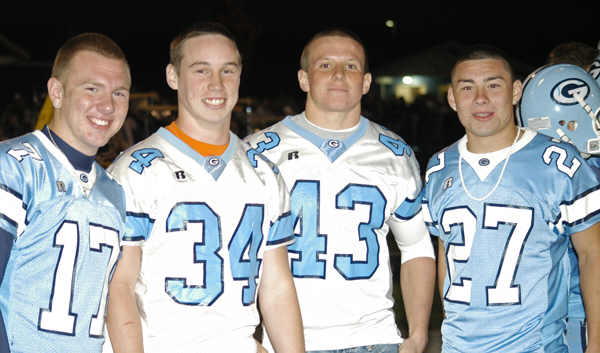 Big games bring out past stars like Jake Hebert, Andrew Aho, Shane O'Mara and Jimmy Cornejo.
(MyBayCity Photo by John Keuvelaar)

Garber's band forms the Upper Peninsula in their tribute to Michigan bands.
(MyBayCity Photo by John Keuvelaar)

The second half started with Garber looking for a quick strike. On the first play from scrimmage, Garber quarterback Lee Madziar threw to a streaking Todd Walraven down the sidelines. But Millington was ready and intercepted the pass on their 20. The Duke defense had the offense's back as David Laskowski and Wesley Asel made consecutive key tackles to keep Millington from gaining any momentum. As a result, Garber enjoyed good starting possession in the third quarter but could do nothing with it. Then the fourth quarter started.
A solid punt return to the Garber 44 had Millington poised for the attack. Stutler broke a 22 yard run to put the Cardinals on Garber's 22. From there they pounded the ball down to the 11. From there, Stutler drove it up the middle breaking tackles and finding the end zone putting Millington on top, 7-0.
But this rivalry is full of big plays when a team most needs it. And none was bigger than Dominic Trogan's first play from scrimmage. The senior tailback blew up the middle breaking tackles and blowing by the secondary for a 68 yard touchdown run. With Jordan McCann's kick, the two teams were again knotted at 7-7.
On the ensuing kickoff, a jarring hit caused a fumble and Garber recovered on Millington's 23. The Cardinal defense was called upon to respond and did. They held Garber off to a fourth and two yards to go before Madziar rolled out and found David Laskowski in the flats putting Garber on the nine yard line. Millington then stopped the next two runs and only a high pass off the fingertips of Mike Schroeder put Garber in a field goal situation. However, a high snap eliminated the attempt and Millington had dodged a bullet.
Millington took over on Garber's 14 with less than three minutes to play. When junior tailback Cameron Wilson broke a 12 yard run, momentum had taken a seat on Millington's sideline. Then Moore threw a swing pass in the left flats that was sniffed out by senior defensive end Briar Keen who tipped then intercepted the pass and Garber was back in business on Millington's 18. Time running out and no timeouts left, Dominic Trogan (29 carries for 164 yards) ran around left end and was knocked out of bounds at the one with 18 seconds to play. There was only time for one last play.
"I learned a few years back that when the clock is running out, you have yards to go and you are low in timeouts", commented Coach Schwartz about the last drive. "You have to be patient. You have to stay with familiar stuff to the kids. You have to stay with fundamentals." And what is more fundamental than a quarterback sneak.
Running their power formation, Lee Madziar took the snap and with a strong push by the Garber offensive line he was able to squeeze in giving Garber the go ahead touchdown with 15.1 seconds to play. McCann's kick made it 14-7.
But with this rivalry, 15 seconds means it is not over. A squib kick bounced off the receiver's shoulders forcing him to field it on his knees. With 12.7 seconds left, Millington threw in front of the deep coverage to Wilson who broke a few tackles and stopped a few heartbeats before being tackled in bounds with 3.4 seconds. A spiked ball left Millington with one last play. But when the Hail Mary pass was knocked away by Lee Madziar sealing the Garber victory, the Duke faithful could breathe again as Garber had pulled off a 14-7 win and sits alone atop the TVC standings.
Coach Schwartz spoke about the decision to not kick a field goal with 14 seconds to play, the ball on the one but positioned on the left hash mark. "I was going to kick a field goal but we were on the far hash mark. This is not a good hash mark for Jordan (McCann). I had done some crazy stuff in the first half instead of kicking the field goal and it cost us. I wanted to finish it (the game) by putting the game in the offensive line's hands so I did."
The irony of the game comes when you look at who scored the winning touchdown and knocked away the final pass: Lee Madziar. Last year against Millington, a hit had torn his spleen ending his season. At least for tonight, he helped end Millington's hopes of winning the game.

No mistaking the mitten of the lower Peninsula.
(MyBayCity Photo by John Keuvelaar)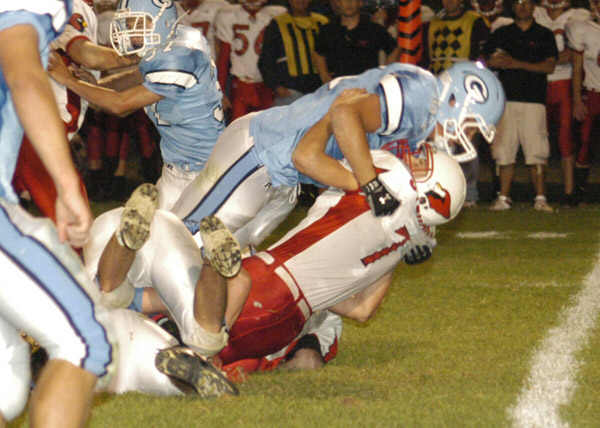 Garber's Briar Keen delivers some hurt on this running back.
(MyBayCity Photo by John Keuvelaar)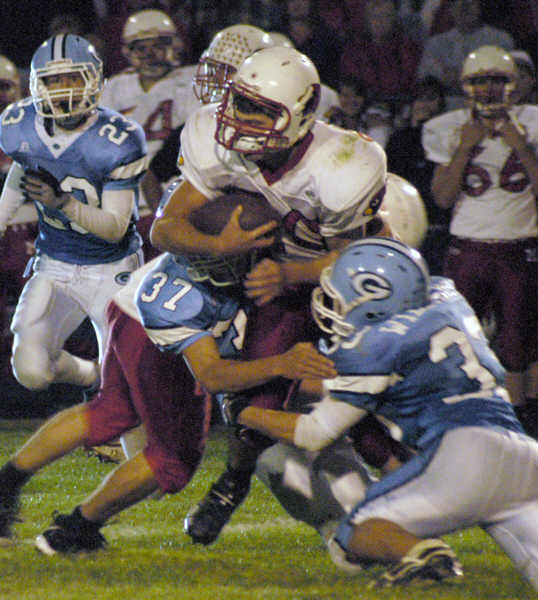 Brandon Williams and Wesley Asel sandwich Justin Stutler.
(MyBayCity Photo by John Keuvelaar)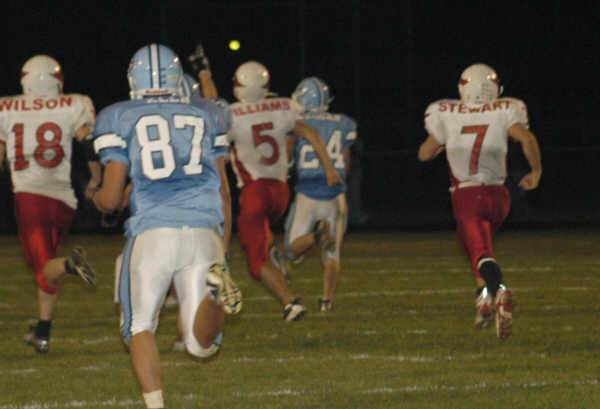 Dominic Trogan leaves them all behind on this 68 yard TD run.
(MyBayCity Photo by John Keuvelaar)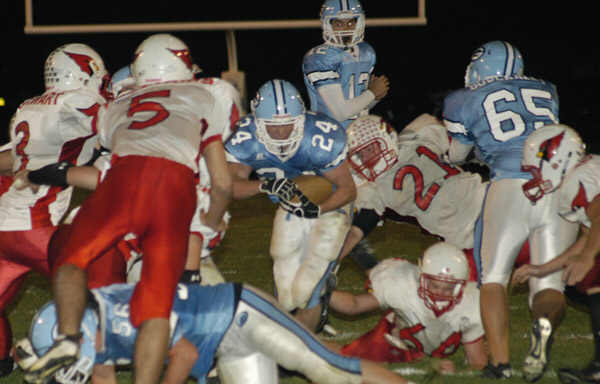 Bodies are flying as the Millington defense tries to stop Dominic Trogan.
(MyBayCity Photo by John Keuvelaar)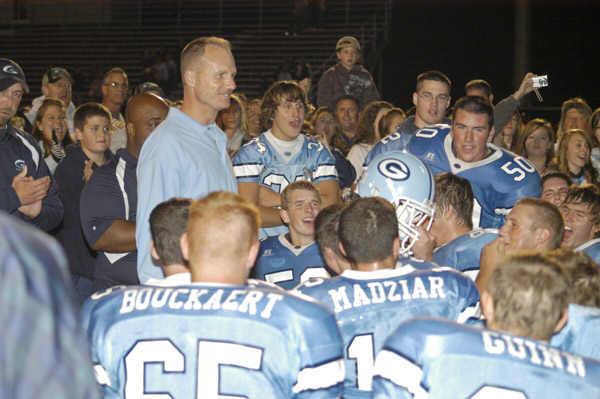 The smiles on their faces tell it all.
(MyBayCity Photo by John Keuvelaar)

---
---

John Keuvelaar




John Keuvelaar is a college student at Midwest Photography Workshops and Delta College.

More from John Keuvelaar
---
Send This Story to a Friend!
Letter to the editor
Link to this Story
Printer-Friendly Story View
---
--- Advertisments ---