Highland Regiment Re-enactor Describes, Dress, Arms, Life of Soldier
September 27, 2009 Leave a Comment
By: Dave Rogers
Last Weeks Meeting - September 22, 2009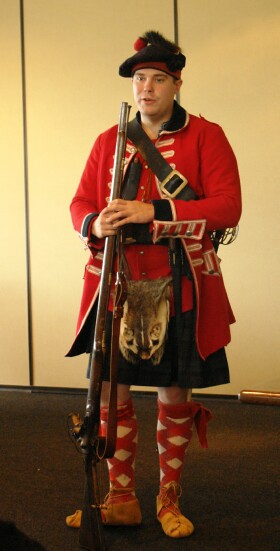 Sgt. William Munroe
Sgt. William Munroe (Bay Cityan John Hoard, a re-enactor) of the 42nd Royal Highland Regiment, a Scottish unit of the British Army in the French and Indian War, came to the Rotary Club of Bay City last Tuesday.
Sgt. Munroe was in full tartan attire, replete with tasseled tam, kilt, scarlet coat, black watch plaid skirt, high socks with red ribbon wrappings and soft leather shoes. A basket-hilted double-edged broad sword, dirk and bayonet were slung around his waist. He also hoisted a ponderous 75-caliber Brown Bess musket.
Since there were no pockets in kilts, the re-enactor explained the furry leather pouch hanging from his waist -- a sporran.
The 13 pound musket, with a 42-inch barrel, was the standard model, although there was a second, lighter version with just a 39-inch barrel. Soldiers were expected to be able to tear open a paper black powder cartridge, load and fire five rounds per minute, with accuracy only at 30 yards or less.
Sometimes smaller French musket balls, that could be poured down the barrel without ramming, were used, he explained.
After their shots, that often missed the mark, the Scottish fighters were very effective with bayonet charges, said Sgt. Munroe, adding: "There was nothing scarier than a pack of mad Highlanders!"
The regiment came to North America in 1756 as part of what the British called "the War for Empire." They spent a year in Schenectady, New York and then were at Fort Ticonderoga, becoming the most famous British unit to fight on this continent.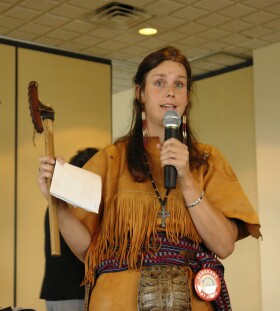 Sgt at Arms Andrea Hales, re-enactor,
warns that she's been throwing that
tomahawk since she was 3 years old!
The war was considered by the British to be a great failure, and a tremendous expense. As a consequence, the King and Parliament decided to make the American colonists pay for it through increased and new taxes. That move, of course, led to the American Revolution, or as the British called it, the American Rebellion.
Sgt. Munroe explained his term of enlistment -- 30 years -- and what happened when many Highlanders came to the North American continent: they decided to head for the hills and stay here.
"The mountains of North Carolina were much like Scotland and that helped attract the 25-30 percent of soldiers who stayed here," he said.
Some of the members of the Highland regiment were married, but if they were killed in battle the wife had three days to get remarried or be shipped out on her own.
Part of Hoard's re-enactment hobby is to make his own gear, using special wool similar to that used in the 18th century.
---
CLUB NEWS and ANNOUNCEMENTS
The new "Rotary Seal" and "Rotary Meets Here" signs have been installed on the outside of the Lumber Barons. Thanks to Rotarian Brett Lewless and Valley Roofing for the installation!


Meeting Times: Lunch is now on the table at noon allowing members to start the meal earlier. The meeting starts by 12:30 and the speaker starting by 12:50. The meeting typically adjourns around 1:15!


Make-up On-Line at www.RotaryEclubOne.org


International Night is rapidly approaching. The committee is soliciting auction items, volunteers, and input on the October 15 event. Forms and other information is on the RotaryBayCity.org web site.


Membership: The next new member orientation will be held October 7, 2009 at the Atrium Restaurant.

---
DATES TO REMEMBER
International Night 2009 has been scheduled for October 15. The theme will be a Mediterranean Cruise.


Please note: The date of the District Foundation Gala has been changed to October 23.


---
Upcoming Programs
(See the official schedule at RotaryBayCity.org )
September 29: Ferris State University - Celebrating 125 years of higher education. University President David Eisler will speak on FSU's continuing role as a key player in reshaping higher education to serve an expansive business, public policy and economic environment in Michigan.


October 6: Brother Can You Spare A Dime Leo Najar and Ron Bloomfield will talk about a new collaborative project that celebrates one of the success stories of American History.


October 13: Social Networking David R Haslam, ACS, will answer the question "what is this thing called Social Networking?" What is the difference between Facebook, Twitter, and LinkedIn? How is Social Networking used as an effective marketing tool for my business? David will answer these questions and more.
---
Visit RotaryBayCity.org
---
---

Dave Rogers




Dave Rogers is a former editorial writer for the Bay City Times and a widely read,
respected journalist/writer in and around Bay City.
(Contact Dave Via Email at carraroe@aol.com)

More from Dave Rogers
---
Send This Story to a Friend!
Letter to the editor
Link to this Story
Printer-Friendly Story View
---
--- Advertisments ---