Grandpa Tiny's Frankenmuth Fowl Fest Set For October 10, 2009
Last year over 1,300 birds were on display and in competition
October 4, 2009 Leave a Comment
By: Julie McCallum, Entertainment Editor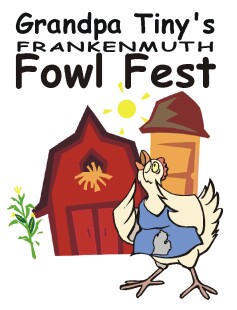 Saturday, October 10, 2009
Grandpa Tiny's Frankenmuth Fowl Fest is Michigan's largest annual poultry exhibition. Last year over 1,300 birds were on display and in competition.
Saturday, October 10, 2009 is the date for the 89th annual Fowl Fest and it will be held in the Kern Pavilion, located in Frankenmuth's Heritage Park.
It's a barrier free facility with 6 foot wide aisles and great lighting - perfect for a poultry show. The public is invited to attend on Saturday between 7am and 7pm. This is a free family friendly event, with no smoking and no pets allowed.
Many rare and unusual breeds and varieties of large fowl and bantam (miniature) chickens will be featured along with ducks, geese, turkeys and guinea fowl. Grandpa Tiny's Frankenmuth Fowl Fest is presented by Michigan Poultry Fanciers (a tax-exempt, 501(c)(6), non-profit corporation) and they will host the 2009 national meet for the National Silkie Breeders Association. Silkies are one of the oldest breeds of chickens and very unusual, with feathers that look like fur and are said to feel like silk!
Some other breed clubs that have placed meets represent various waterfowl, Call ducks, and Polish, Plymouth Rock, Cochin and Wyandotte chickens. Poultry fanciers, from all over the mid-west and beyond, will bring their best show quality birds to be judged with hopes of winning.
The Fowl Fest is sanctioned by the American Poultry Association (APA) and the American Bantam Association (ABA). The birds are judged by the APA/ABA standards for exhibition poultry and the judges are licensed by them. This year's judges are Phil Bartz, from Illinois; Rick Hare, from New York and Pat Lacey, from Wisconsin.
Besides the poultry competition that is open to all exhibitors there will be Showmanship competition for the youth, a Skill-A-Thon for all, a bird sale area, a bird auction, poultry supplies, poultry cages and chicken coops for sale, a fantastic raffle/silent auction and the Lion Haus will be open from 8am until 2pm with great food. A complete Schedule of Events and all the details are available at FowlFest.org or contact John W Blehm at (989)777-1234.
After a long day at the Grandpa Tiny's Frankenmuth Fowl Fest the folks like to go into town and enjoy a family style chicken dinner!
---
---
---
Send This Story to a Friend!
Letter to the editor
Link to this Story
Printer-Friendly Story View
---
--- Advertisments ---