Farris State University President Addresses Rotary
October 4, 2009 Leave a Comment
By: Stephen Kent
Last Weeks Meeting - September 29, 2009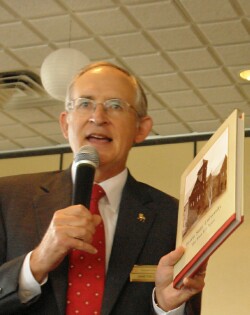 Dr. David Eisler
It was 1864 when W.N. Ferris opened his school in Big Rapids. The first class had ten men and five women. It was Ferris' dream. He is quoted as saying "My plea in Michigan - and it will be my plea to the last breath I draw, and the last word I speak - is education for all children, all men, and all women of Michigan, all the people in all our states all the time."
That dream and inspiration has continued down the years and now finds Ferris to be the fastest growing public university in Michigan.
The university stresses an integrated education. Students are required to complete two internships on the way to their degree. Internships give the students hands on exposure to the real world and gives employers highly motivated and qualified short term employees who may well return after graduation as full time workers.
Ferris offers over 170 undergraduate and graduate majors. There are both 2-year and 4-year programs. BA, BS, and seven Master degrees are offered. The university also offers doctorate programs in Optometry and Pharmacy, the only Michigan university to offer these programs.
The belief in advanced education and the understanding that access is critical has lead Ferris to partner with colleges across the state to offer degree programs. Locally, Delta College offers six, soon to be seven, degrees through Ferris programs.
Eisler noted that in today's economy Michigan needs to train its young people for a new career path. "In 1894 West Michigan was dependent on lumbering. The problem was that the trees had all been cut. Mr. Ferris recognized this and started his school with the idea of training young people for new jobs. Michigan needs that again."
In response to a question about the state budget difficulties, Eisler noted that the school does not receive per-pupil funding. This year the economic stimulus package comes with the restriction that education funding cannot be cut past last year's level. This year is not a problem but there is certainly concern about future years. Even with cuts to local funding, he said "we're receiving the best prepared high school students we ever have."
When asked how educators can make degrees more affordable for students Eisler said that is a serious challenge. Over the last decade the cost per student has increased 2.9% annually, which is less than the cost of inflation. But the simple reality is that the cost to students continues to rise. Today Ferris teaches 40% more students than it did in 2001 but with the same size staff. They meet the challenge by becoming more effective.
For more information visit the
www.ferris.edu
web site.
---
CLUB NEWS and ANNOUNCEMENTS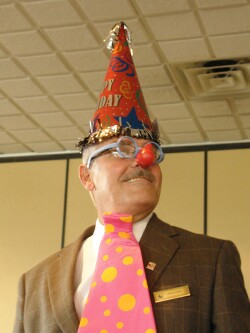 Sgt at Arms Andrea Hales brings out
the good sport in any members,
as Hratch demonstrated.
International Night is October 15 - NEXT WEEK! If you have auction items, get them in immediately. Forms and other information is on the RotaryBayCity.org web site.


The Dictionaries have arrived. Contact Chuck Cusick to schedule a time to deliver to books to schools. "It's easy" said Chuck, "Just say a few words about Rotary, get the kids to look up a couple of words, and you're done!".


The new "Rotary Seal" and "Rotary Meets Here" signs have been installed on the outside of the Lumber Barons. Thanks to Rotarian Brett Lewless and Valley Roofing for the installation!


Meeting Times: Lunch is now on the table at noon allowing members to start the meal earlier. The meeting starts by 12:30 and the speaker starting by 12:50. The meeting typically adjourns around 1:15!


Make-up On-Line at www.RotaryEclubOne.org


Membership: The next new member orientation will be held October 7, 2009 at the Atrium Restaurant.

---
DATES TO REMEMBER
International Night 2009 has been scheduled for October 15 at the Doubletree from 5:30 to 9:00 pm. The theme will be a Mediterranean Cruise. The menu is set and sounds great!


The date of the District Foundation Gala is October 23. The club would like to reserve a table for 8. Contact Anne Trahan if you want a ticket.


---
Upcoming Programs
(See the official schedule at RotaryBayCity.org )
October 6: Brother Can You Spare A Dime Leo Najar and Ron Bloomfield will talk about a new collaborative project that celebrates one of the success stories of American History.


October 13: Social Networking David R Haslam, ACS, will answer the question "what is this thing called Social Networking?" What is the difference between Facebook, Twitter, and LinkedIn? How is Social Networking used as an effective marketing tool for my business? David will answer these questions and more.


October 20: Polio Update World Polio Day, 24 October, is an ideal time to raise public awareness of the ravages of polio and garner support for eradication efforts.
---
Visit RotaryBayCity.org
---
---

Stephen Kent




Steve Kent and his family have lived in Bay City for 40 years. He is VP of Technical Services at MMCC which produces MyBayCity.Com. Kent is active in many Bay City civic organizations.

More from Stephen Kent
---
Send This Story to a Friend!
Letter to the editor
Link to this Story
Printer-Friendly Story View
---
--- Advertisments ---