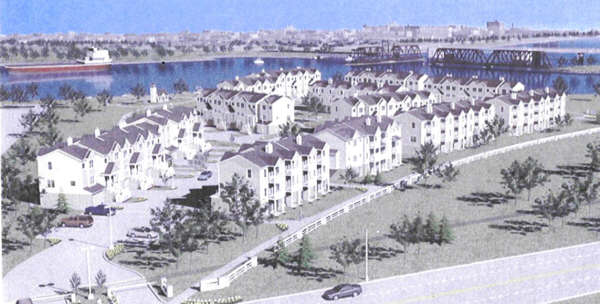 Iron Bridge at Wheeler Landing, on the west side of the river, will provide a "carefree city lifestyle" in a gated, park-like setting.
---
Condominiums Plus Many Attractions Make Bay City "Cooler" City Than Most
Uptown Development to Cap Tourism, Downtown Living Attractions Now the Rage
      Tourism was a major part of Bay County's past; and it certainly is going to be an important part of its future.
      City planners have outlined a significant advance in the decision to keep some of the historic Industrial Brownhoist buildings on the waterfront.
      Even as other state tourism centers build waterparks, condominiums and golf and tennis schools to draw visitors, Bay City is keeping pace with its plans for Uptown at RiversEdge. Preservation and improvement of the cavernous I-B buildings will provide a place to locate the indoor attractions so vital to successful tourism in weather-challenged Michigan.
      The Uptown development is important as a site for recreational attractions as more people return tothe urban core to live. Dozens of condominiums, added to those already built, are on the drawing boards, including the conversion of the old Jennison steel warehouse to a 33-unit multiplex and a new west side complex, Iron Bridge at Wheeler Landing, withabout 65 units.
      The Iron Bridge condominium complex, for which ground is cleared for a start of construction, will provide a miniature "city by the river" in a gated park-like setting. Ranches and townhomes range in price from $122,750 to $287,250 and in size from 887 square feet to 2,150 square feet. The complex will probably have mainly ranches, depending on demand.
      It won't be long before Bay City will compare favorably with the likes of Traverse City, Petoskey, Harbor Springs, Grand Haven and other waterfront communities in terms of housing. The so-called "destination attractions" also under development here at Uptown will add to a host of interest points we have but seldom appreciate or promote.
      We have ariverfront park second to none in the Midwest, Veterans Memorial stretching several miles along the west side, embracing historic shipyards, an old brewery, Trombley House and Meyer Pioneer Cabin and nature areas.
      The town is almost completely ringed by a RailTrail and split by a RiverWalk that stretches across swamps and juts into the middle of the river channel to give walkers the most realistic and close-to-nature experiences possible in an urban setting.
      Carroll Park is the product of one of the nation's most famous architects, Frederick Law Olmsted, the designer of New York's Central Park. Our Bay City State Park has a beach, campgrounds and wildlife interpretive area to rival any in the state.
      Public access to a picturesque and historic lighthouse is in negotiation stages between the owner, Dow Chemical Co., and the Saginaw River Marine Historical Society. Dow also provides and maintains a fabulous deer park on Patterson Road for incredibly close wildlife viewing.
      Deer Acres near Pinconning offers a variety of animals, rides and a host of storybook characters for the enjoyment of children.
      Right in the middle of downtown is a first-class planetarium run by Delta College, one of the nation's premier community colleges, with park-like campus and recreation facilities of its own just five miles east of town.
      Excursion boats Princess Wenonah and Miss Bay City harken back to the 1870s and one of the chief attractions of the lumbering era. The Appledore and sister schooner are entertaining and highly educational, shuttling continually to and from their dock in Wenonah Park to Saginaw Bay, packed with eager learners. Continual traffic by Great Lakes freighters up to 1,000 feet long add sights only Chicago, Montreal, Detroit and other big city dwellers are privileged to enjoy.
The Hilton Double Tree Hotel and Conference Center joins the Bay Valley Resort Hotel and the Ramada Inn near Midland to give Bay County three first class meeting and accommodation centers.
      Add historic mansions along Center Avenue, the nation's largest collection of ready-cut homes, cut right here, soaring church steeples and nineteenth century sanctuaries, ancient Civil War era hotels on Hell's Half Mile, myriad antique shops, boutiques, bars and restaurants, fascinating cemeteries like Elm Lawn Park and Pine Ridge, the bustling State Theatre and fabulous Bijou Orchestra, impressive looming Consistory Cathedral and nearby architectural treasurehouse Masonic Temple and season with the legends and lurid stories of lumber barons, lumberjacks, painted ladies and Civil War veterans, and you have a tourism package of vast appeal that can compete with any city anywhere.
      How much cooler can a city be?###
---
---

Dave Rogers




Dave Rogers is a former editorial writer for the Bay City Times and a widely read,
respected journalist/writer in and around Bay City.
(Contact Dave Via Email at carraroe@aol.com)

More from Dave Rogers
---
Send This Story to a Friend!
Letter to the editor
Link to this Story
Printer-Friendly Story View
---
--- Advertisments ---