Economist Packs Delta Auditorium with talk How To Make Michigan Great Again
Not Enough Nerds, Says Prof. Charles Wheelan of the University of Chicago
October 7, 2009 Leave a Comment
By: Dave Rogers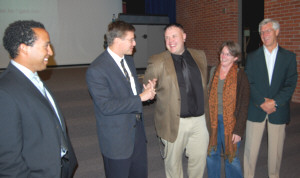 Professor Charles Wheelan, second from left, meets with Delta College Economics faculty members Mark Mitchell, left, Eric "Q" Beckman, Scanlon Romer and former Delta president Peter Boyse, right.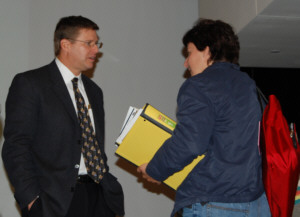 Prof. Wheelan does a one-on-one with an inquisitive Delta student after his 90 minute talk on Wednesday.
The good news, says Prof. Charles Wheelan, is that the economy is stabilized.
The bad news is that the United States has serious underlying issues like huge debt.
Prof. Wheelan packed the house with an estimated 350 students, faculty and community members Wednesday morning at the Delta College Auditorium.
The talk was part of Delta President Jean Goodnow's Speakers Series designed to familiarize students with top issues of the day.
The speaker, Prof. Wheelan, has degrees from Dartmouth, Princeton and the University of Chicago, is currently on sabbatical from the U of Chicago where he lectures on public policy. He was formerly Midwest correspondent for The Economist and conducts a regular column entitled "Naked Economics" for Yahoo.
Students peppered the speaker with a half hour of questions, many related to their personal lives, revealing intense interest in the topic since their futures are at stake.
Billed as a talk on "How To Make Michigan Great Again," Prof. Wheelan admitted "there is no obvious and easy answer."
However, one solution may be "revisiting labor-management relations," he said.
"What we have been doing is dividing the spoils while rancorous labor negotiations are going on," he commented.
On a topic he called "the vision thing," he said the automobile industry should remake itself into the transportation industry, moving into hybrid buses, high speed rail and other connected technologies, he said.
But Michigan's main thrust should be to address the issue "not enough nerds," emphasized Prof. Wheelan.
In terms of adults with a bachelor's degree or higher, Michigan lags with just 25 percent while states like Massachusetts, Colorado, New Hampshire and Maryland have 40 percent of their working population with higher education degrees.
"Education in the broadest sense will be important for a long long time," he stressed. He noted that the unemployment rate among doctoral degree holders is about 2 percent, while the general population with less than a high school diploma in Michigan suffers joblessness in the 15 percent range. Bachelor's degree holders have only about a 5 percent unemployment rate.
Michigan workers are going to have to sacrifice and be more flexible, he said. "Let's make the pie bigger then argue about who gets what."
Besides higher education, Michigan needs retraining, said Prof. Wheelan. "Michigan has traditionally done it with on-the-job training but that needs to change, he said.
To restore the economy the nation needs to make investments in human capital and infrastructure, but the speaker commented:
"I have no issue with being a lot more generous in terms of redistribution."
One of the most serious problems arising now is the apparent desire of oil producing countries and China to move away from the dollar as the base currency. "There is concern that the U.S. may never pay back its debt, or will just continue to print our way out," he said. "They are worried about our credit worthiness."
In response to a student question about the value of the water in the Great Lakes region, Prof. Wheelan said "in 100 years it could make the Midwest a more hospitable place to be, and a huge comparative economic advantage."
Quality K-12 education, as well as higher degrees, is a key to keeping centers of economic vitality in Michigan, he said, noting that skilled people are drawn to places where their children can attend good schools. ###
---
---

Dave Rogers




Dave Rogers is a former editorial writer for the Bay City Times and a widely read,
respected journalist/writer in and around Bay City.
(Contact Dave Via Email at carraroe@aol.com)

More from Dave Rogers
---
Send This Story to a Friend!
Letter to the editor
Link to this Story
Printer-Friendly Story View
---
--- Advertisments ---