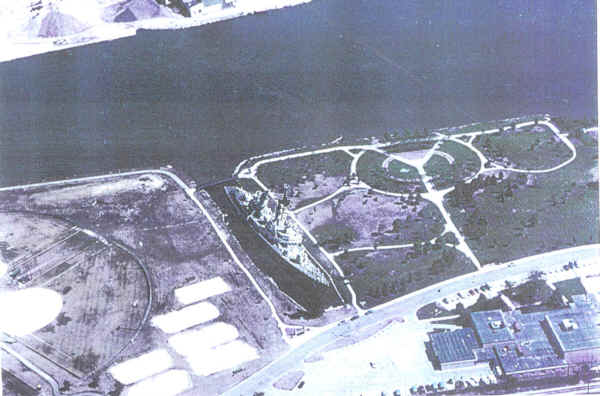 Conceptual photograph shows how the 437 foot long destroyer USS Edson would fit in the old Davidson Drydock slip in Veterans Memorial Park.
---
Plans for Destroyer USS Edson to be Located Here May Be Headed for Approval
Ship Display Would be Living Memorial to Shipbuilding History, Navy Vets
      Positive news out of Washington is that U.S. Rep. Dale Kildee, D-Michigan, our area Member of Congress, is working on an appropriation targeted at environmental cleanup of the old Davidson Shipyard drydock in Bay City.
      That development would clear the way for location of the USS Edson, a destroyer that was on display in New York City for years, to be located here in Veterans Memorial Park.
      City approvals for siting the ship in the Davidson slip date to an April 20, 1998 resolution of the City Commission, subject to a lease agreement, and planners from the Saginaw Valley Naval Ship Museum (SVNSM) are bouyant about the future of their project.
      They've done all the business plans, educational curricula, environmental groundwork and other spadework. Now all that is needed is to close out fundraising of the $350,000 to $450,000 to tow the ship here from Philadelphia. Recent reports showed about $140,000 on hand, with more checks coming in from major donors.
      Sen. Carl Levin, D-Michigan, is sponsoring legislation to have the Navy give priority to the Bay City request for the ship. Meetings are scheduled with Gov. Jennifer Granholm's budget director and State Sen. James Barcia, D-Bay City, and theMichigan Economic Development Commission (MEDC).
      Goal of the project is not just an old sailors' ego trip. The Edson parked here is projected to draw more than 100,000 visitors and create about $800,000 in revenue the first year. It is tourism, a local consensus point for our economic future, given the contraction of manufacturing and other enterprises.
      Application to the Navy and Congressional approval for exclusive assignment of the Edson to Bay City has been made. "Our plans are to bring the ship to Bay City as a living memorial to all who worked at the various shipyards and sailed on Navy vessels," states the request. "Bay City's rich history of shipbuilding would also be memorialized by the presence of this destroyer. Our education plan to educate the youth of our community and state would benefit greatly from the experience of ship visits and the knowledge they would obtain from our instructors."
      Local planners point out that Michigan has only one ship museum at present, the World War II submarine USS Silversides, located in Muskegon.
      Location of the Edson in Bay City would be appropriate, SVNSM officials point out, since seven destroyers were built by the Defoe Shipbuilding Co. here. Theywere the USS Henry B. Wilson and USS Lynde McCormick, both in 1959, USS Robison and the USS Hoel in 1960; and three destroyers for the Royal Australian Navy, HMAS Perth, 1963; HMAS Hobart, 1964; and HMAS Brisbane, 1965. In addition, Defoe built five destroyer escorts, three of them over 400 feet long.
      The USS Edson, designated a national historic landmark, served the Navy for 30 years, including tours of duty during the Vietnam War. The Edson was built by Bath Iron Works, Bath, Maine, in 1956 and was the last of the 18 Forrest Sherman class destroyers to be retired. She was named for Marine Maj. Gen. Merritt Austin Edson, who was awarded the Congressional Medal of Honor for heroism during the battle of Guadalcanal during World War II.###
---
---

Dave Rogers




Dave Rogers is a former editorial writer for the Bay City Times and a widely read,
respected journalist/writer in and around Bay City.
(Contact Dave Via Email at carraroe@aol.com)

More from Dave Rogers
---
Send This Story to a Friend!
Letter to the editor
Link to this Story
Printer-Friendly Story View
---
--- Advertisments ---