All Saints' Season Ends in Bitter Defeat to Carrolton
Problem-stricken Cougars Blanked 49-0
October 24, 2009 Leave a Comment
By: Kevin Kula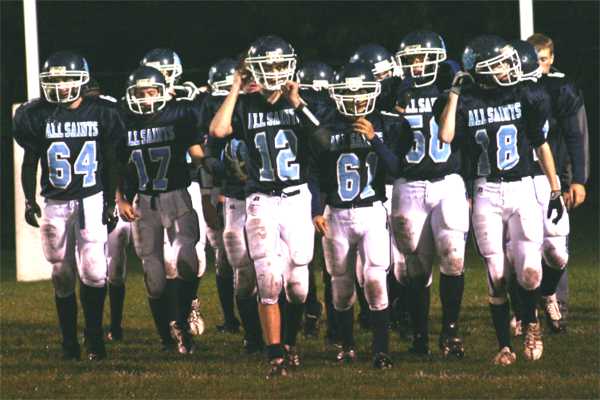 Cougars take the field for the last time this year.
(MyBayCity Photo by Kevin Kula)
The Cougars were a solemn team Friday night before their last game of the season. The Cougars had lost a handful of their key players to season-ending injuries; namely,
Brad Sinicki
and
Kevin Swiercz
, and several other Cougars were playing despite their injuries. Plus, earlier that morning the All Saints community mourned the passing of former player/student
Josh Jasman
, who passed away after a long 5-year battle with cancer. The Cougars dedicated their last game to his memory, but, even with Josh's retired #16 emblazoned on their helmets, the Cougars were no match for the juggernaut Cavaliers.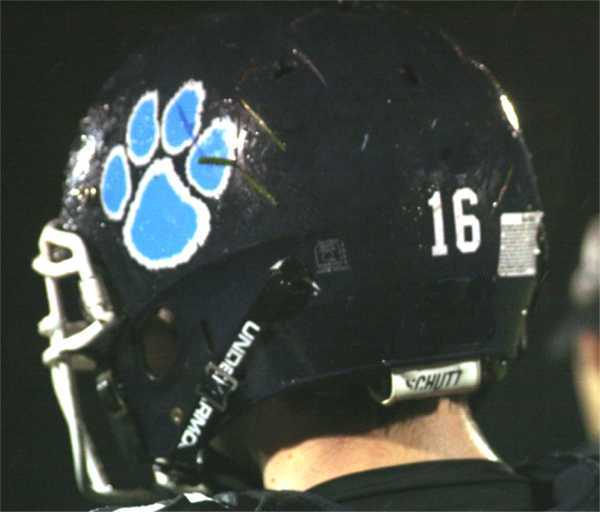 Varsity and JV players all wore #16 for Josh!
(MyBayCity Photo by Kevin Kula)
The Cougars started out on offense, but they might as well have been beating their head against a brick wall. The Cavaliers yielded only one yard to the Cougars on All Saints' first play, then Cavalier
Zack Palmreuter #10
stripped the ball from Cougar
Quincy Brissette #17
near the 30 yard line on second play. Carrolton went to work, and on their opening drive, Palmreuter easily punched in the first of many Cavalier touchdowns.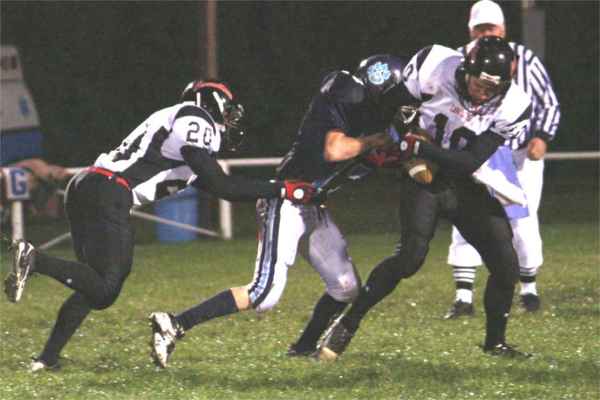 Cavs' strip the ball from the Cougars!
(MyBayCity Photo by Kevin Kula)
The rest of the first half was a nightmare for the Cougars. Unable to generate any offense against the seemingly invincible Cavaliers, the Cougars rarely made it past the 50 yard line. On the other hand, the Cavaliers seemed to be having more trouble deciding which play to use to score their next touchdown, rather than how to breach the Cougars' struggling defense. At the end of the dismal first half, All Saints was facing a heartbreaking 42-0 deficit.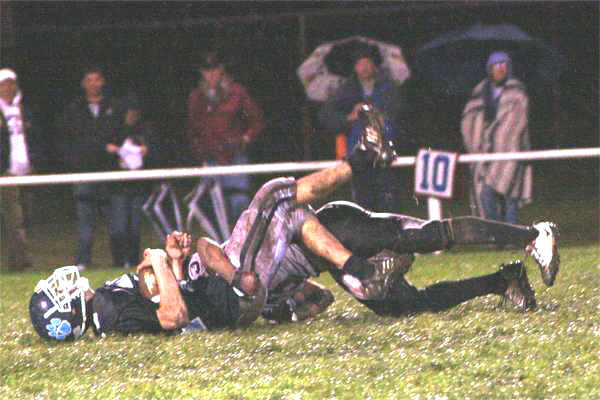 ASC QB Drew Janer sacked in the backfield.
(MyBayCity Photo by Kevin Kula)
Despite the daunting score, the All Saints Dance Team and Pom Team gave another one of their fabulous performances to the somber and wet Cougar fans.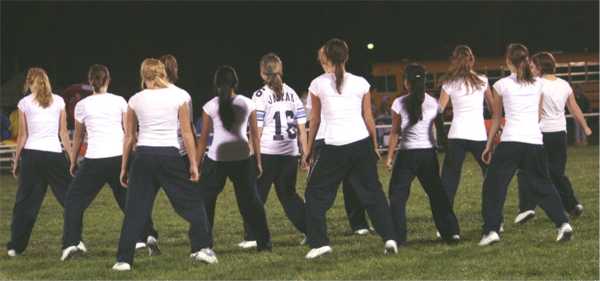 All Saints Dance Team performs at half time with Freshman Brooke Jasman wearing her bothers jersey in honor of him.
(MyBayCity Photo by Kevin Kula)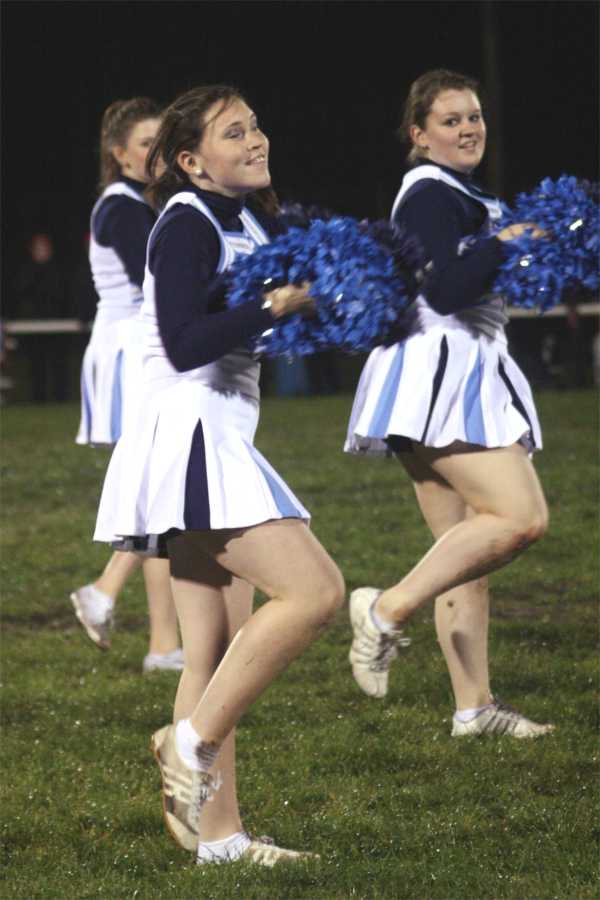 Cougar Pom Squad lead by Senior Ashley Tomsewski performs at half time.
(MyBayCity Photo by Kevin Kula)

The Cavaliers started off the second half by
"pouring some salt in the wound."
Barely two minutes into the third quarter the Cavs tacked their final touchdown unto their score. The Cougars fought hard during the last quarter of the game. Although they were unable to score a touchdown of their own, the Cougars did manage to hold back Carrolton's offense to prevent them from adding any more to their score. With a running clock going since the second quarter, time ran out on the Cougars season as they finished with a 49-0 loss, and a 3-6 season record. The Class B Cavaliers continue on to the playoffs next week.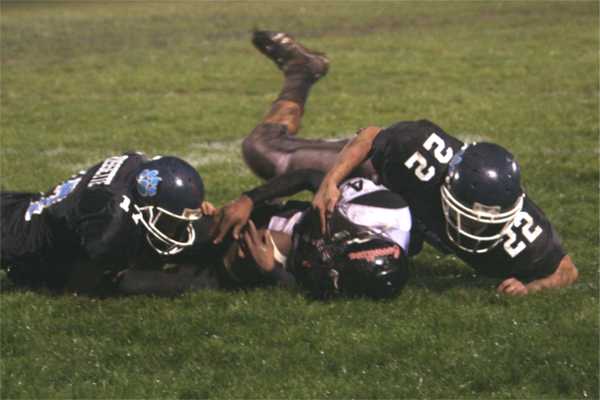 Cougar defenders Brissette and Gwizdala stop this Caviler!
(MyBayCity Photo by Kevin Kula)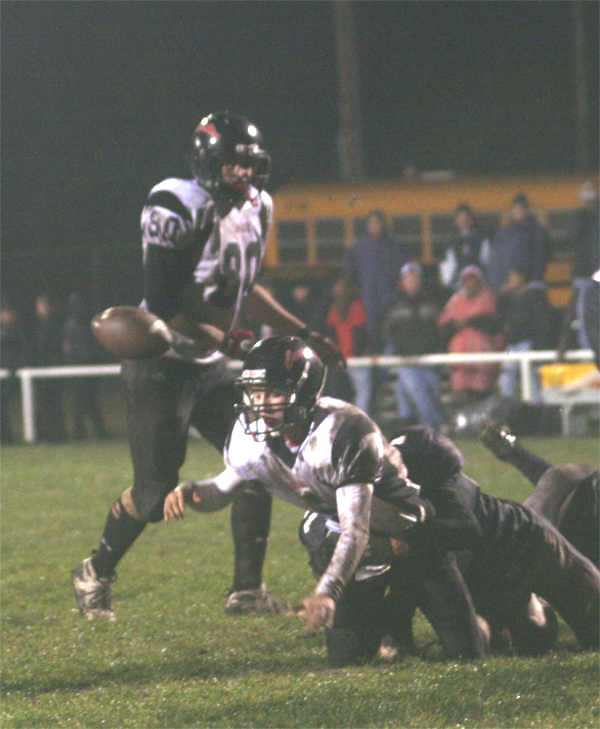 Cavaliers Fumble!
(MyBayCity Photo by Kevin Kula)
"We expected a little bit more than we got."
Spoken by All Saints new
Head Coach Eric Gust
; those words pretty much summed up the season for the Cougars. Coach Gust always claimed that this season was not going to be
"a rebuilding year."
After last years memorable playoff run under the guidance of the now retired longtime head coach
Jeff Bisel
, many All Saints fans believed this years Cougars didn't have a chance. While Coach Gust was hoping for a 5-4 season and a playoff appearance, he still felt that the Cougars didn't let him down at all. Giving a pep talk to his team after the loss to Carrolton, coach Gust said
"We came close, and a couple of those games should have been ours."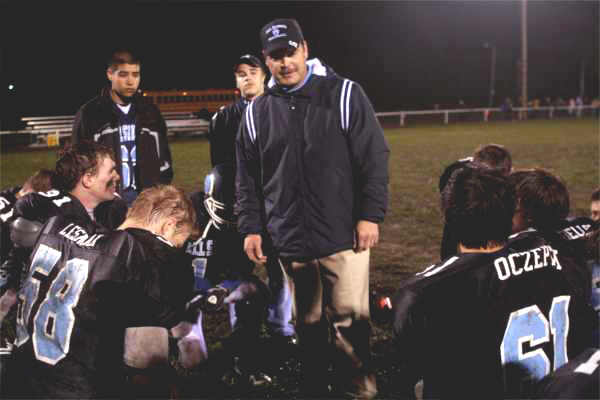 ASC Coach Eric Gust talks to his team after the game telling them "we came close this season".
(MyBayCity Photo by Kevin Kula)
While a 3-6 record is not great, its nothing to scoff at. The Cougars played well, and fought extremely hard this season even though they were always the underdogs. This season was definitely not a rebuilding year, and this years Cougars proved that with their determination. The Cougars will be back next year, and they will be ready to prove themselves a thousand times over.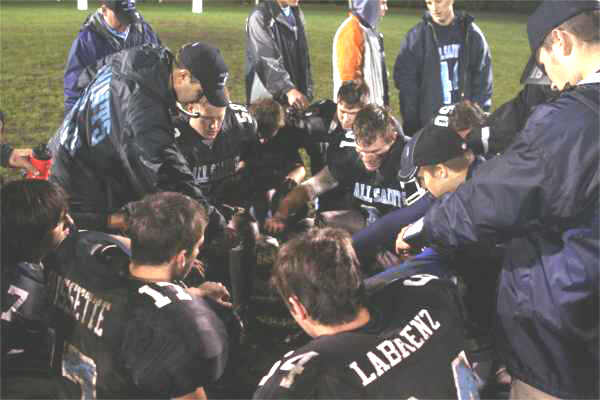 Final team prayer for Josh and for next season!
(MyBayCity Photo by Kevin Kula)

---
---
---
Send This Story to a Friend!
Letter to the editor
Link to this Story
Printer-Friendly Story View
---
--- Advertisments ---