del Rey Promotions presents Hope Rising 2009
November 7, 2009 at The Bay City State Theater
November 1, 2009 Leave a Comment
By: Mike Bacigalupo - State Theatre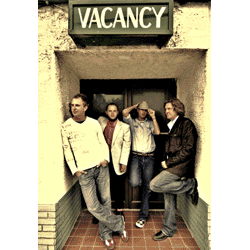 HOPE RISING
November 7, 2009
Bay City State Theater
del Rey Promotions presents
Hope Rising 2009
on Saturday, November 7, 2009 at 7:00 PM at The State Theater in Downtown Bay City.
Often we focus too much on how we are different from our neighbor, our coworker, or a stranger. Instead, let's focus on what makes us alike. Essentially, we all need hope.
Beyond Status
Beyond Circumstance
Beyond Age, Gender, and Race
When Yearning for Peace
Out of Darkness
Hope Rising
NEWWORLDSON - www.newworldson.com Armed with inspirational lyrics and world class musicianship, NEWWORLDSON rescues soul music from being a mere genre and returns the art form to its sacred roots.
With the force of an orchestra, Josh Toal (guitar, vocals), Rich Moore (bass, vocals), Mark Rogers (drums), and Joel Parisien (vocals, keys) come together to form a revolutionary four-piece gospel combo. Signed with Nashville based Inpop records, NEWWORLDSON opened for the newsboys' hugely successful Go tour.
Gospel Music Channel has featured this group as a 'Listen Up Artist of the Month,' and named 'Working Man' the #1 video in May and June 2008. The band has picked up numerous awards from GMA Canada for Best New Artist and Folk / Roots Album of the Year for 'Salvation Station.' NEWWORLDSON was nominated for 2008 and 2009 Juno Awards for Best Christian / Gospel Album of the Year. 'Salvation Station' was also voted the #3 Best Christian Album of 2008 by Christianity Today.
Funk, soul, and swing feed only the body; the real nourishment is in their lyrics. NEWWORLDSON's message of hope and redemption is impossible to miss. Their blend of pop, soul, jazz, and gospel is unlike anything going on in popular music today.
MATT MOORE -
www.myspace.com/mattmoore As a singer / songwriter, Matt Moore has set himself apart from the crowd. With his original music and engaging live performances, Matt has carved out a reputation as the "must see" artist in this area.
His songs are the story of his life, often touching on love, relationships, personal struggles, and faith. He combines honest and vulnerable lyrics with his passionate guitar playing to create an emotional and memorable experience.
In 2009, Matt released his debut album 'No Place Left to Hide.' Its blend of driving modern rock and powerful songwriting has confirmed that Matt is an up-and-coming artist worth keeping an eye on.
LIVINGSTONES
- www.myspace.com/livingstonesband Moved by the inspiring music in the Christian world, the members of LIVINGSTONES were drawn to the worship team at church and joined around 1997, shortly after each were saved. The group felt that their mission was to reach the world the way Jesus Christ had reached them?through music.
Band members include
Joe Nashatka (lead vocal, rhythm guitar), Jeff Schock (bass), Jason Roth (lead guitar), Joel Raub (drums), and Brandy Nashatka (backup vocals).
LIVINGSTONES - debut CD, 'Don't Run Away,' is now available. Whether ministering in schools, churches, on television, or live on stage, LIVINGSTONES - focus is to minister to the lost and lift up the Body of Christ.
del Rey Promotions
- www.myspace.com/delreypromotions HOPE RISING is an annual event born out of one family's vision to bring positive music to the ears of local residents and cast off the misconceptions that often come with the label 'Christian music.' Strictly non-profit, the goal of del Rey Promotions is to bring affordable, family-friendly events to the Bay County area. Please join us for an unforgettable night of music.
Tickets are $ 6.00
Buy Tickets On-Line
---
---
---
Send This Story to a Friend!
Letter to the editor
Link to this Story
Printer-Friendly Story View
---
--- Advertisments ---