26th Street Market Revitalizes Old Warehouse, Soon to Offer Farm Produce
Weekend Emporium Boasts 91 Vendors as Do-All, Inc., Connects to Community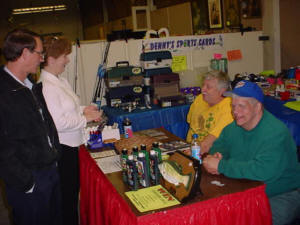 Ken and Dale Leinaar, left, meet with sports card dealer Denny Price and helper from Do-All, Inc.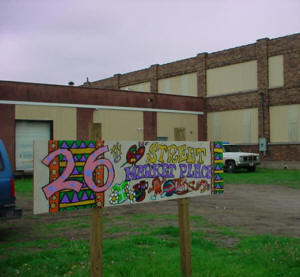 26th Street Market is outstanding example of "adaptive reuse" of old building, fostering entrepreneurship and providing a community attraction.
      Want some Rada cutlery? How about Pretty Punch Embroidery? If you seek NASCAR diecast collectibles, Avon Products, vintage records, stuff you used to get mainly from door-to-door salespersons such as the Fuller Brush man, sports cards, flea market items and even deli food, then go to 810 26th Street in Bay City.
      One of the area's most amazing recent business success stories has to be the 26th Street Market. Do-All mastermind Dick Davis and all-around superintendent Ken Leinaar have transformed an old warehouse, formerly the Kuhlman Electric Co. factory, into a buzzing beehive of entrepreneurial activity.
      What once was a factory floor and lately had been storage space now is a market crammed with merchandise of great variety. Lights went up, heat went on, paint was dashed on the walls and floors, and, presto, there is a new attraction for Bay City's hordes of bargain hunters, collectors and just plain shopping addicts. By mid-June, the marketplace will also offer farm produce, with half a dozen farmers already lined up at the door, according to Leinaar.
      There are now 91 vendors in the building and customers like the indoor atmosphere out of the cold, wind and rain, said Leinaar. There are no plans to expand to a weekday operation.
      Not only is the old building an old-fashioned merchandise bazaar with a family atmosphere, it offers and opportunity for clients of Do-All to be in business and have jobs. Do-All provides sheltered workshop environments, counseling and education for handicapped individuals and works closely with the Association for Retarded Citizens (ARC) of Bay County.
      "This is a great opportunity for the people from Do-All to connect with the community," says an enthusiastic Dale Leinaar, Do-All's community program manager, checking in with a client who helps work a booth for Denny Price's Sports Cards.
      For $10 a day or $25 for the weekend, a vendor gets an 8 foot by 10 foot space in the marketsquare and benefits from advertising bolstered by a free weekly prize drawing and monthly drawing for a $25 gift certificate. Drawings are held each Sunday at 5 p.m. and winners are posted. The marketplace also offers free merchant coupons, currently 10-20 percent off on various items.
      Planners and real estate consultants would call the marketplace an excellent "adaptive reuse" of what might otherwise be a "functionally obsolete" building.
      The building dates to Kuhlman's start in 1915 and once also housed the Fulton Baby Carriage Co. Fulton closed in the 1940s but Kuhlman made huge transformers and had an industrial presence here until the 1970s when it moved operations to the Detroit area and the building was acquired by Brennan Real Estate.
      The marketplace already has expanded into another unused warehouse area and added 30 more vendor spaces. Leinaar swished back a brown tarp and unveiled a third area that soon will be sealed, painted, lighted and made ready for even more eager vendors.
      The marketplace is open year around, Fridays 10 a.m. to 6 p.m. and Saturdays and Sundays 8 a.m. to 5 p.m. It is located on 26th Street between Garfield and Michigan avenues. You can't miss the huge building with cars usually parked all around.
      For more information you can access the website www.doallinc.org/marketplace.htm. ###
---
---

Dave Rogers




Dave Rogers is a former editorial writer for the Bay City Times and a widely read,
respected journalist/writer in and around Bay City.
(Contact Dave Via Email at carraroe@aol.com)

More from Dave Rogers
---
Send This Story to a Friend!
Letter to the editor
Link to this Story
Printer-Friendly Story View
---
--- Advertisments ---