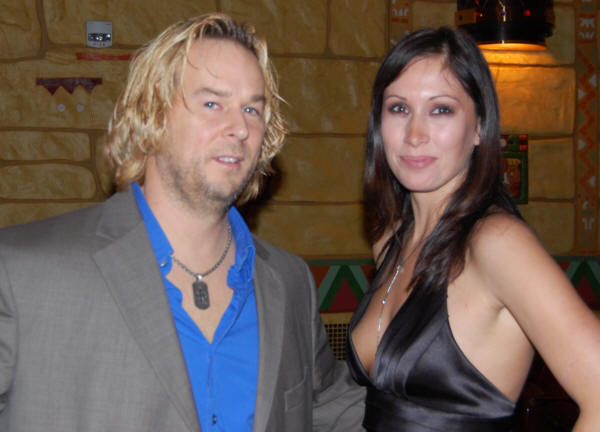 Director/actor Christopher J. Martin of Bay City and producer/actor Andrea Tice of Clare pose before the showing.
(MyBayCity Photo by Dave Rogers)
---
Bay City Movie "Meltdown" Sells Out the House at the State Theatre
Vern Zaucha Stars as "The Dragon" in Action Film with Local Scenery
November 1, 2009 1 Comments
By: Dave Rogers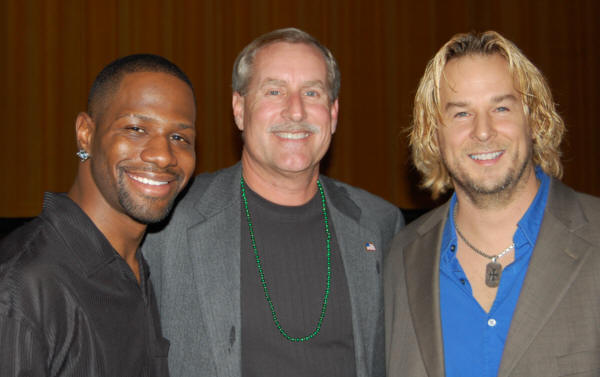 Actor Maurice Kelly Jr., left, and Martin are congratulated by Scott Carmona, center, president of Cinema Vision, a new Bay City firm.
(MyBayCity Photo by Dave Rogers)
Hollywood types and newly-minted movie stars Christopher J. Martin and Andrea Tice rampaged through town in the local movie "Meltdown."
When Vern Zaucha, retired Bay City firefighter, playing "The Dragon," is knifed and shot at the stirring conclusion of the action film, the appreciative crowd Saturday night at the State Theatre cheered loudly.
Zaucha was perfect for the Dragon role, strutting about with an evil-looking snake-headed cane that became a sword when needed.
The applause seemed to be as much for Zaucha's acting skills as for the demise of the bad guy. Zaucha has made a theatrical splash before, as the Marlon Brando character in "Streetcar Named Desire" at the Midland Center for the Arts more than a decade ago.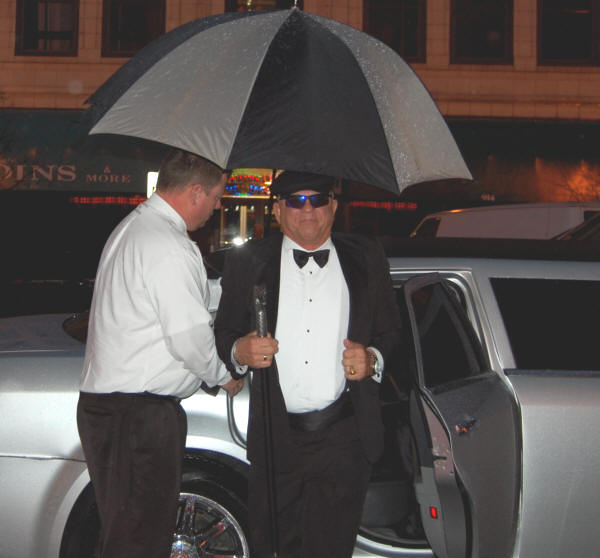 "The Dragon," Bay City's Vern Zaucha, alights from a limo to walk the red carpet in the State Theatre premiere of "Meltdown."
(MyBayCity Photo by Dave Rogers)
Martin and Tice, as federal agents, were believable foils to veteran Hollywood action film stars Robert Z'dar, of Tango and Cash fame, playing a hulking villain, and Joe Estevez, younger brother of actor Martin Sheen, as a bumbling FBI boss.
Ms. Tice displays considerable athletic skill as Agent Preston, even at one point having a gunfight with an extra played by her father, Jon Tice, owner of Tice's Farm Market in Clare. Several other local folks and a contingent from Clare caught on in the film as extras.
The Bay County Building, the Bay City waterfront, the old Kuhlman plant at 26th and Broadway, St. Laurent Brothers on Water, Omni Source, Pulaski Hall, the Espresso Express Coffee House and numerous local streets were also featured in the film.
State Theatre manager Mike Bacigalupo had to shoehorn patrons into all available seats as the idea of a film premiere here caught on bigtime with fun-seekers.
Local gliterati abounded as the full Hollywood treatment was accorded stars arriving by limo and walking the traditional red carpet as cameras flashed amid the buzz.
Anybody who had anything to do with the film was immediately recognizable by the flashy neck chains they wore.
Shoot 'em up scenes were realistic as bullets tore through bodies just like in Hollywood. Dialog was typical for cops and robbers films. An early car explosion at Omni Source set the stage for violence, shootouts with machine guns and all kinds of malicious talk.
Scott Carmona, president of Cinema Vision, Inc., and executive producer Shannan Weston, along with Martin and Tice, are headed for the Santa Monica International Film Festival Nov. 4 where the action flick will be offered to buyers from 70 countries.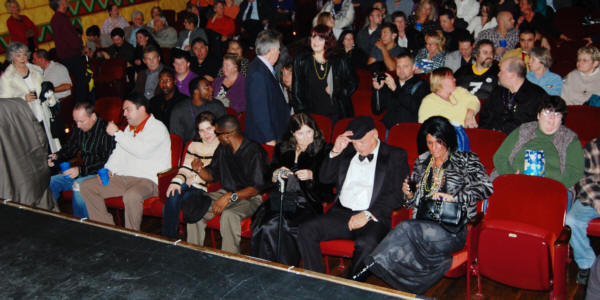 Stars of the movie sit in the front row as the theatre fills up to the last seat.
(MyBayCity Photo by Dave Rogers)
---
"The BUZZ" - Read Feedback From Readers!
groya Says: On November 02, 2009 at 04:25 PM

What a great evening at the State Theater and so proud to see how Bay City played such a big part in this movie. Vern Zaucha was outstanding in his part and the locations around our town should make everyone be proud of living in this community. It was a great evening out and the movie theater was packed with people..........outstanding performance by everyone...........
---

Dave Rogers




Dave Rogers is a former editorial writer for the Bay City Times and a widely read,
respected journalist/writer in and around Bay City.
(Contact Dave Via Email at carraroe@aol.com)

More from Dave Rogers
---
Send This Story to a Friend!
Letter to the editor
Link to this Story
Printer-Friendly Story View
---
--- Advertisments ---