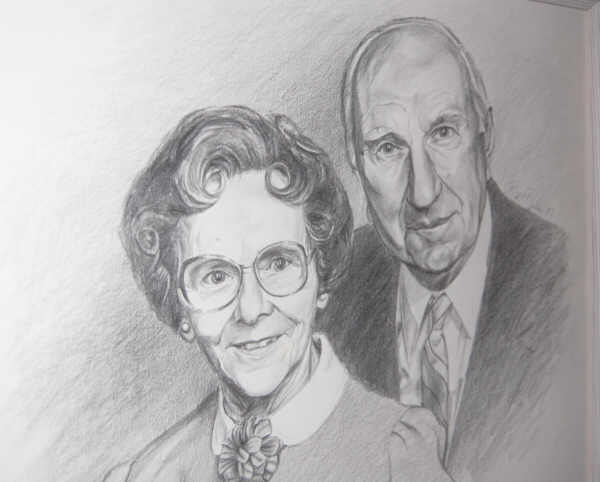 Drawing of Hilda and Floyd Sibley, major donors, graces hallway at Brian's House.
(MyBayCity Photo by Dave Rogers)
---
$1.2 Million Brian's House Expansion Draws 200 Open House Visitors
Floyd & Hilda Sibley, Major Donors, Honored by Drawing at Hospice Facility
November 1, 2009 1 Comments
By: Dave Rogers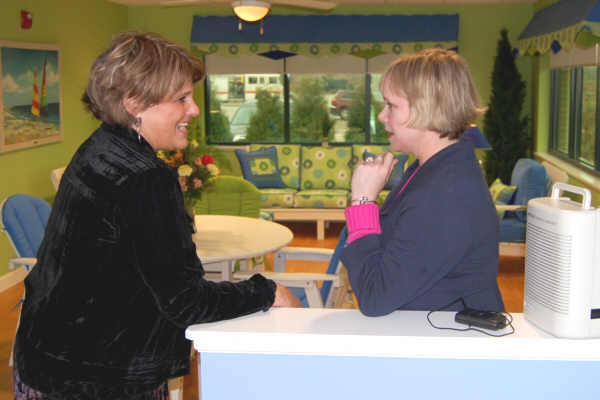 Designer Kathy Bradway, left, of Periwinkle Lane Interiors, Davison, and assistant Betsy Fulcher, discuss their project in the family sitting room at Brian's House, named for Frances Goll Mills.
(MyBayCity Photo by Dave Rogers)
Floyd and Hilda Sibley were ordinary Bay City folks who ran a heating and cooling business in the South end.
But their major gift to the Bay Medical Foundation made possible the extraordinary expansion of Brian's House operated by McLaren Visiting Nurse and Hospice.
The foundation recently showed off the $1.2 million addition, boosting the facility from 12 to 19 beds for terminally ill patients. About 200 visitors viewed the expanded facility at an open house last Thursday, Oct. 29, 2009.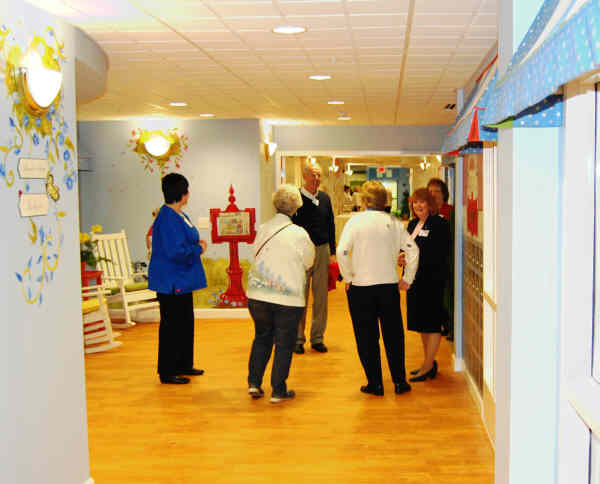 Guests at an open house by Bay Medical Foundation at the expanded Brian's House marvel over the attractive interior.
(MyBayCity Photo by Dave Rogers)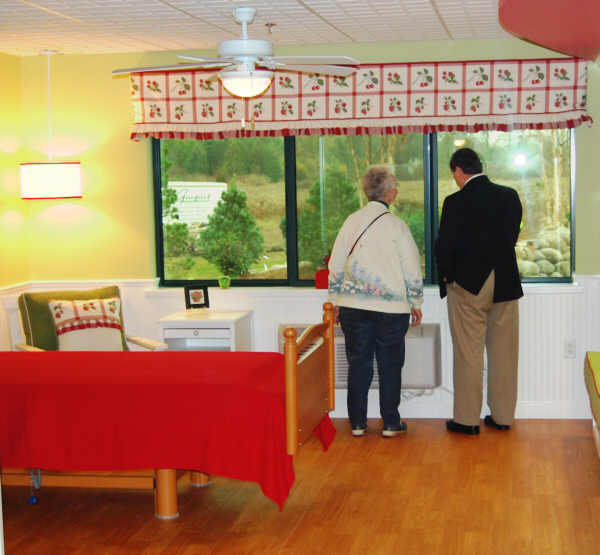 Keith Markstrom, Bay Medical Foundation director, shows one of the new rooms to an open house visitor.
(MyBayCity Photo by Dave Rogers)
The seven room expansion is complemented by a sun room, family sitting room and bright, airy designs by Kathy Bradway of Periwinkle Lane Interiors, Davison. A rock garden and waterfall are dedicated to Vernon and Ruth Short and other areas of the facility are named for the Sibleys, Frances Goll Mills and other donors.
Floyd Sibley, born in Detroit in 1905 to Polish immigrants, was a veteran of the U.S. Navy who served in World War II. Floyd worked for 20 years at Fisher Body in Detroit before joining the Navy. He and Hilda (Rostow), also of Detroit, came to Bay City in 1947 and operated Sibley Heating & Cooling in Salzburg for 35 years.
Besides his business success, Floyd was a shrewd investor in the stock market, sticking mainly with safe blue chip companies.
"It was Floyd who directed the gift for hospice care, as he liked the idea there was a service place for people who were at the end of life but had no family or children to care for them," said Keith Markstrom, foundation director.
Floyd Sibley died Dec. 18, 1991, three days before his 86th birthday. After his death, Hilda continued her greatest pleasure -- to attend St. Stanislaus Church every Sunday, arriving an hour early, sitting in the same pew. She spent an hour in meditation, praying the rosary.
One winter day she fell in her home and was diagnosed as having had a stroke. She spent two years in a nursing home due to her inability to walk. She passed away Feb. 22, 2005 at Heartland Health Care, Hampton.
Mr. Markstrom concluded: "The legacy left by Floyd and Hilda Sibley to hospice is a reflection of how they lived their lives. Quiet and unassuming, they bothered nobody, expected little, but gave generously to make certain others -- people they would never meet or paths that would never cross -- could be helped."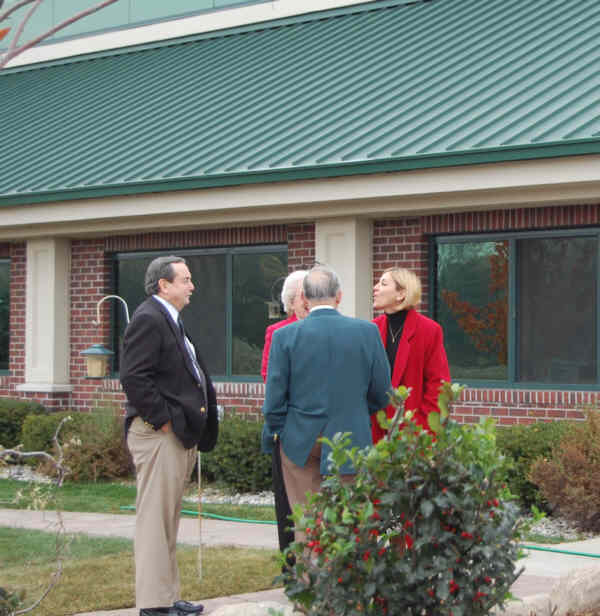 Wendy Dore, right, volunteer at the open house, and Keith Markstrom, left, inform visitors about the expansion project.
(MyBayCity Photo by Dave Rogers)
Brian's House is named for Brian Straub, native Bay Cityan born in 1959. He was graduated from Western High where he began his acting career. He pursued his career in New York City and California and had many theater, film and TV credits. While working in California on the set of "White Men Can't Jump" he became ill and returned to Bay City where died at the age of 32 on Nov. 22, 1991.
"Brian felt fortunate because he had the time to tell his family he loved them and the time to choose how he would face his death. One of Brian's wishes was that others would have the same opportunity to die with dignity among friends and family while in a safe haven," said Mr. Markstrom.
Fund raising began in the summer of 1992 and in February of 1996 Brian's House opened its doors on Hampton Road for hospice care for six terminally ill patients. The facility was acquired by McLaren Health Care in January 2003.
In April 2006 a new Brian's House opened as a 12-bed state-licensed Hospice Inpatient Unit on the West Campus of Bay Regional Medical Center and soon the need for an expansion became apparent.
"Brian Straub was full of life," recalled Mr. Markstrom. "His humor and outlook on life left people laughing and crying. Although his promising career as an actor came to an end at age 32, his memory will continue to live forever. Brian's House is his living legacy." ###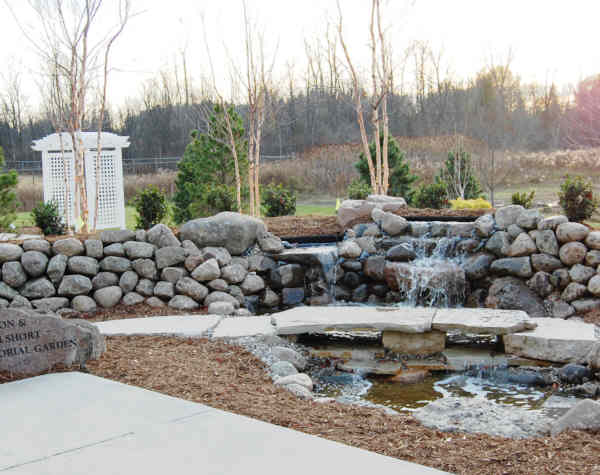 Vernon and Ruth Short Memorial Gardens has flowing mini-waterfall in rocky setting
(MyBayCity Photo by Dave Rogers)
---
Health/Fitness Article 4333
---

Dave Rogers




Dave Rogers is a former editorial writer for the Bay City Times and a widely read,
respected journalist/writer in and around Bay City.
(Contact Dave Via Email at carraroe@aol.com)

More from Dave Rogers
---
Send This Story to a Friend!
Letter to the editor
Link to this Story
Printer-Friendly Story View
---
--- Advertisments ---