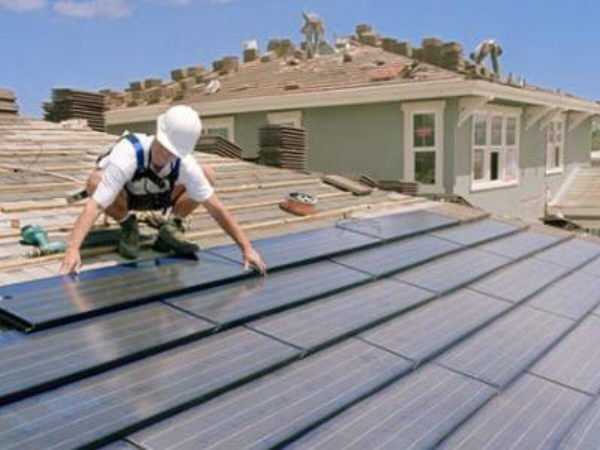 The Solar Shingle systems are expected to be available in limited quantities by mid-2010 and projected to be more widely available in 2011.
---
Dow Solar Shingle Named One of 50 Top Inventions of 2009 by Time Magazine
Midland Firm, Cal Tech University Agree on Research Collaboration in Solar
November 16, 2009 Leave a Comment
By: Dave Rogers
The Dow Chemical Company's "POWERHOUSE" trademarked Solar Shingle, has been named one of "The 50 Best Inventions of 2009" by TIME magazine.
The revolutionary flexible photo voltaic solar cell packaged in a roofing shingle can be integrated with standard asphalt shingle materials, according to the firm.
"This is just one example of how Dow's $1.5 billion annual R&D investment is allowing us to deliver practical solutions for some of the world's most critical challenges," said Dow Chairman and CEO Andrew N. Liveris. "These types of innovative products not only showcase our deep scientific and technical expertise but also demonstrate how our commitment to R&D is fueling Dow's future growth agenda around the world."
Dow Solar Solutions business unit in 2007 received $20 million in funding from the U.S. Department of Energy to develop "building integrated" solar arrays for the residential and commercial markets.
Also, Dow and the California Institute of Technology (Caltech) recently announced the signing of a research collaboration strategic to both organizations' interests in solar energy.
The firm said this innovative technology also expands the ability for solar energy to be incorporated beyond roofing systems into applications such as exterior sidings, fascias and more.
"The introduction of the Powerhouse Solar Shingle exemplifies Dow's commitment to delivering innovative solutions to the world's most critical challenges," said Jane Palmieri, Managing Director of Dow Solar Solutions. "This groundbreaking technology will make affordable renewable energy a reality now and for future generations. Dow is proud to be recognized by TIME magazine - a strong testimonial to the power of our chemistry and science to deliver sustainable solutions."
Ms. Palmieri added: "Consumers reap the benefits of our innovation. This is about providing roof protection and electricity generation all from one product, with lower costs, improved aesthetics, easier installation and long-lasting performance."
The Dow Solar Shingle integrates low-cost, thin-film CIGS photo voltaic cells into a a multi-functional solar energy generating roofing product. The design reduces installation costs because conventional roofing shingles and solar generating shingles are installed simultaneously by roofing contractors - no specialized skills or knowledge of solar array installations are required.
The Dow-Cal Tech deal is aimed at developing the next generation of ultra low cost, high efficiency photo voltaic materials and will accelerate the speed to market for these next generation materials. Based on earth abundant elements, these new PV materials should further reduce the cost of Dow's building integrated photo voltaic line.
"Products like the Dow Solar Shingle demonstrate what the innovation engine of the new Dow can do," said David Parrillo, Senior R&D Director for Dow Solar Solutions. "Dow's innovation pipeline is robust and will allow us to continue to develop new building related photo voltaic materials and solutions. The collaboration with Caltech is projected to keep affordability and accessibility at the forefront of Dow's solar photo voltaic product lines and is another example of how Dow's leadership and innovation will further unlock the power of the sun for the masses."
The Solar Shingle systems are expected to be available in limited quantities by mid-2010 and projected to be more widely available in 2011.
"Making Michigan a leader in manufacturing green energy products continues to be a key part of our economic plan to grow the economy and create jobs," said Michigan Governor Jennifer M. Granholm. "Dow's solar shingles are another example of local research and development helping grow our green economy, and I applaud Dow's ongoing commitment to developing green energy solutions right here in Michigan."
Dow's commitment to solar innovation extends beyond the Powerhouse Solar Shingle arrays:
Dow Performance Fluids is a leading supplier of heat transfer fluids that enable concentrated solar power for parabolic, trough-based solar systems.
DOWTHERM (TM) A collects heat energy from the sun and transports it to a power generating station that converts water into steam, which in turn drives turbines to make electricity.
Dow Adhesives and Functional Polymers is a leading global supplier of adhesives for photolytic, with exceptional performance in new backsheet substrates, as well as game-changing innovations in materials such as liquid encapsulants.
Dow Electronic Materials recently introduced its new line of ENLIGHT (TM) photo voltaic products, which increase solar cell efficiency and yield.
Dow Specialty Packaging & Films offers innovative polyolefin-based films used in the protective encapsulant layer and the structural backsheet of photo voltaic modules. The use of these films can improve productivity when the module is produced, and help increase its service life and reliability.
Dow Corning, a joint venture equally owned by The Dow Chemical Company and Corning, Incorporated, is also participating in the solar photo voltaic sector, applying its expertise in silicon-based materials to improve the cost efficiency, durability and performance of solar modules and photo voltaic devices. Dow Corning recently began construction on a facility that will manufacture monosilane gas, a key material used to manufacture thin-film solar cells and liquid crystal displays. Via its Hemlock Semiconductor joint venture, Dow Corning is also a leading provider of polycrystalline silicon and other silicon-based products used in the manufacturing of semiconductor devices, and solar cells and modules.
The Dow POWERHOUSE (TM) Solar Shingle is the latest in a series of investments Dow has made to build upon its leadership position within the building and construction industry. Dow supplies a wide range of systems and solutions designed to help improve the energy efficiency and overall performance of buildings.
To learn more about the Dow Solar Shingle visit www.dowsolar.com .###
---
---

Dave Rogers




Dave Rogers is a former editorial writer for the Bay City Times and a widely read,
respected journalist/writer in and around Bay City.
(Contact Dave Via Email at carraroe@aol.com)

More from Dave Rogers
---
Send This Story to a Friend!
Letter to the editor
Link to this Story
Printer-Friendly Story View
---
--- Advertisments ---