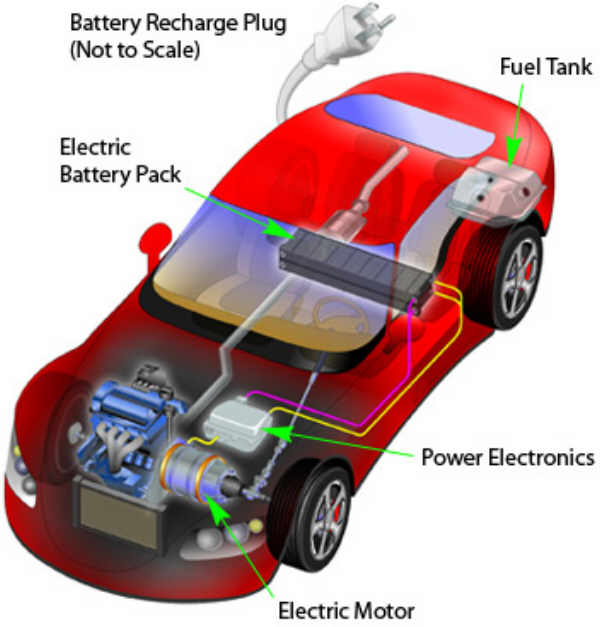 Electric, battery operated vehicles like this one are the basis of new Dow business.
---
Dow Buys Kokam Battery Company, Consolidates Technology in Midland
Dow Venture Chief Ravi Shanker Named CEO of Combined Company
November 18, 2009 Leave a Comment
By: Dave Rogers
The Dow Chemical Company has vaulted into world leadership in the electric vehicle energy supply field.
A joint venture formed by the Dow Chemical Co. has purchased the remaining assets of lithium battery manufacturer Kokam America Inc., Dow announced.
"The acquisition of these assets is a natural extension to Dow Kokam's existing capabilities," said Ravi Shanker, who was appointed president and CEO of Dow Kokam the same day. "Bringing the Kokam America expertise, patented manufacturing processes and existing facilities under the Dow Kokam franchise creates tremendous opportunity for Dow Kokam and brings application diversity to its portfolio."
Shanker previously served as corporate director of ventures and business development for Dow Chemical.
Kokam America is a manufacturer, based in Lee's Summit, Missouri, formed in October 2005 that has supplied battery sustainment to the U.S. Department of Defense. The firm's advanced battery products have been developed, designed and patented by Kokam Co., Ltd. in South Korea.
Through the acquisition of Kokam America's assets, Dow Kokam has the equipment and the capacity to manufacture a wide range of lithium polymer cells and extend its offering to the electric mobility industry, the company said.
"Kokam America's proven, scalable technology and industry expertise, paired with Dow Kokam's strength in manufacturing and channel to market makes this partnership a winning combination," said Don Nissanka, former CEO of Kokam America, Inc. "I am thrilled to now be part of the Dow Kokam leadership team bringing the most advanced battery technology into the automotive markets."
Dow Kokam, a joint venture between The Dow Chemical Company (NYSE: DOW) and TK Advanced Battery LLC, was established in 2009 to develop and manufacture advanced energy storage technologies for the transportation and other industries. Drawing on the strengths of its parent companies, Dow Kokam offers a unique mix of patented technology, market knowledge, materials science capabilities and manufacturing expertise.
Established in 2005, Kokam America is the U.S. affiliate of South Korea-based Kokam Co., Ltd., a global leader in the rapidly growing lithium rechargeable battery market.
With U.S. facilities in Kansas City, Mo., Kokam America was the licensee and exclusive sales and distribution agent for North and South America for Kokam Co., which holds patents on the next-generation superior lithium polymer battery (SLPB) technology that provide significant manufacturing, efficiency and safety advantages over traditional lithium technology.
Plug-in hybrid electric vehicles (PHEVs) can be charged with electricity like pure electric vehicles and run under engine power like hybrid electric vehicles. The combination offers increased driving range with potentially large fuel and cost savings, emissions reductions, and other benefits.
Plug-in hybrid electric vehicles currently do not qualify as alternative fuel vehicles under the Energy Policy Act of 1992. However, they do qualify for incentives.
Plug-in hybrid electric vehicles are still at a pre-commercial stage of development. Research and development efforts are bringing them closer to widespread commercialization.
Like hybrid electric vehicles, PHEVs are powered by two energy sources -- an energy conversion unit (such as an internal combustion engine or fuel cell) and an energy storage device (usually batteries).
The energy conversion unit can be powered by gasoline, diesel, compressed natural gas, hydrogen, or other fuels. The batteries can be charged by plugging into a standard 110-volt electrical outlet -- a capability conventional hybrid electric vehicles do not have -- in addition to being charged by the energy conversion unit when needed.
Plug-in hybrid electric vehicles have a larger battery pack than conventional hybrid electric vehicles. During typical daily driving, most of a PHEV's power comes from the stored electricity. For example, a PHEV driver might drive to and from work on all-electric power, plug in the vehicle to charge it at night, and be ready for another all-electric commute in the morning. However, the engine can be used when longer trips are required, and the PHEV does not need to be plugged in to operate.
Researchers are developing "vehicle-to-grid" technologies that allow a two-way connection between the plug-in hybrid electric vehicle and the local utility grid. While the vehicle is plugged in and not in use, the utility could take advantage of the extra electrical storage capacity in the vehicle batteries to help meet peak electricity demand, provide grid support services, or respond to power outages.
PHEV owners could get "paid" by the utility for use of their vehicles, which would only be used when needed and without negative effects on the vehicle battery's state of charge. Google.org's RechargeIT program is demonstrating vehicle-to-grid technologies. ###
---
---

Dave Rogers




Dave Rogers is a former editorial writer for the Bay City Times and a widely read,
respected journalist/writer in and around Bay City.
(Contact Dave Via Email at carraroe@aol.com)

More from Dave Rogers
---
Send This Story to a Friend!
Letter to the editor
Link to this Story
Printer-Friendly Story View
---
--- Advertisments ---