SVSU's 'The Night Thoreau Spent in Jail' Is Huge Hit
November 22, 2009 Leave a Comment
By: John Keuvelaar
The Saginaw Valley State University Department of Theater demonstrated their students gifted talents over the past two weekends when they presented 'The Night Thoreau Spent in Jail'. Written by Jerome Lawrence and Robert E. Lee, it is a timeless play of Henry David Thoreau's life's ideas capsulated in a night that he spent in jail for living his beliefs. His reflections on the people that have influenced him, the events that have challenged him and the impact his expressing those ideals have had on others made for a truly captivating evening at the theater.
The play was first published in 1971 as a form of protest against the then, Vietnam War. Using Henry Thoreau's mid-1800 writing's that included his protest of the Mexican-American War, the play centers around the night Thoreau was jailed for refusing to pay his taxes that helped pay for the war. It was his way of protesting the war in a more constructive manner. While virtually every generation may relate to the war issues, the play focused more on the life of Thoreau than his ultimate politics of the war.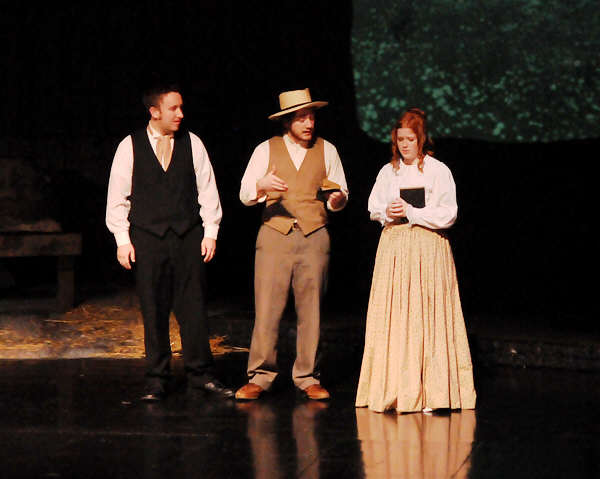 Henry continues to educate young minds as he receives a new student, Ellen Sewell, outside the school with the aid of his brother John.
(MyBayCity Photo by John Keuvelaar)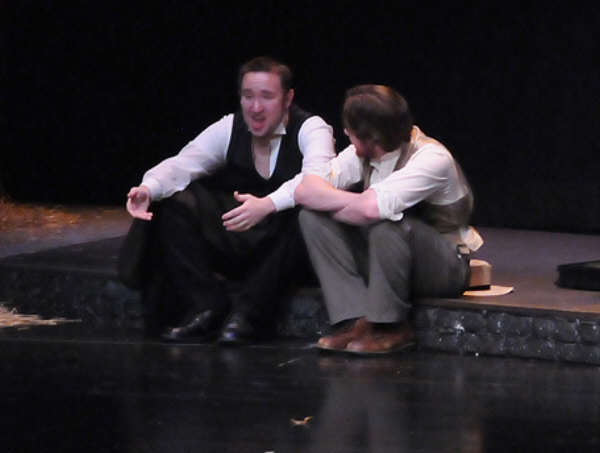 John explains to Henry the situation involving Ellen not accepting his hand in marriage.
(MyBayCity Photo by John Keuvelaar)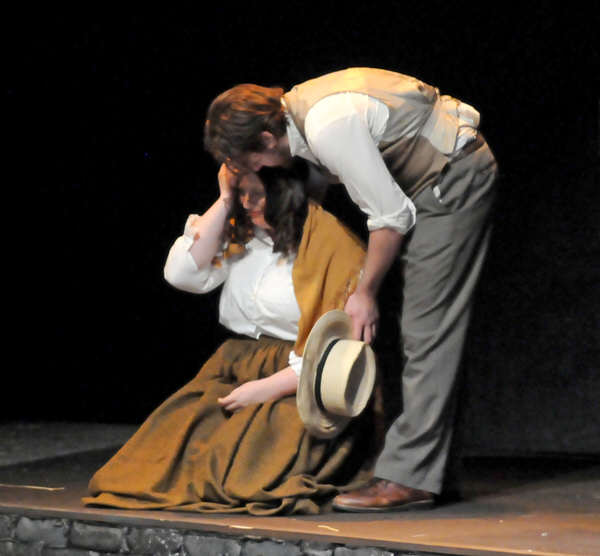 Henry comforts his mother after the funeral of his late brother John Thoreau.
(MyBayCity Photo by John Keuvelaar)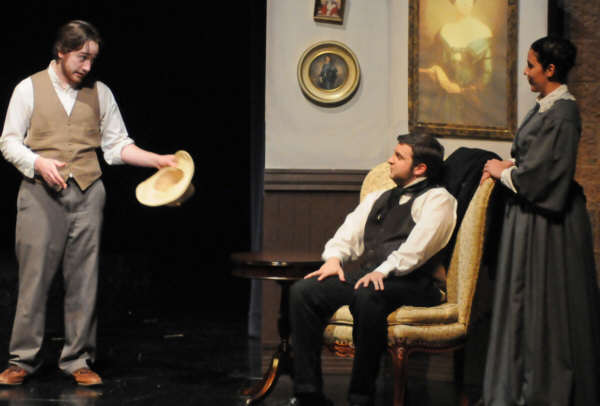 Henry gets a job as a handyman working for Ralph Waldo Emerson, his inspiration and mentor.
(MyBayCity Photo by John Keuvelaar)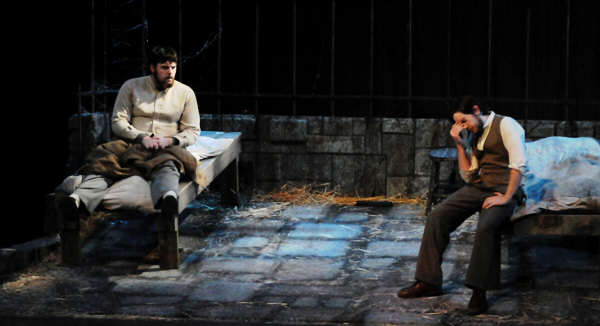 Henry reflects back on parts of his life while chatting with fellow inmate Bailey.
(MyBayCity Photo by John Keuvelaar)
The staging of the play offers a challenging effort on behalf of the lead character to carry the interest of the audience throughout the play. Daniel Foley delivered a very strong performance convincingly portraying the emotions of the frustrated Thoreau. His performance helps keep the play connected as the reflections of Thoreau don't follow a chronological order. Instead you see how a man, filled with anxiety, runs the gambit of thought from his successes and failures, to the idealization of a mentor only to be disappointed and finally to his own revelations of his own life.
The play shows a Thoreau who will stand behind even the littlest of convictions for no practical gain and harm to himself. A learned man, he refuses to pay for his Harvard diploma thus never graduating from Harvard. But it was that schooling that allowed him to listen to and strongly adopt the teachings of Ralph Waldo Emerson. These ideals served as the foundation for Thoreau's life's actions and thoughts. The real conflict occurs when Thoreau realizes that Emerson, known to him as Waldo, is full of ideas and great oratory skills but lacks the courage and conviction to act upon those words he so eloquently speaks.
Emerson first fears no one is listening to him then later realizes that Thoreau has become what he wishes he could be. The two clash when Thoreau, one who wants to act quickly, seemingly convinces Emerson to speak out against the war. However, Emerson fails to show for the protest leaving Henry beguiled while Waldo is off reflecting on the issue of the war. Ultimately, Thoreau allows himself to be jailed for failing to pay his taxes even though many people including Waldo are willing to pay them for him.
An interesting subplot to the play involves the cell mates themselves. Thoreau is a learned man that is full of ideas and willing to champion those thoughts. His cellmate, Bailey is the direct opposite. His is uneducated and has to be taught by Henry how to spell his name. He has been sitting in jail for three months awaiting trial for arson, a crime he did not commit. Bailey is willing to wait quietly for his day in court to tell his side of the story. It is ironic how in the morning, Henry is allowed to leave jail because someone paid his taxes for him. Henry then takes up Bailey's cause, refusing to leave until Bailey gets his trial.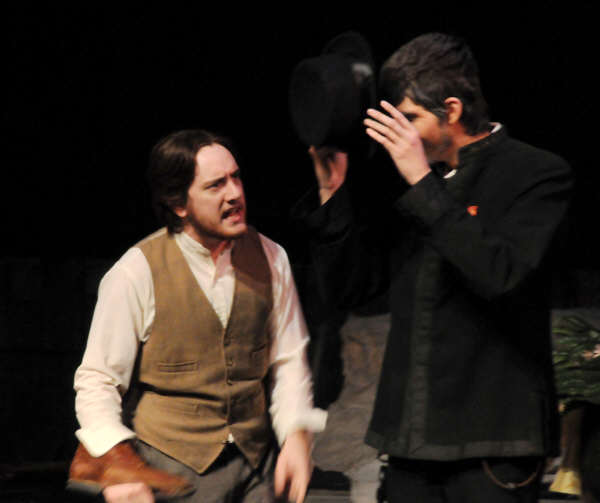 Henry argues with Sam Staples on why he beliefs on not pay his taxes.
(MyBayCity Photo by John Keuvelaar)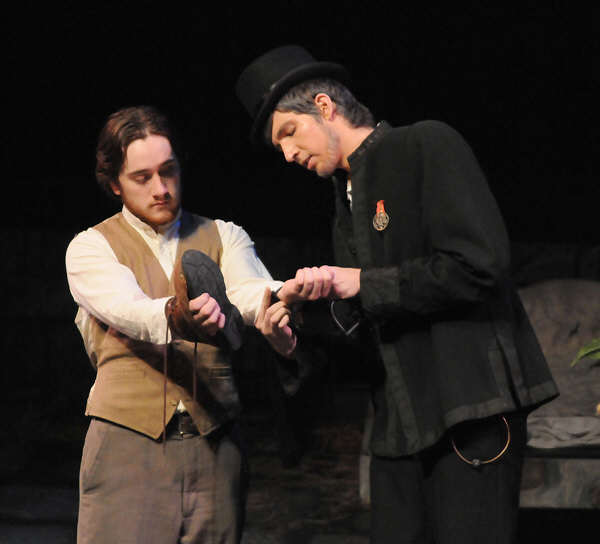 Henry accepts being sent to jail rather than paying taxes that support the Mexican-American war.
(MyBayCity Photo by John Keuvelaar)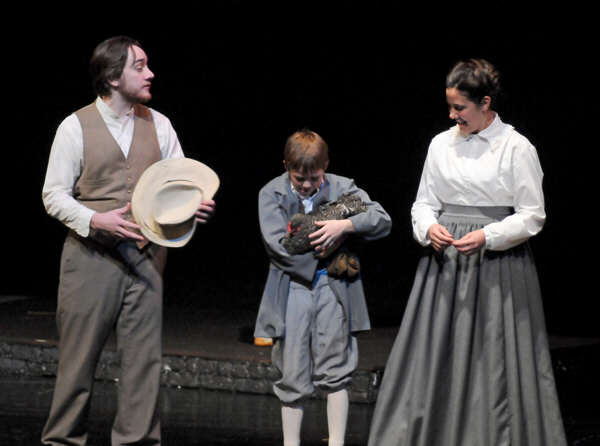 In an act of kindness Henry "bags" the hens feet to protect Lydian Emerson rose garden.
(MyBayCity Photo by John Keuvelaar)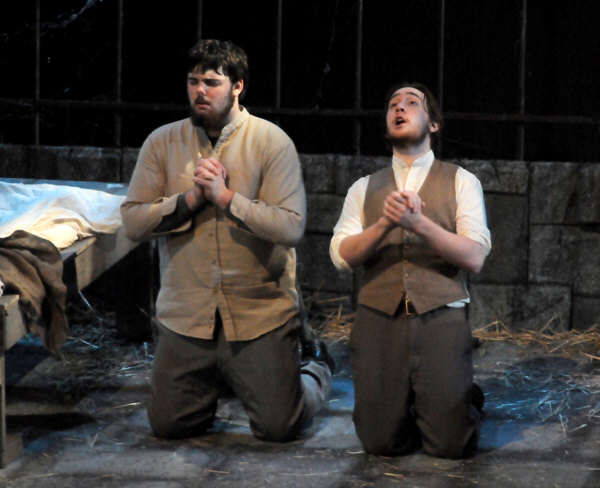 Henry says a prayer for Bailey.
(MyBayCity Photo by John Keuvelaar)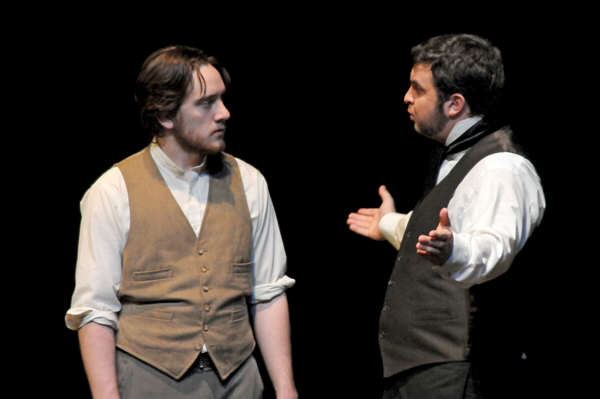 Both friends clash on how to pursue a course of action on stopping the Mexican-American war.
(MyBayCity Photo by John Keuvelaar)
What the play clearly demonstrates is the talent SVSU and the community has. Thoreau is played by Daniel Foley, a third year student majoring in Acting. Foley shared how he read many of Thoreau's books including his Journals of the events that center on the play. He notes that the play is very true to Thoreau's life ideas as many of the lines are the actual words from his Journal. Daniel Foley's life ambitions are to go into film work and acting.
An equally strong performance was put in by Caleb Knutson in is portrayal of Ralph Waldo Emerson. A resident of Saginaw, Knutson will graduate this may in his major of Theater. His plans are to obtain a MFA, Master of Fine Art. He plans to go to New York to further his acting career and ultimately teach at a University.
Christian Schwager of Saginaw shows the dedication and passion many of these performers have for the theater. Playing Sam Staples, the arresting "officer" of Henry Thoreau, he puts in a solid supporting actor effort as he pleaded with Thoreau not to make him arrest Henry. Having performed in over 25 shows in his career, he is a year away from obtaining his degree in the Theater and plans on much the same path as Knutson.
SVSU will be presenting plays year round. This winter, look for the plays "As Bees in Honey Drown" and "One for the Pot". They are well worth the evening's entertainment. For more information, you may call the SVSU Box Office at 989-964-4261.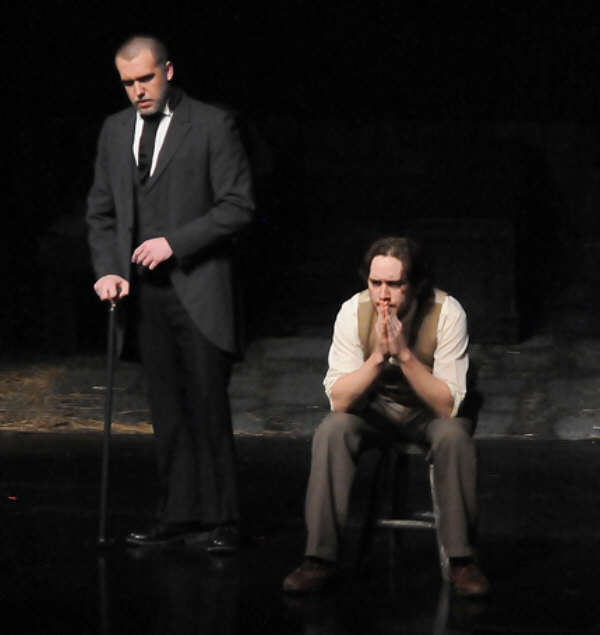 Deacon Ball and Henry Thoreau clash over their own styles of educating students.
(MyBayCity Photo by John Keuvelaar)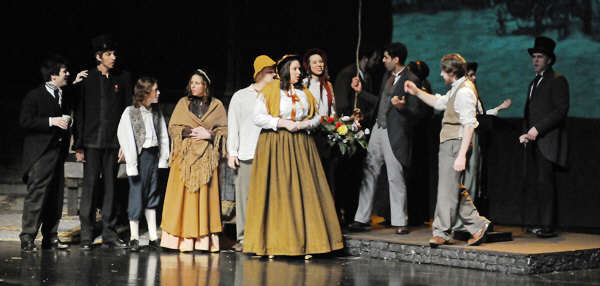 Henry summons everyone in Concord so that Waldo can deliver a speech that Waldo never shows for.
(MyBayCity Photo by John Keuvelaar)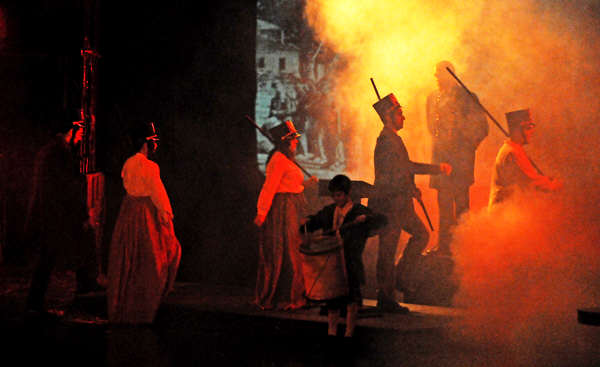 Nightmares fill Henry's dreams as friends and family fight in the war.
(MyBayCity Photo by John Keuvelaar)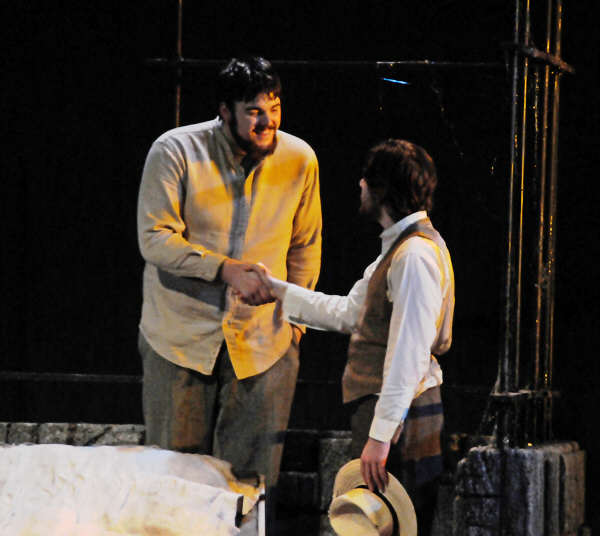 Henry bids Bailey goodbye as he was released from jail after his taxes were paid.
(MyBayCity Photo by John Keuvelaar)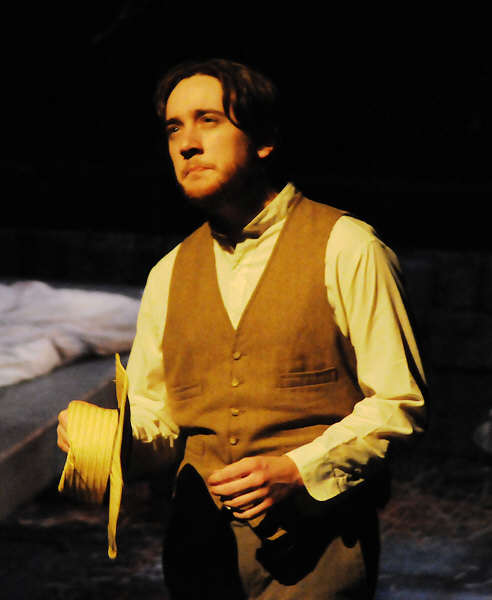 Looking forward Henry says goodbye to Concord and prepares to travel the world.
(MyBayCity Photo by John Keuvelaar)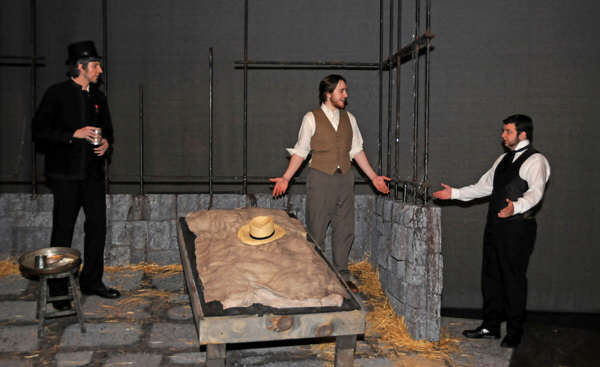 Actors, from left to right, Christian Schwager as Sam Staples, Daniel Foley as Henry David Thoreau and Caleb Knutson as Ralph Waldo Emerson enjoy a light moment after the play.
(MyBayCity Photo by John Keuvelaar)
---
---

John Keuvelaar




John Keuvelaar is a college student at Midwest Photography Workshops and Delta College.

More from John Keuvelaar
---
Send This Story to a Friend!
Letter to the editor
Link to this Story
Printer-Friendly Story View
---
--- Advertisments ---