Get New Michigan Enhanced Drivers License/Passport at All SecState Offices
Border Crossings into Canada, Mexico, Speeded by New EDL Technology
November 29, 2009 Leave A Comment
By: Dave Rogers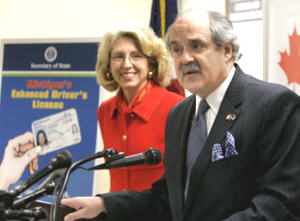 Secretary of State Terri Lynn Land listens as Robert Noble, the Canadian consul general in Detroit, talks about how the enhanced driver's license protects trade between Michigan and Canada by allowing for speedy, secure border crossings.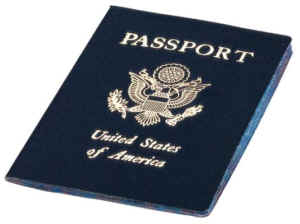 Heading for Canada, say, on a quick fishing trip.
Remember having to stop and tell the guard who you are, where you were born, where you're going and how long you're going to stay?
No more! Just drive up, hold up your new Michigan enhanced driver's license/passport to be scanned, let the guard check your car visually, and you're on your way.
All Michigan Secretary of State offices now have the state's new enhanced driver's license (EDL) available, Secretary of State Terri Lynn Land has announced.
Agreement was recently reached with the Department of Homeland Security and the State of Michigan which gives motorists the option of applying for an enhanced drivers' license that meets federal document requirements at U.S. borders as soon as next year.
Secretary of State Terri Lynn Land said the new license/passport will make cross-border traveling more convenient and enhance the flow of commerce between countries in North America as well as offshore locations.
Enhanced licenses are available to Michigan residents who also are U.S. citizens. To apply, residents may visit any Secretary of State SUPER!Center or other select branch offices. The application process is relatively easy for those who already have a current driver's license. They only need to present proof of a valid Social Security number and U.S. citizenship in addition to their driver's license.
International travelers faced stricter document requirements starting last June. The cards take the place of passports for land and sea travelers to enter the United States from Canada, Mexico, the Caribbean and Bermuda.
Persons entering the U.S. now are required by the Western Hemisphere Travel Initiative to present a passport or other acceptable form of enhanced identification. As the cost of passports currently exceeds $100 and in some cases takes an extended period of time, the new license will enable travelers to bypass the passport application process at far less cost. State law limits the cost of the new licenses at $50.
Congress passed the "Real ID" law in 2005, requiring all states to implement new identification standards to counter terrorism and prevent identity tampering.
Michigan is the fourth state behind Washington, Vermont and New York to implement the dual-purpose IDs, eliminating the need to carry separate documents such as a license and passport.
The cards contain a radio frequency identification chip that allows border officials to access biographical information and driving records from up to 15 feet away, said Ron G. Smith, Customs and Border Protection spokesman.
"It eliminates our officers having to handle documents and type names into computers," he said. "It's all going to be a digital transfer, which will shave seconds off every inspection."
Each day, 15,000 vehicles cross into the Unites State via the Ambassador Bridge in Detroit and Bluewater Bridge in Port Huron, Smith said. The chip will save about 15 seconds per vehicle.
Passengers will hold their enhanced IDs facing toward the passenger side of the vehicle as they approach the customs booth upon re-entry. Antennae read the chip and transfer the data to the customs worker's computer, Smith said.
EDLs are offered for voluntary purchase and are not required. Residents may continue to receive standard driver's licenses and state identification cards if they choose.
The optional card is convenient, affordable and the most flexible option for travelers to meet tougher federal document requirements that went into effect at America's land and sea borders on June 1, Land said.
The dual-purpose EDL, which serves as a driver's license and border-crossing card, will benefit Michigan's economy as well as its security, she noted.
"The enhanced driver's license promotes the smooth flow of trade and tourism between our state and Canada and aids law enforcement in its efforts to make our borders more secure," Land said. "This is the common-sense solution we have been working for years to achieve for the people of Michigan."
Enhanced driver's licenses are equipped with the latest technology to speed up border crossings and deter fraud. They cost $45 and enhanced state identification cards are $30. Applicants will receive them in two to three weeks.
The EDL eliminates the need to carry multiple ID documents when returning to the U.S. by land or sea from Canada, Mexico, Bermuda or the Caribbean, Land said. It is ideal for those who may be heading to Canada, such as sportsmen, day travelers and vacationers.
"This is a very positive development for Michigan. The chamber has been advocating for enhanced driver's licenses since 2005," said Richard Blouse Jr., president and CEO of the Detroit Regional Chamber. "Convenient border travel strengthens our economic partnership with Canada and is a benefit that should be extended to all border states throughout the nation."
When travelers approach an American border station in a vehicle, they simply hold up their EDL. Technology in the card allows it to be scanned from a distance. By the time travelers reach the station, security personnel will usually only need to make a quick visual check. No personal information is transmitted during this process.
Land was an early advocate of creating a higher security driver's license as an innovative way for border states to meet requirements of the federal Western Hemisphere Travel Initiative (WHTI) while protecting their economic interests.
Due to the relative expense and difficulty of obtaining passports -- which cost $100 and take four to six weeks to receive from the U.S. State Department -- Land and many other government and business leaders were concerned the requirement would deter many people from traveling across the border for business and tourism. The two-way trade relationship between Michigan and Canada averages more than $1 billion dollars a week.
"Thousands of our members travel across the border throughout the seasons to use the great wilderness that our Maple Leaf cousins enjoy so much. This step will make it easier and certainly more efficient for Michiganders to travel to boats, cottages and cabins dotting Ontario and other provinces," said Dennis Muchmore, executive director of Michigan United Conservation Clubs. "We congratulate Secretary Land and legislative supporters for providing this innovative solution."
The U.S. Department of Homeland Security embraced the dual-purpose ID concept and has granted approval for enhanced licenses in Michigan, Washington, Vermont and New York. State legislation authorizing Land's EDL plan was passed in February 2008. The state received federal approval to proceed in October 2008.
Land thanked the governor, Legislature and the many individuals and groups on both sides of the border whose support helped make enhanced licenses a reality in Michigan.
For more information on how to obtain an enhanced driver's license, visit www.Michigan.gov/sos.
---
Local News Article 4420
---

Dave Rogers




Dave Rogers is a former editorial writer for the Bay City Times and a widely read,
respected journalist/writer in and around Bay City.
(Contact Dave Via Email at carraroe@aol.com)

More from Dave Rogers
---
Send This Story to a Friend!
Letter to the editor
Link to this Story
Printer-Friendly Story View
---
--- Advertisments ---