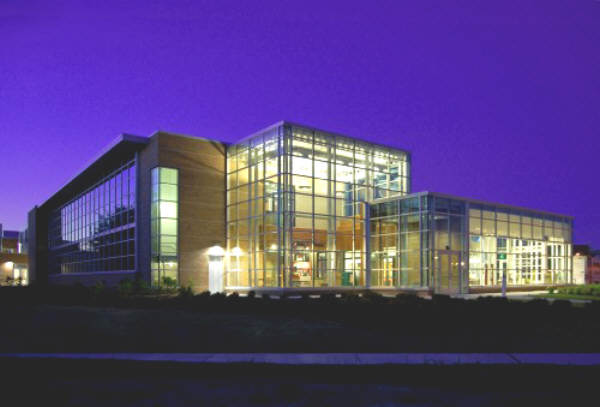 Pioneer Hall, on Saginaw Valley State's campus, was renovated in 2007 by Wigen Tincknell Meyer & Associates and Spence Brothers of Saginaw.
---
Great Lakes Bay Regional Bioeconomy Cluster Conference
Aim of Conference to Increase Awareness Bio-Based Products and Processes
December 13, 2009 Leave a Comment
By: Dave Rogers
Alternative energy is flowing from Saginaw Valley State University (SVSU).
The goal is to develop bio-based materials and processes to replace petroleum-based products, according to SVSU researchers.
And, to spread the word throughout the Great Lakes Bay Region about how these processes can be developed and utilized.
To that aim, a Great Lakes Bay Region Bioeconomy Cluster Conference and Workshop will be held in Curtiss Hall on the Saginaw Valley State University campus on Jan. 14 from 8:30 a.m. to 4:30 p.m.
The purpose of the BioEconomy Cluster Development Initiative is to accelerate the creation, retention, expansion and attraction of a robust BioEconomy industry in the Great Lakes Bay Region.
SVSU and partners are hosting a BioEconomy Workshop aimed at helping Michigan manufacturing and resource companies better understand their opportunities in the emerging BioEconomy supply chain, and enable them to make connections among themselves and with BioEconomy product and project developers.
This workshop is part of a series of alternative energy cluster development workshops SVSU has sponsored this year, which have each hosted approximately 100 - 150 participants.
Dr. Chris Schilling, who teaches alternative energy at SVSU, has been conducting research in biofuels and alternative energy. His projects range from wind and solar energy potential in Michigan to efficiently producing ethanol, biodeisel, and biomass fuels from agricultural products and waste. Students working with Dr. Schilling have also converted a 1965 John Deere lawn tractor to use ethanol.
In addition, The Green Cardinal Initiative is a group of students, faculty, and staff at Saginaw Valley State University who are interested in creating a more sustainable future.
With funding from the Allen Foundation, SVSU?s WIRED grant from the Department of Labor, and the SVSU Foundation students are working on several projects including, recycling waste from the SVSU Dining Services into organic fertilizer, creating sustainable hydroponics systems for inner city urban areas, developing renewable options for fossil fuels, Vermiponics, and raising environmental awareness on campus and throughout Mid-Michigan.
During the past century, petroleum-based industrial products, fuels and lubricants gradually replaced similar produces made from natural, biological processes and materials.
Scientific and technical breakthroughs in biological sciences and process engineering, however, are allowing bio-based materials and processes to compete with their petroleum-derived counterparts.
According to the National Research Council, "Biological sciences are likely to make the same impact on the formation of new industries in the next century as the physical and chemical sciences have had on industrial development throughout the century now coming to a close.
The biological sciences, when combined with recent and future advances in process engineering, can become the foundation for producing a wide variety of industrial products from renewable plant resources. These 'Bio-based industrial products' will include liquid fuels, chemicals, lubricants, plastics and building materials." ###
---
---

Dave Rogers




Dave Rogers is a former editorial writer for the Bay City Times and a widely read,
respected journalist/writer in and around Bay City.
(Contact Dave Via Email at carraroe@aol.com)

More from Dave Rogers
---
Send This Story to a Friend!
Letter to the editor
Link to this Story
Printer-Friendly Story View
---
--- Advertisments ---