Menlo Logistics May Expand in Monitor Park; $35 Million Solar Plant Rumored
Monitor DDA Officials Weigh Developments Pending 4-5 Year Sunset of Park
December 11, 2009 1 Comments
By: Dave Rogers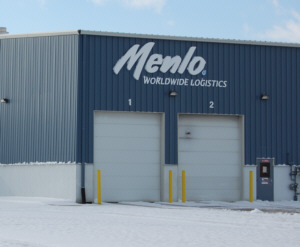 Menlo Worldwide Logistics is improving the former United Technologies/Amtek Gear plant and may expand by 50 percent.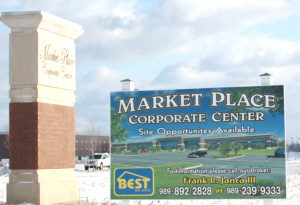 Fabiano Brothers' Marketplace Corporate Center has property available for development by firms seeking to locate in the Monitor D.D.A. area adjoining Valley Center Tech Park.
The Valley Center Technology Park in Monitor Township is expanding and may be the site of huge industrial expansions despite the fact that its days are numbered.
The former United Technologies/Amtek Gear plant, 5300 Mackinaw Road across from Valley Publishing, is now occupied by Menlo Worldwide Logistics, a division of Con-way Trucking.
The factory has been vacant for several years since the last tenant, a manufacturing firm from India, abruptly moved out. Several firms reportedly are partners in ownership of the building, including Wirt Financial of Bay City and Pumford Construction of Saginaw.
The building was acquired for $2.9 million in 2000 by 5300 Mackinaw Road L.L.C. It has a current taxable value of $1.2 million, according to county tax records. It occupies a site of nearly 20 acres.
Con-way Inc. and its subsidiaries operate from more than 450 operating locations across North America and in 17 countries across five continents.
The firm's location here could forecast a whole new spectrum of worldwide business for the Great Lakes Bay Region, perhaps in shipping solar energy components, according to informed obvservers.
Menlo is believed working on an important and sizable project for the Dow Chemical Company by storing exotic chemicals. Expansion of the 135,000 square foot plant is reportedly in the works and Menlo already has gotten permits for more than $200,000 in improvements to the building. The expansion is reportedly pegged at 60,000 square feet in additional space.
And, another potential project could involve a $35 million new plant to produce alternative energy materials, possibly involved with solar energy, is reportedly under consideration for location in the township.
But, because of sunset provisions encompassed in a deal with the Bay County Commission for the Fabiano Bros. complex, the end of park expansion may come within four or five years.
"Our goal is to figure out how to keep the park alive," said William Bartlett, CEO of Straits Service Corp., 1424 Straits Drive, chairman of the Monitor Township Downtown Development Association (D.D.A.).
The D.D.A. is making payments on a $2 million infrastructure bill for the $16 million, 21 acre Fabiano complex, 1885 Bevanda Court. The main Fabiano building is 300,000 square feet and the firm consolidated Saginaw and Mt. Pleasant operations and now has about 300 persons now working at that site.
Infrastructure installed under the $2 million project included sewer, water, roads, lighting and other necessary development costs.
When that bill is paid, probably in about four to five years, the county has mandated an end to tax increment funds flowing to the park. About $200,000 a year from park property taxes is "captured" by the D.D.A., with about 80 percent coming from county funds and the remainder from the township.
Tax increment funds have been used to pay for administration of the park and installation of infrastructure to run and expand the park. Twenty-one companies with an estimated 1,000 employees are located in the 100 acre park. The D.D.A. area is about 220 acres.
More development on the Fabiano site may come through sales of property in its 45-acre Market Place Corporate Center at the rear of the main building fronting on a service road running parallel to US-10.
County officials, headed by County Commissioner Brian Elder, chairman of Bay Future, Inc., public-private economic development agency, decided that funds should go to governmental costs rather than to future expansion of the park, according to D.D.A. officials.
Ironically, additional investment by companies in the park will mean a quicker end to the tech park. The four-five year payoff is based on present state equalized value (SEV). An increase in SEV would mean that the loan payoff would be accelerated.
The tech park was developed by the Bay County Growth Alliance, headed by Cliff Van Dyke, in cooperation with Monitor Township, about 20 years ago. Funds came from an earlier $1.3 million grant from the federal Economic Development Administration with the assistance of former U.S. Rep. J. Bob Traxler, D-Bay City.
The Growth Alliance, now a non-profit development corporation with a board of directors headed by Mr. Van Dyke, has invested proceeds from previous sales of land in the park in various development projects in the county, including the Pere Marquette Depot, and continues to administer a sizable loan fund.
Several years ago control of the Valley Center Tech Park devolved to the Monitor D.D.A. Discussions have been ongoing about whether to expand the park by purchase of additional land and continuing to use the tax increment for development or whether funds should instead go to governmental units for general fund or other development purposes.
Menlo Worldwide Logistics specializes in the integration of all functions across the supply chain, from sourcing of raw materials, through product manufacturing to the distribution of finished goods.
The firm's website states: "Top-tier companies around the world look to Menlo Worldwide Logistics for innovative solutions that help plan business strategies, improve customer service, accelerate order cycle times, and tighten control of the supply chain -- all while reducing costs in transportation, inventory and order fulfillment.
"We help firms attain operational excellence across their global supply chains. Through practical and incremental solutions that leverage leading technologies and the best in third party logistics services, we enable clients to address complex global supply chain management issues by providing them with better visibility of their worldwide inventory, lower costs for systems integration and management, and lower transportation expense."
Valley Center Tech Park occupants include Advanced Communications, AT&T, Brinn, Inc., Charter Communications, Commtec, Inc., Corrigan Moving Systems, Dice Corp., the F.P. Horak Co. Digital Imaging Center, Emcor, Inc., Fabiano Brothers, Inc., Emcor, Inc., Euclid Industries, Heartland Home Health Care & Hospice, Kerkau Manufacturing, Mackinaw Commerce Center, Metal Sales Manufacturing Corp., Metro Fabricating, Michigan Airgas, Michigan Sugar Agricultural Research Center, Monarch Welding & Engineering Inc., Pinnacle Senior Care, Quantum Composites, Straits Corp., Supreme Carpet Sales, Inc., Valley Publishing Co., Village Green Landscape Services, and Visiting Physicians Association.
---
---

Dave Rogers




Dave Rogers is a former editorial writer for the Bay City Times and a widely read,
respected journalist/writer in and around Bay City.
(Contact Dave Via Email at carraroe@aol.com)

More from Dave Rogers
---
Send This Story to a Friend!
Letter to the editor
Link to this Story
Printer-Friendly Story View
---
--- Advertisments ---