Gosh, Am I Glad I Bought That Dow Stock a Year Ago, It's Up $20 a Share!!!
Worldwide Chemical Leader Spurs Growth in Great Lakes Bay Region
December 29, 2009 Leave a Comment
By: Dave Rogers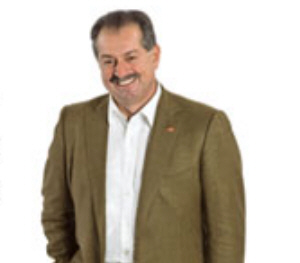 Andrew Liveris, president and CEO of The Dow Chemical Company.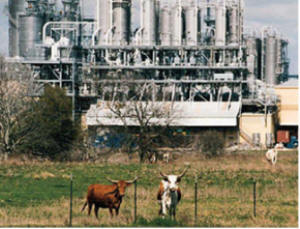 Longhorn cattle graze in front of a Dow plant in Texas, one of 150 company manufacturing locations across the globe.
"The Dow Chemical Company (NYSE: DOW) has declared a dividend of 15 cents per share, payable January 29, 2010, to shareholders of record on December 31, 2009. This marks the 393rd consecutive cash dividend issued by the Company. Dow has paid its shareholders cash dividends every quarter since 1912."


Behind the formal financial language is 113 years of history of a company formed in Midland, Michigan, in 1897 by a young entrepreneur named Herbert H. Dow from Ohio's Case Institute of Technology via his birthplace in Canada.
After this momentous more than a century, the future of the Great Lakes Bay Region surely teeters on how the fates treat this company.
Not only will Dow products provide sustainability and growth for the region, they bid fair to change the world. And that is an understatement.
In the worldwide ups and downs of business, Dow has been up and down, but always seems to exhibit the constancy, the rebounding ability to propel itself back into the upper echelon of world business.
That quality was exhibited over the past several quarters when its stock dropped precipitously to below $8 per share then soared again to $28 plus at present.
There are those who would have bet against Dow when it was in trouble early in 2009 over the $18.8 billion Rohm & Haas acquisition. Thankfully, I was not one of those negative souls, banking on my family history of faith in Dow that has been confirmed lately.
I can't say I didn't worry when the stock dropped from $15 a share to less than $8, but the rebound has been magnificent since mid-2009. Dow stock now stands at more than $28 per share and appears to be continuing on the upward slope.
In the first quarter of 2010 Dow will hold its 112th annual meeting of stockholders and issue its 2009 reports.
Despite the roller-coaster, 2008 was a stellar year in building a foundation for future growth.
"At Dow you'll find the world's best problem solvers working on the world's biggest problems," the company states. A review of its projects provides confirmation of this pronouncement.
The Company delivers a broad range of products and services to customers in approximately 160 countries, connecting chemistry and innovation with the principles of sustainability to help provide everything from fresh water, food and pharmaceuticals to paints, packaging and personal care products.
In 2008, Dow had annual sales of $57.4 billion and employed approximately 46,000 people worldwide. The Company has 150 manufacturing sites in 35 countries and produces approximately 3,300 products. On April 1, 2009, Dow acquired Rohm and Haas Company, a global specialty materials company with sales of $10 billion in 2008, 98 manufacturing sites in 30 countries and approximately 15,000 employees worldwide.
The "big picture" is that Dow is working on products to affect climate change, energy efficiency, pollution, pure water, more productive agriculture, and on and on, under the general heading: "Breakthroughs to World Challenges."
Just consider a few factors that no doubt would make Herbert Dow pop his starched collar and shirtwaist were he around today:
In the past 5 years Dow researchers have tripled the number of invention disclosures filed to more than 1,340;
Dow operates more than 45 major research and development centers around the globe;
Dow's solar shingle by 2015 will be competitive with the cost of conventional power and provide the world with a free fuel source;
As more than 37 countries around the world experience a food crisis, Dow AgroSciences is developing seed technologies to help overcome weeds and insects to protect crops and increase yields;
Dow diesel particulate filters allow vehicle manufacturers to deliver outstanding engine performance at lower costs;
Dow is supplying the plastic resin for 300,000 water purification devices for cleaner water in remote global locations;
Carbon emissions are being reduced in the power industry by use of Dow and Alstom Power advanced amine scrubbing technology;
Dow Epoxy has unveiled its AIRSTONE (TM) Systems for wind energy for the fabrication of wind blades;
DOW THERM (TM) performance fluid used in three large solar plants in Spain allow collection and conversion of heat to 150 megawatts of electricity enough for 90,000 homes;
Dow's FILMTEC (TM) reverse osmosis membrane system has been selected for one of the world's largest water desalinization plants under construction in Sydney, Australia;
Dow has introduced SATISFIT (TM) Weight Care Technology that reduces weight gain and absorption of saturated and trans fats in laboratory animals and may be adapted for humans.
There is perhaps no more storied history of business and industry than that of Dow, and the stories are still being written.
When I carpooled to Midland in the 1950s as a Dow management trainee it was bumper-to-bumper on Midland Road as the 5,000 people from Bay County who worked at Dow straggled bleary-eyed for an hour and a half to get to work.
Those days appear to be returning, with a daily parade of cars into Midland from Bay County carrying people going to work. The explosion of jobs spinning off the Dow and Dow Corning complex of innovation seems to be accelerating.
Dow describes itself as "a diversified chemical company that combines the power of science and technology with the 'Human Element' to constantly improve what is essential to human progress."
It's hard to argue with that thesis.
As with any enterprise, especially one of this overwhelming scope, leadership is the key. The career of Andrew N. Liveris, President, Chairman and Chief Executive Officer of The Dow Chemical Company, has spanned manufacturing, engineering, sales, marketing, and business and general management.
He has spent the bulk of his career in Asia, where he was general manager for the company's operations in Thailand, and later head of all Asia-Pacific operations. He began his Dow career in 1976 in Australia. He has been a member of Dow's Board of Directors since February 2004 and was elected as Chairman of the Board effective April 1, 2006.
Liveris was born in Darwin, Australia and later lived in Brisbane, where he attended the University of Queensland, graduating with a bachelor's degree (first-class honors) in Chemical Engineering. He was awarded an honorary doctorate in science by his alma mater as well as being named Alumnus of the Year for 2005. He is a Chartered Engineer and a Fellow of The Institute of Chemical Engineers.
Liveris serves on the board of directors of Citigroup, the world?s leading financial services company. He is chairman of the board of the US-China Business Council and chairman of SCI America; a vice-chair of the US Business Council; a member of the United States Climate Action Partnership; and a past chairman of the American Chemistry Council and the International Council of Chemical Associations.
Liveris is also a member of the following organizations: the American Australian Association, the Business Roundtable, the Detroit Economic Club, the National Petroleum Council, and the Société de Chimie Industrielle. Liveris is also a trustee of Tufts University.
Liveris resides in Midland, Michigan, where he serves on the Board of Trustees of the Herbert H. and Grace A. Dow Foundation. He and his wife Paula have three children.
It's hard to imagine where the Great Lakes Bay Region would be without Dow leading the charge to innovation and growth. All of us who are interested in the prosperity and future of the region can say is "Dow, good on ya!" ###
---
---

Dave Rogers




Dave Rogers is a former editorial writer for the Bay City Times and a widely read,
respected journalist/writer in and around Bay City.
(Contact Dave Via Email at carraroe@aol.com)

More from Dave Rogers
---
Send This Story to a Friend!
Letter to the editor
Link to this Story
Printer-Friendly Story View
---
--- Advertisments ---