Boathouse Condos An Extension of the Rowley-Gregory "Vision" for Bay City
Developers Expect 37-Unit Luxury Building to Attract Out-of-Town Buyers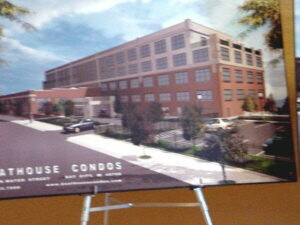 Concept drawing of Boathouse Condos show huge lobby and club room area on river side, penthouse with huge decks.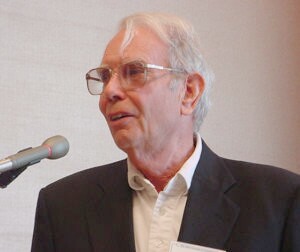 Paul Rowley explains the vision of Bill Gregory and their investors in a Bay City growing around downtown living and small industries.
      Can Bay City develop more downtown housing and "sell" itself out of a dramatic shift in its historical economic foundation?
      Paul Rowley, Bill Gregory and a group of investors in Bay City think so, emphatically.
      These folks are putting up millions of dollars to prove their point: Bay City is On The Go.
           The latest Paul Rowley-Bill Gregory project, the Boathouse Condos, at 1111 N. Water Street, was put into focus by Mr. Rowley at the Bay Area on the Goconference Wednesday in the new DoubleTree - Bay City Riverfront Hotel.
      First off, the developers expect that 60 percent of the purchasers for the $300,000 to $600,000 units will be from out of town.
      Secondly, the OPRA (Obsolete Property Rehabilitation Act) tax break will be sought to make the condos more attractive to purchasers.
      Thirdly, most of the 37 units will face the Saginaw River; only four will face Water Street.
      Dr. Jim Reid, anotherdowntown condo developer, explained at the same forum that the nine year OPRA tax break provision granted on his Shearer Building will reduce property taxes from about $9,000 a unit per year to about $800 to $1,000. The Boathouse units are a little more pricey, so taxes apparently will be somewhat more than Shearer but still much less than without the OPRA tax break.
      The Boathouse will have some interesting and attractive amenities such as a wood shop, a metal shop, a crafts room and an exercise room for use of the tenants. The club room and the lobby were described as "spectacular" by Mr. Rowley.
      "What we found at Jennison Place was that the exercise room was one of the best used rooms," commented Mr. Rowley.
      Trash and recycling will be handled internally, with chutes to a central collection area provided for tenants, just as in Jennison.
      Each unit will have two indoor parking places. The entire building will be equipped with sprinklers.
      Units on the top or "penthouse" floor will range from 2,100 square feet to 3,300 square feet and will have large decks for viewing of events on the river, said Mr. Rowley.
      Mr. Rowley said he is often asked: "Why not build lower priced units?" He explained that not only were land costs high but with requirements like piling down to 92 feet in the ground the project costs are $2.5 to $3 million before any work is done on the building.
      Why this project? "Because we absolutely believe in Bay City," answers Mr. Rowley. Will all the downtown housing projects work? "Absolutely," he emphasizes, "if public and private entities continue to work together."
      "We have a group of investors who have a real vision of what Bay City can become," said Mr. Rowley.
      He sketched that vision and the history of the downtown residences that began with the 12-unit Jennison Place project in an old hardware warehouse building about 15 years ago.
      "Bill Gregory and I have been working to grow Bay City for many years. We opened Jennison and the Gulf War started and we lost our financing. Before we got straightened around it took three years. Then sales pepped up and we were able to bring it to a fine conclusion."
      Mr. Rowley also put the local economic picture in perspective.
      "Industry has trickled away and it was very unlikely that we could attract large industries. The city and county dwindled in population. So a lot of people banded together to improve Bay City's image. There were only two ways to go, cut expenses or grow the market. We decided we could sell ourselves out of this whole thing."
      However, downtown condominiums will not be enough to revitalize the economy. Jobs are needed, planners agree. Mr. Rowley explained:
      "There is a plan for industrial development underway and we hope to attract a lot of industries with 25 to 75 employees.
      What else is needed?
      "We have to have more tax breaks and wise public management," Mr. Rowley concluded. "We have a great city staff and a spirit of cooperation. We need to listen, talk and share ideas. Bay City will only be on the go if we can work together."
      For more information, go to www.boathousecondos.com.###
---
---

Dave Rogers




Dave Rogers is a former editorial writer for the Bay City Times and a widely read,
respected journalist/writer in and around Bay City.
(Contact Dave Via Email at carraroe@aol.com)

More from Dave Rogers
---
Send This Story to a Friend!
Letter to the editor
Link to this Story
Printer-Friendly Story View
---
--- Advertisments ---