Rock the State Featuring L.A.O. & Ctr+Alt+Delete
Saturday, February 13, 2010
January 30, 2010 Leave A Comment
By: Mike Bacigalupo - State Theatre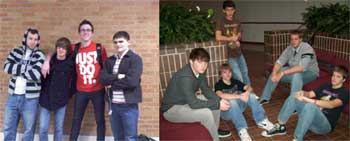 Rock the State featuring L.A.O. & Ctr+Alt+Delete on Saturday, February 13, 2010 at 7:00 PM
At the State Theater on Washington Street in Downtown Bay City!
L.A.O. A long time ago, in the 8th grade, it began...
Austin Bluhm: Lead Vocals
Austin, 16, is a junior at john Glenn High School. He is actively involved with the drama department and plays football. Austin is Joe's neighbor and upon discovering his vocal talents,'was invited to join the trio of Eric, Z- Batch, and Joe. Austin has been performing with L.A.O for two years and is an energetic, entertaining, and critical part of L.A.O.'s performance. Austin loves being in the band and it has 'changed his life.'
Joe Martin: Guitar Vocals
Joe, 17, is a senior attending john Glenn High School. He is involved with National Honor Society, football, and plans to attend Michigan State University. He has been playing guitar for 6 years and was previously lead singer prior to the arrival of Austin. He has now been 'downgraded' to backup vocals and finds no problem with that. Joe has been playing music with Z-Batch and Eric for the past 5 years and wouldn't trade it for anything.
Zac 'Z-Batch' Bacigalupo: Drums
Z-Batch, 17, is also a senior at john Glenn High School. Z-Batch swims for john Glenn, is involved with the art program, plays percussion in the school band and has been playing drums for 7 years. Music makes up a large part of his life, and it also runs in the family as his father Mike, plays many instruments. Z-Batch also performs with his dad's band, The josh Ramses Band. To Z-Batch, playing music with friends is one of his favorite experiences.
Eric Misiak: Guitar
Eric, 18, is also a senior at Glenn. Eric enjoys spending time with his friends, playing football, and being in a band with his friends. He has been playing guitar with Joe ever since they were kids and music makes up a huge chunk of Eric's personality. His laid back, fun loving attitude is a great asset to the band and L.A.O. would not be the same without his presence.
Ctrl+Alt+Del
began when Lead guitarist David Clare, drummer Zach Dyer, bassist/vocalist Chad Hughes, and rhythm guitarist Alex Grills set out to make their own original music, they later found their voice in vocalist Bo Paul. The group has spent the past summer and fall working on their sound and songs.
Tickets are Only $ 5.00!
Buy Tickets On-Line
---
Arts/Theater Article 4585
---
---
Send This Story to a Friend!
Letter to the editor
Link to this Story
Printer-Friendly Story View
---
--- Advertisments ---