Dow to Locate New "POWERHOUSE" Solar Shingle Plant in Midland
Estimated 1,200 Jobs to be Created with New Production Facility
February 4, 2010 2 Comments
By: Dave Rogers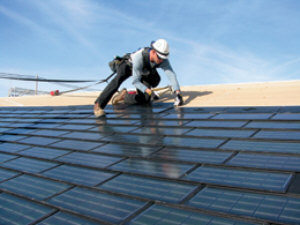 Dow POWERHOUSE solar shingles are easy to install, company reports.
The sun is shining ever brighter on the Great Lakes Bay Region today in terms of job growth.
The Dow Chemical Company today announced that Midland is the likely site for the first full-scale production facility for its revolutionary DOW POWERHOUSE Solar Shingle.
The project is subject to finalizing local, state and federal funding.
In her State of the State address last night, Michigan Governor Jennifer Granholm spoke of the site selection, which could bring more than 1,200 jobs to the region by 2014.
"Dow welcomes the opportunity to work with the City of Midland, the State of Michigan and Governor Granholm to secure support for renewable energy technologies, like the DOW POWERHOUSE Solar Shingle," said Andrew N. Liveris, Dow Chairman and CEO.
"Collaboration between government and business is essential to overcoming the challenges facing our society today, including energy, climate change and the creation of sustainable jobs," said Mr. Liveris.
"As the leader in applied chemistry, Dow is well positioned to address the technical challenges of bringing affordable, renewable energy solutions to the market and to be a leader in ushering America into the new clean-energy future."
The Michigan Economic Development Corporation (MEDC) is currently considering up to $140 million in economic incentives for the plant, which would produce the innovative photovoltaic solar panels in the form of solar shingles that can be integrated into rooftops with standard asphalt shingle materials.
Local, state and federal funding will help Dow Solar Solutions to accelerate production plans for the solar shingles already being manufactured in a small-scale market development plant at Dow's Michigan Operations in Midland.
If received, the MEDC economic package will add to the $100 million in investments Dow has already made in the development of solar solutions since the program's inception in 2007 when Dow was awarded a $20 million Solar America Initiative Pathways Program grant by the U.S. Department of Energy.
---
--- Advertisements ---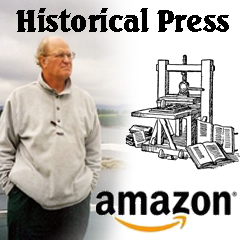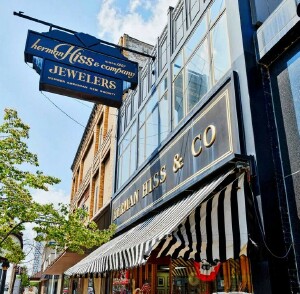 ---
"At Dow, innovation is about our ability to apply materials science to address a challenge like the need for affordable, renewable energy sources," said Jane Palmieri, General Manager of Dow Solar Solutions.
"Being able to work with the State of Michigan and other funding sources to accelerate the commercialization of groundbreaking technologies like the DOW POWERHOUSE Solar Shingle allows consumers and the marketplace to have quicker access to energy saving technologies, which is a win for everyone."
The expected growth of more than 1,200 jobs to support the increased solar shingle production will be in the manufacturing, commercial and technical areas, with staffing anticipated to begin in late 2010.
DOW POWERHOUSE Solar Shingles are expected to be available in limited amounts by mid-2010 and projected to be more widely available in 2011 as production scale up begins, putting the power of solar electricity generation directly and conveniently in the hands of homeowners.
The DOW POWERHOUSE Solar Shingle was unveiled October 5, 2009, as the first in a portfolio of building related solar energy generating products. Since its introduction, the shingle has been hailed as revolutionary, including being named one of the "Best Inventions of 2009" by TIME magazine.
The DOW POWERHOUSE Solar Shingle integrates low-cost, thin-film CIGS photovoltaic cells into a proprietary roofing shingle design, which represents a multi-functional solar energy generating roofing product.
The innovative product design reduces installation costs because conventional roofing shingles and solar generating shingles are installed simultaneously by roofing contractors - no specialized skills or knowledge of solar array installations are required.
Additionally, Dow and the California Institute of Technology (Caltech) recently announced the signing of a multi-year research collaboration that is strategic to both organizations' interests in solar energy. The arrangement is aimed at developing the next generation of ultra low cost, high efficiency photovoltaic materials and will accelerate the speed to market for these next generation materials. Based on earth abundant elements, these new PV materials should further reduce the cost of Dow's building integrated photovoltaic line, including the DOW POWERHOUSE Solar Shingle.
To learn more about the DOW POWERHOUSE Solar Shingle visit www.dowsolar.com. ###
---
"The BUZZ" - Read Feedback From Readers!
WALL Says: On February 08, 2010 at 08:19 AM

THIS IS THE NEW DOW CHEMICAL MAT ITS BEST , NICE TO HAVE DOW BACK IN MIDLAND AGAIN. THIS COMMUNITY HAS EARNED THE RIGHT TO BE NUMBER ONE AGAIN .. THANKS TO ALL THOSE LOOKING TO PUT MONEY WHERE IT WILL DO MOST GOOD TO THE HOME OF DOW CHEMICAL ..SINCERELY
---

Dave Rogers




Dave Rogers is a former editorial writer for the Bay City Times and a widely read,
respected journalist/writer in and around Bay City.
(Contact Dave Via Email at carraroe@aol.com)

More from Dave Rogers
---
Send This Story to a Friend!
Letter to the editor
Link to this Story
Printer-Friendly Story View
---
--- Advertisments ---