Old Coal Mines in Bay County Still Interest U.S. Department of Interior
Slag Piles From Old Mines Still Loom Over Fields, Recalling Bygone Days
February 8, 2010 Leave a Comment
By: Dave Rogers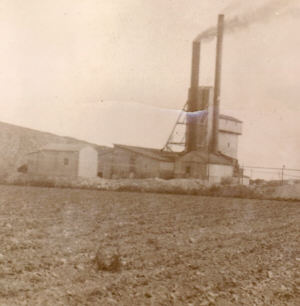 Monitor Coal Mine was last in Bay County, operating into the late 1940s by the Begick family and others. (Photo courtesy Mike Mammel.)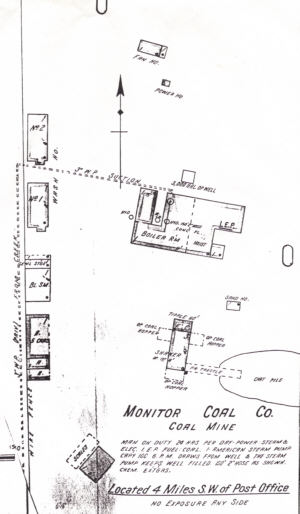 Drawing from the 1940s shows extensive layout of the Monitor Mine, with buildings and a power plant (center).
Recently officials of the U.S. Department of the Interior arrived at the slag pile of an old Bay County coal mine.
Their purpose: to check the entrance to the mine, apparently for safety purposes.
The officials spent hours at the mine but could not find the old entrance.
They left, apparently figuring that if they couldn't find the entrance neither could any passerby who might fall in if the mine shaft was open.
Nationally, over 200,000 acres of abandoned coal mine sites have been reclaimed through the Office of Surface Mining's Abandoned Mine Land Program, U.S. DOI reports.
Bay County has dozens of old coal mines but it is not known if the government checked them all, or, if it did, what the purpose really was.
Local historian Gene Gillette has explored the history of coal mining in Bay County in his book, "The Black Diamond: The Story of Coal in Bay County."
Mr. Gillette attracted public interest in one of the popular Second Saturday presentations at the Bay County Historical Museum, where his book is available.
"Coal traces often were revealed as a result of boring wells for salt," wrote Leslie E. Arndt, author of "The Bay County Story: From Footpaths to Freeways," published in 1982.
Slag piles remain in many old mine locations in Bay County. Shafts of mines reportedly ran for miles underneath Saginaw Bay where mules were used to drag carts of coal. All undoubtedly filled in or collapsed with sand many years ago, according to local experts.
The last mule working a mine in this area was hoisted out of a mine in St. Charles about 1956. The poor creature reportedly was blind from years in the dark underground.
Arndt recounted: "The mine mule, like his Army cousin, has fits of fiery temper. Then he kicks recklessly at everything and everybody, stamps around a balks alternately, and more than one driver and miner has scooted to his last reward under impression of a mulish hoof."
Conditions were scarcely better for the miners. Arndt recalled that miners were paid 86 cents a ton, with most able to produce three tons a day.
---
--- Advertisements ---

---
Coal was discovered in 1893 while putting down a well for water at a saw mill owned by Zill Bros. In Monitor Township, Bay County, five miles west of West Bay City. Efforts were made to lease the land from the owners, but without success.
A coal bonanza was anticipated, according to the late Mr. Arndt. Another earlier historian, Capt. Augustus H. Gansser, wrote that Bay City could have become the Pittsburgh of the Northwest if the copper and iron interests of the Upper Peninsula had known of the coal deposits under Bay County.
"Bay City was too busy cutting timber and making salt to bother about more permanent industries," Gansser wrote. However, both the Bay City Board of Commerce and the Saginaw Board of Trade promoted the smelter dream but it soon died when local coal was found to be inferior. "The oreboats kept sailing past this doorstep and the smelter idea collapsed," concluded Gansser.
###
---
---

Dave Rogers




Dave Rogers is a former editorial writer for the Bay City Times and a widely read,
respected journalist/writer in and around Bay City.
(Contact Dave Via Email at carraroe@aol.com)

More from Dave Rogers
---
Send This Story to a Friend!
Letter to the editor
Link to this Story
Printer-Friendly Story View
---
--- Advertisments ---