Bay City Masonic Temple May Be On National Register of Historic Places
Several Arts Groups Eye Cooperation With Masons to Secure Building's Future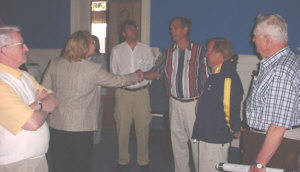 Consultant Louise Stevens meets Masonic Leaders Donald Baker and Bill Gregory and supporters of the arts in the community during a tour of the historic Bay City Masonic Temple.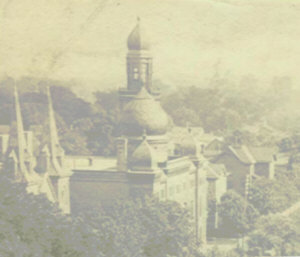 In its prime the Bay City Masonic Temple sported magnificent onion domes and a 114 foot high campanile that could be replaced under full restoration plans.
EDITOR'S NOTE: The Bay City Masonic Temple is part of the historic downtown Bay City and Center Avenue district that is listed on the National Register of Historic Places, according to Ron Bloomfield, curator of the Bay County Historical Museum. However, the building is not individually listed at this time, a recognition that is the goal of City Planner Jim Bedell and the city's Architectural Review Committee.)
      City Planner Jim Bedell and the City of Bay City's Architectural Review Committee (ARC) have taken the lead in efforts to achieve national recognition for the 110 year old Bay City Masonic Temple, 700 N. Madison Ave.
      After touring the building recently, Bedell and the ARC indicated the building could be proposed for the National Register of Historic Places.
           Also, several community groups are considering if the old Masonic Temple could be a site for an arts incubator and/or a performing arts school. Consultant Louise Stevens of ArtsMarket was enthusiastic after a recent tour: "This is an absolute gem! The building offers a great historic venue for use by the community in arts events of many types."      Stevens has prepared a Community Cultural Plan in cooperation with the Bay Arts Council, Bay Area Convention and Visitors Bureau and other groups. Many residents have been interviewed and focus groups and discussion sessions held over the past year to achieve consensus on a direction for promotion of arts and culture in connection with community economic development.      
Criteria for inclusion of a property on the National Register includes quality of significance in American history, architecture, archeology, engineering, and culture is present in districts, sites, buildings, structures, and objects that possess integrity of location, design, setting, materials, workmanship, feeling, and association, and:
      A. That are associated with events that have made a significant contribution to the broad patterns of our history; or
      B. That are associated with the lives of persons significant in our past; or
      C. That embody the distinctive characteristics of a type, period, or method of construction, or that represent the work of a master, or that possess high artistic values, or that represent a significant and distinguishable entity whose components may lack individual distinction; or
      D. That have yielded or may be likely to yield, information important in prehistory or history.
      The National Historic Place recognition is expected to add to the viability of the building for grants from national, state and local funding sources. One source may be the National Park Service, which supports historic preservation activities.
      Among early Masonic leaders here were lumber barons James McCormick, who was grand master of Bay City Lodge No. 129, Free and Accepted Masons, in 1860, and Nathan B.Bradley, who headed the lodge in 1862 during the Civil War.
Many other pioneers were Masons in the early days of Bay City, when dozens of fraternal organizations had lodges in the community. A number of lodges, including Portsmouth Lodge, the Rebekah and Jobs Daughters women's groups and others were housed at 700 N. Madison Ave.
      The Masonic Temple was built in 1892 at a cost of $100,000 and is still considered one of the nation's finest examples of a Masonic lodge center. Designed by local architects Pratt and Koeppe, the building measures 100 feet along Madison by 100 feet on Sixth Street.
      The three-story red sandstone Romanesque structure had a 114 foot tall campanile whose onion dome, described by architectural historian Dale Wolicki in his book The Historic Architecture of Bay City, Michigan, "gave the building a distinctive Moorish appearance."
      Distinctive features include the magnificent Blue Room seating approximately 350 in English-styleseats facing the center, an 18 foot by 25 foot stage with scenic backdrops for rituals, robing rooms with costume storage and wooden cubicles for members. The building has two other ritual venues -- a smaller Red Room and a third floor Purple Room -- as well as a basement banquet hall seating about 200.
      Stained glass windows throughout the building are dedicated to members who made significant contributions to the construction of the building. These include Capt. Ben Boutell, famed tugboatfleet operator, Arthur Sovereign, E.B. Foss, H.W. Weber, Charles Wells and other tycoons of the time.
      On its dedication in 1893, The Bay City Tribune described the building as "without doubt the handsomest structure of the kind in the country, being one of two devoted exclusively to Masonic purposes." A fire in 1903 destroyed the onion domes and campanile that were not replaced. The interior was rebuilt according to the original plan, Wolicki wrote.
      Architect John Meyer has done a complete study outlining a restoration plan for the building, estimating that it would cost about $2.6 million. That would include installation of an elevator and reconstruction of all the historical elements. Historic preservation advocates in thecommunity are hopeful that some cooperative efforts between non-profit groups and the Masonic orders that own the building would seek to accomplish some or all of the proposed restoration.###      
---
Arts/Theater Article 467
---

Dave Rogers




Dave Rogers is a former editorial writer for the Bay City Times and a widely read,
respected journalist/writer in and around Bay City.
(Contact Dave Via Email at carraroe@aol.com)

More from Dave Rogers
---
Send This Story to a Friend!
Letter to the editor
Link to this Story
Printer-Friendly Story View
---
--- Advertisments ---